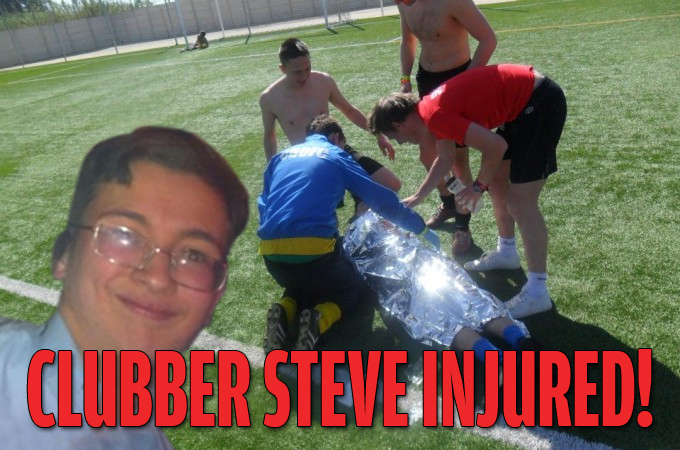 Clubber Steve Injured!
The worlds of Brookes, blogging and clubbing were rocked over Easter as Oxford celeb Steve was felled while playing football
clubber steve
football
Injury to Clubber Steve sent shockwaves around the worlds of Brookes, blogging and clubbing over Easter. The beloved Mr Mayes sustained a blow to the head playing for Brookes Football Club on tour.
Clubber Steve had already scored a penalty in the group-stage of the tournament, dazzling fans with his touch, vision and determination.  However the game with Bedford University did not end in the way in which we had hoped.
Steven's size meant he came off worst from a mid-air challenge with an opponent he was brave to commit to. The midfield general was bossing the game, dictating the play, before he went down; the Man of the Match award surely within his grasp before he was hit.
"Steven Mayes received a nasty gash to the head which resulted in mild concussion, later receiving 7 stitches. But he recovered well, following the collision with another player." Reported Club Physio, Alex Flett.
The crowd feared for Clubber Steve as he lay on the ground motionless. A stunned silence engulfed the usually noisy crowd.
Benjamin Moss, a first-year Brookes Footballer described the mood on the packed terraces: "It was an agonising 5-10 minutes; to see such a key player hurt was devastating, the future of Oxford Brookes Football Club hung in the balance."
The opposing player went unpunished during the game, with the referee claiming "Debería haber ido a Specsavers" But an appeal has been lodged by Brookes FC with the Spanish Football Association.
Speaking in a Brookes Tab exclusive Clubber Steve outlined how he had a new appreciation for life: "An injury of this severity really puts things into perspective, my whole life flashed before my eyes and I'm lucky to still be playing the game I love for the University I love."
The location of the tour was Salou, as part of ilovetour.co.uk's takeover of the Spanish city, known as SalouFest. SalouFest sees over 8000 students head to The Mediterranean over three weeks, in search of sun, sea, sand, and STIs.
Twitter @BenStJenks