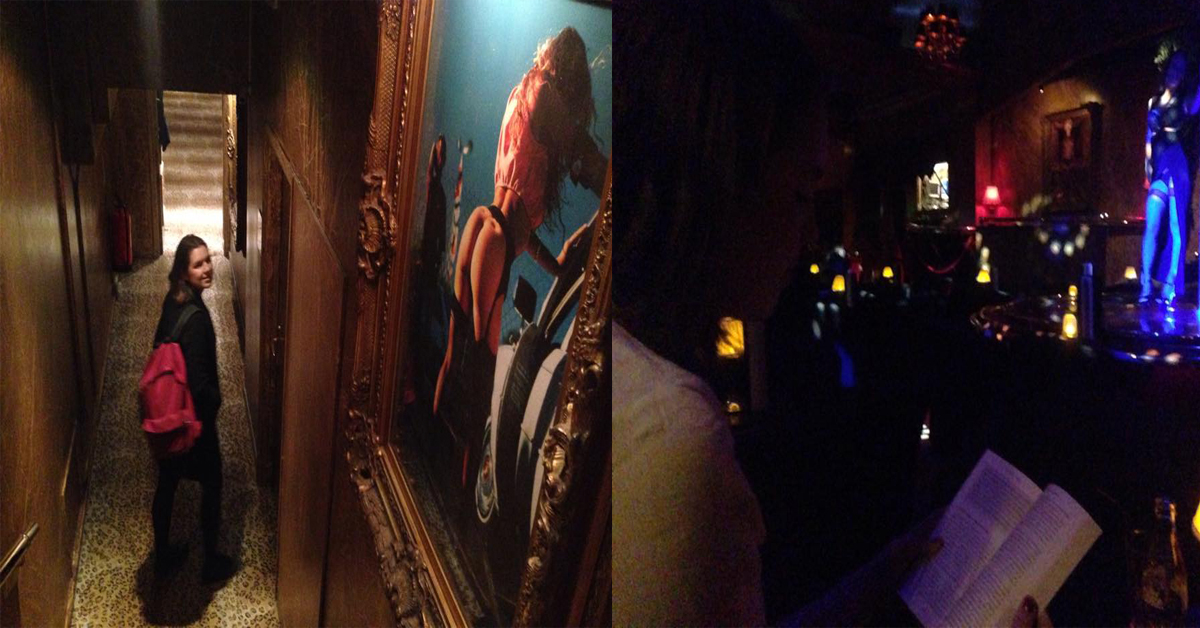 We did our seminar reading in Spearmint Rhino
They said no single girls so we had to pretend to be a couple
We all know where Spearmint Rhino is.
The seedy frontage is impossible to miss walking down TCR to your 9am.
Kitty found out no single girls were allowed in last year, when she tried using the toilet as her friends waited in Subway. So she enlisted me to help and together we snuck in as part of a pretend couple.
In the middle of the afternoon. On a Thursday.
Getting past the bouncers would be a challenge, but a challenge we were willing to accept for the treasure within.
Our first ploy was to get male friends to accompany us. Sadly, they turned out to be too chicken.
One even made the excuse he didn't have any shoes which would pass the authoritarian no trainers policy. Pathetic.
We knew the door staff would be suspicious of two female students waltzing into a strip club at 3pm on Thursday.
There was only one way forward: to lie.
Our alter egos came into play. Unsure whether "single girls" meant girls on their own or girls without a significant other, we decided to err on the side of caution and we became a couple.
Kitty's boyish hair allowed her to pass quite convincingly – her look is largely based on Sue Perkins.
We were proactive – we sent an email to a man called Andy explaining we were lesbians and strip club rookies to make sure they'd let us in. The response was affirmative.
We tentatively tootled down the TCR for our meeting with destiny.
On the door we were treated with suspicion, as expected (we did have backpacks). However, once I produced the email from Andy we were flying.
Bob, a burly ex-policeman who is the supervisor there, was determined to transform us into strip club aficionados before we left, showering us with information and eagerly showing us around the seedy subterranean underworld.
We saw the private booths, the podiums, the bars, the ladies… but not a single customer. We were outnumbered 7 to 1 by strippers.
When the whistle-stop tour concluded, we grabbed a drink at the glitzy bar, where we talked to a charming and bright woman dressed in just her underwear.
They weren't granny pants.
She told us about the clientele. Apparently business men often come in after boozy lunches in the City. On cue the sleazy spiv entered, complaining how his powerpoint presentation to the board had gone, "Not at all well", and he was ready to pay women to be sympathetic.
Two bunny girls dutifully went to listen to his problems and stroke his thigh.
Meanwhile we paid for our drinks. At £5 for two beers, it's cheaper than the Court – with more nipples and less live sport.
We went to sit near the stage. Out walked a very bored looking woman in a velvet dress and the show commenced.
Things started to hot up. It was probably the most intensely uncomfortable moment of our lives, as a topless woman danced to a censored version of "Get Low" exclusively for us, two polo neck wearing, Eastpak toting students.
To overcome the awkwardness we tried to get on with some reading for our 4pm seminar, but quite frankly, it felt very rude, so we returned out attention to the naked woman on stage, until we finished our lukewarm beer.
We B-lined for TCR's smoggy daylight, blinking like losers you see coming out of Vue on a very sunny day.
Our Spearmint experience was over and we walked away debating whether the venue was sordid and exploitative or a female-centric show of power.
All we knew was this: on a Thursday afternoon the drinks are cheap, there are lots of very friendly and intelligent women to talk to and there is no competition for the good seats.
You just have to ignore the sleazy man in the corner.