This is where you recognise all the cast of Netflix's Eurovision movie from
Victor was in Sex Education!!
Netflix's latest batshit crazy film addition comes in the form of Eurovision Song Contest: The Story of Fire Saga. The movie, which follows desperate yet lovable duo, Fire Saga, on their quest to win Eurovision also has a pretty star-studded cast.
There are your obvious Hollywood big names, alongside those faces which will have you staring at the screen and racking your brains over where you know them from. So here you are, this is why you recognise a lot of the actors in the cast of the Netflix Eurovision movie, Eurovision Song Contest: The Story of Fire Saga.
Dan Stevens – Alexander
Dan Stevens plays Alexander, the Eurovision entry for Russia, who definitely deserved more. You probably recognise him as Matthew Crawley in Downton Abbey or as the Beast in Disney's live-action adaptation of Beauty and the Beast in 2017.
Mikael Persbrandt – Victor
Scary banker Victor is played by Mikael Persbrandt. Victor is scared a Eurovision win will bankrupt Iceland so will ~quite literally~ do anything to stop it from happening.
You'll kick yourself when you realise where you recognise his face from – he's Jakob in Sex Education!! Mikael Persbrandt also featured in The Hobbit and Hamilton.
Pierce Brosnan – Erick
Pierce Brosnan plays Lars father, Erick. Erick is known locally as the "best looking man in Iceland" and is a fisherman. He's also deeply ashamed of his son's tragic attempts at getting onto Eurovision.
Pierce Brosnan, or should I say Pierce Brosnan OBE, used to play the actual James Bond and was more recently in Mamma Mia!
Jóhannes Haukur Jóhannesson – Johans
Johans hosts Iceland's Eurovision selection. He's played by Jóhannes Haukur Jóhannesson, an Icelandic actor known for his roles in Game of Thrones and The Innocents and in the films Atomic Blonde and Alpha.
He also has read out the points for Iceland in the real life Eurovision Song Contest!
Ólafur Darri Ólafsson – Neils
Ólafur Darri Ólafsson is an Icelandic-American actor, and he plays Neils – who is the president of Icelandic Public Television. He wants nothing more than an Icelandic win. Ólafur Darri Ólafsson is known for his rolls in Children, XL, Trapped, Lady Dynamite, and The Deep.
Jamie Demetriou – Kevin
Kevin is Iceland's creative director, brought in to guide them to a win. He's played by English-Cypriot comedian, Jamie Demetriou, who appeared in Fleabag, Paddington 2, and Hulu's Four Weddings and a Funeral.
Graham Norton
Graham Norton plays… Graham Norton. You might recongnise him because he's on… Graham Norton. And he does actually do the hosting and voice over for Eurovision in the UK.
Demi Lovato – Katiana
Demi Lovato plays Katiana, who is a singer, at first believed to be Iceland's best chance at winning the Eurovision Song Contest. And you can see why, she's a stunning popstar and "Looking In The Mirror" is a massive bop.
You recognise her because she's Demi Lovato, from Disney Channel. She was in Sonny With A Chance, Camp Rock and Glee, and has more recently been a judge on American X-Factor.
Rachel McAdams – Sigrit
In Eurovision Song Contest: The Story of Fire Saga, Sigrit is a music teacher, played by Rachel McAdams. She's one half of Fire Saga, a band which is desperate to win Eurovision.
Yes you recognise one of the world's biggest actresses. Her roles include Regina George in Mean Girls, The Notebook, About Time, The Vow, The Time Traveller's Wife and Spotlight.
Will Ferrell – Lars
Will Ferrell plays Lars, a parking ticket attendant whose life-long dream has been to win the Eurovision Song Contest. He's the other half of singing duo, Fire Saga, with Sigrit.
You might recognise him because he's you know, Will Ferrell. Best known for films such as Step Brothers, Elf, Anchorman, Zoolander, Blades of Glory, the list really could go on.
And obviously there were a whole bunch of Eurovision cameos throughout the film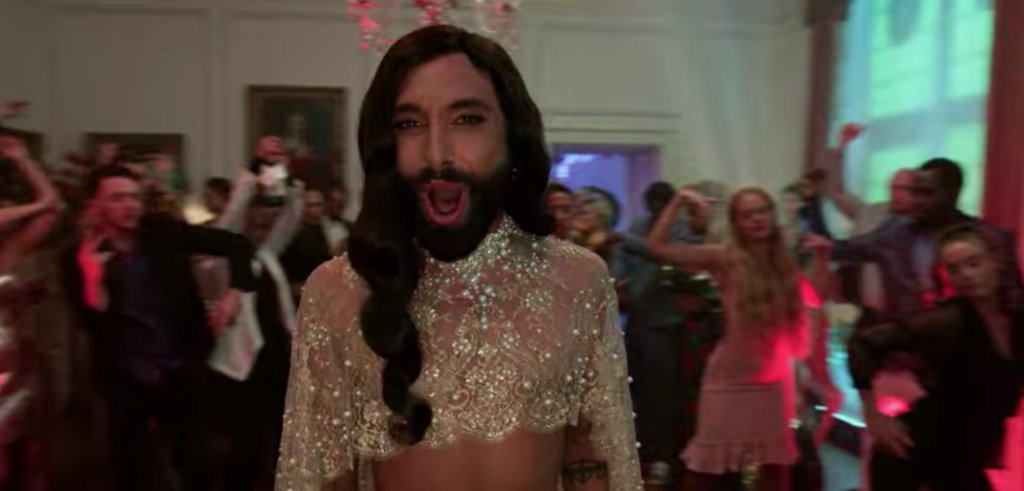 During the sing-along sequence there were a whole bunch of cameos from old Eurovision contestants. These included Sweden's John Lundvik, Moldova's Anna Odobescu, France's Bilal Hassani, Swedish singer Loreen, French-Congolese singer Jessy Matador, singer and violinist Alex Ryback, Ukraine's singer/songwriter Jamala, Estonia's Elina Nechayeva, Austria's Conchita Wurst and Israel's Netta Barzilai.
As well as this, you may have spotted Salvador Sobral, who won Eurovision for Portugal in 2017. In the movie, he is seen playing his winning song "Amar Pelos Dois" in a park in Edinburgh with Sigrit and Lars in the crowd.
Eurovision Song Contest: The Story of Fire Saga is available on Netflix now. For all the latest Netflix news, drops and memes like The Holy Church of Netflix on Facebook. 
Related stories recommended by this writer:
• 17 thoughts I had watching Netflix's bizarre Eurovision movie, The Story of Fire Saga
• Who is actually singing all the songs in the Netflix Eurovision film? An investigation
• Only a true Eurovision superfan could score 10/16 on this impossibly hard quiz