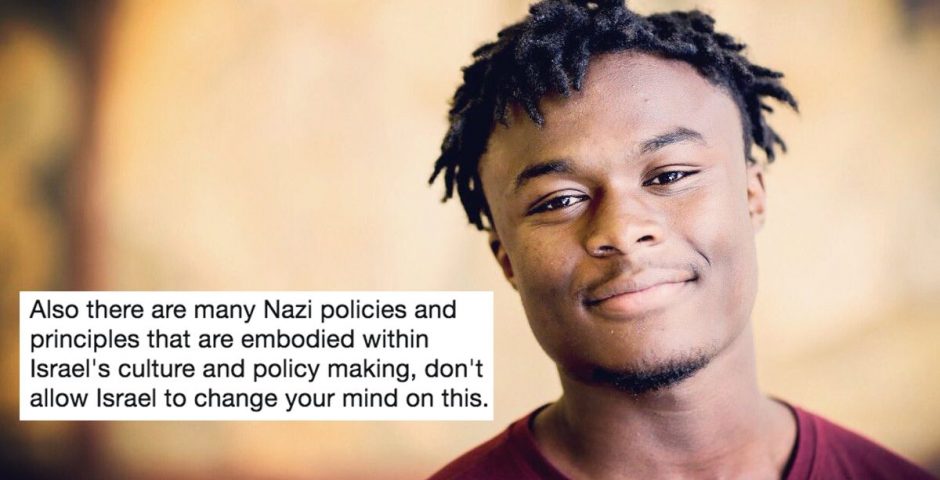 'Israel policy similar to Nazi policy' : NUS committee member accused of antisemitism
Ayo Olatunji has said he will not step down from his position
| UPDATED
The Union of Jewish Students (UJS) have accused an NUS committee member of making antisemitic comments online.
Ayo Olatunji, a member of the NUS' national executive committee, has compared Israel to Nazi Germany, and accused the "Israel lobby" of bullying the media to set a particular agenda.
A statement made by the UJS has condemned "blatantly antisemitic language shared online" and also called on the NUS to take action. Ayo has said he will not step down from his position.
Tweets posted by Olatunji include the claim accusing "Zionists" who support the state of Israel of "racist antics", and the "Israel lobby…[bullying] the U.K. media" to have a specific agenda.
Further claims Olatunji made include "universities push the Israeli agenda", criticism of the International Holocaust Remembrance Alliance's (IHRA) definition of antisemitism – which is used by the NUS – and comparisons between Israel and Nazi Germany relating to "policies and principles".
The IHRA states that "drawing comparisons of contemporary Israeli policy to that of the Nazis" falls under its working definition of antisemitism in public life.
Ayo's Facebook page shows that he has been the BME Officer 17/18 at University College London for the last year.
He was elected to the NUS' national executive committee at their national conference this year.
The UJS statement reads: "UJS are disgusted by the blatantly antisemitic language shared online by Ayo Olatunji, an elected member of the NUS NEC.
"Olatunji has previously apologised for his endorsement of the Rothschild conspiracy, recognising it as antisemitic. Despite this, Ayo has continued to indulge this racist trope, suggesting the Rothschild conspiracy could be 'the only viable explanation' in reference to concerns about the '1 per cent controlling the power and the rich controlling the power and money'.
"Furthermore, Olatunji's outrageous claims that 'Israeli policy has a lot of similarities with Nazi policies' and that others making similar sinister comparisons are 'absolutely 100 per cent right in making this comparison' is antisemitic under NUS policy which adopts the IHRA definition of antisemitism.
"NUS must now swiftly and publicly take the appropriate measures to ensure that they enforce their own policy on antisemitism."
Ayo has since published a Twitter thread reiterating his criticism of Israel as "racist", and saying that "the comparing of Israel to the Nazis is a valid one", citing a Holocaust survivor who made this comparison.
In response to the UJS statement, he told The Tab: "I didn't call the Rothschilds conspiracy a viable explanation. I said for those who are uneducated in left wing spaces they see it as one because they are uneducated and unaware due to vague left wing narratives."
He has also said: "I also do not subscribe to the full IHRA definition of antisemitism and neither do…100 groups in this article as it completely silences Palestinians.
"Lastly, I will not be stepping down from the NUS National Executive Committee, nor will I be bullied out, I was elected by people who believed in my vision and I will not compromise on my views because they hold uncomfortable truths for Zionists."
"Yes Jews have the right to autonomously define their discrimination but so do the Palestinians."
An NUS spokesperson said:
"NUS is processing a number of complaints and investigations are under way through the NUS code of conduct procedure.
The National Union of Students believes that all forms of hate and prejudice are unacceptable. NUS will continue to engage with the Jewish students and the community to identify ways in which we can ensure our spaces are inclusive and accessible to all students. We will always strive to create a sector, organisation and movement that gives everyone the opportunity to learn, share ideas and lead without fear."
Related stories recommended by this writer:
• Exclusive: Anti-semitic abuse involving YUSU officer exposed after 12 month 'cover up'
• 'Don't be a Jew': First year Anti-Semitic physics group chat exposed
• King's is the first UK uni to adopt official guidelines to eliminate Anti-Semitism on campus