ULU Bans Officers From Attending Remembrance Service
Move is latest in Union's Remembrance controversies
The University of London Union has banned its officers from attending a Remembrance Sunday service if they wish to represent students at the occasion.
Union leaders voted in favour of a motion which effectively disallows officials from "Representing ULU as an organisation," at the event.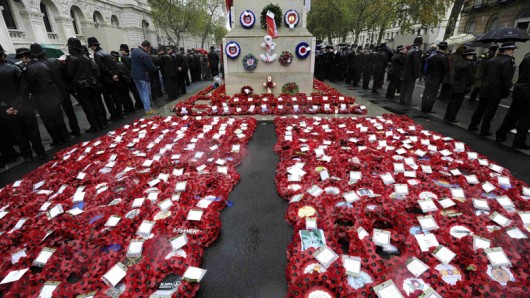 ULU president Michael Chessum, when speaking to The Telegraph, confirmed the intentions of the institution:
"ULU has democratically established a policy on its engagement with official Remembrance which leaves room for officers and students to act freely."
The Union say that if officers wish to go the event in a personal capacity however, they cannot stop them.
"Either attending or not attending official ceremonies is a political act," Mr. Chessum continued. "Personally, I will commemorate the dead killed in war by fighting for peace and challenging the policies of governments, not by standing next to war criminals like Tony Blair on plinths, pretending that these acts are 'triumphant'."
The controversial situation echoes a decision by vice-president Daniel Cooper a year ago, who refused to lay a wreath on Remembrance Sunday due to his personal beliefs.
The ULU motion passed by the senate this year said that "while of course many of those who participate have different views, official 'Remembrance' ceremonies and the campaign around them glorify and justify Britain's role in world politics and British militarism, as well as ignoring the treatment of British soldiers by the military command."
The move has already been widely condemned by many of the students who ULU represent across London.
Also speaking with The Telegraph, Louisa Townson, president of the Conservative Society at UCL, criticised the "outright delusional arrogance of this senate clique that wishes to impose this view on 120,000 students and say no one may represent ULU at the service".
"I find it amazing that when convenient they shout from the rooftops about the sheer number they represent, but on a topic like this expediently silence them," she said. "Students overwhelmingly want their union to pay respect, not just to fallen students in years gone by, but to give thanks to those that lost their lives to protect the rights and liberties we hold dear today."
Her feeling has also been voiced by the general public, as well as politicians.
Stella Creasy, Labour MP for Walthamstow, tweeted: "As a former student, this decision by ULU to ban officers from participating in Remembrance Sunday makes me ashamed."
ULU itself is set to be disbanded by The University of London following increased student apathy towards the controversial organisation.