Stereotypes, superstitions, and strikeouts: We spoke to Beau Ridgeway about being UT's star pitcher
He drinks chocolate milk before every game
One of the proudest traditions at the University of Texas is undoubtedly baseball. The Longhorns are the proud owners of six national championships, which is the tied for the second most in the history of college baseball.
I caught up with star pitcher, Beau Ridgeway. Beau is a sophomore from The Woodlands in Houston and is as passionate about the game of baseball at they come. His heartfelt love for the game is undeniable.
Ridgeway is, the perfect representation of what an athlete should be: talented, genuine, and personable. Don't be surprised if you find yourself rooting for #14 as he steps out on the mound the next time you go to a baseball game.
Last season, the final record was 25-32, that was tied for one of the worst seasons by a Texas team. What were your feelings about that?
Coming in as a freshman of course I was excited for the season. I didn't really know what to expect. Obviously, I wanted to win more, but I kind of had mixed emotions. I was happy because I finished up my freshman year and had a good year, but our team record was a disappointment because we had the talent to do much better.
What did it mean to you to have played under Augie Garrido considering it was his last season?
It was amazing. Everyday coming to practice, I felt like I was getting to hang out with the legend, the greatest of all time. He taught all of us that even when you are not doing well and the fans aren't on your side (cause our fans are brutal), you have to just stick with your team, your friends, and your family because they have your back.
How do you feel about this upcoming season?
I feel really good about it. The freshman class is amazing, they are the real deal. With the new coaching staff, they have made some big changes, and it's a different feeling than last year.
You've said the best experience of your life was attending a Yankees game, how would winning a National Championship here compare?
It would blow it out of the water. I would do anything to win a championship here. Absolutely anything.
What has been your best experience at UT?
Playing at the Big 12 championship. That was a lot of fun just because it kind of brought back memories of being a little kid and you are sitting at the tournament, watching both teams scouting out who are gonna play the next game to advance.
Your family went to OSU so what's the family dynamic like when you play them?
I don't know if they are rooting for me or the other team and sometimes I'm scared to beat them. Haha. It might have repercussions. Nah I'm just kidding, my family is really supportive and they throw on the burnt orange when we go play them so that's good. It's good to look up and see that little bit of burnt orange in the stands.
Do you think that people treat you differently because you are an athlete?
Umm, friends at home, not really, but people around here that know I am, don't really hold me to a higher status or anything like that. People usually don't know that you are an athlete on campus and it's not like we are football players who are superstars. Last year, I did have some experience where people in my class knew that my teammate and I were athletes, and they did not like us. We weren't loud or obnoxious in class, we kept to ourselves, and they just didn't like us.
Are there bad stereotypes that come with being an athlete?
Oh definitely. I think the biggest one is that other students don't like that we have our scholarships or our school paid for. They don't understand that as being an athlete, we are bringing money to the school. Let's say that you are good at math, they want that to help their school get paid for, but they don't understand that everyone can go out and learn math, not everyone can go a throw a football 50 yards, catch a ball one handed, or throw a 95 mph fastball. There are very few people that can do those things.
Do you think people underestimate how hard it is to play baseball?
Umm I think so. Usually in baseball, the athletes in the sport aren't the guys that can run the fastest or jump the highest like your football and basketball players. They aren't the most physically built, but I think people underestimate it because of how much coordination it takes. You can put a baseball player in any sport and they'll compete, but if you put a football or basketball player in the batter's box, they're not gonna sniff the ball, they won't even make contact with it. Baseball is the most all around sport I can think of.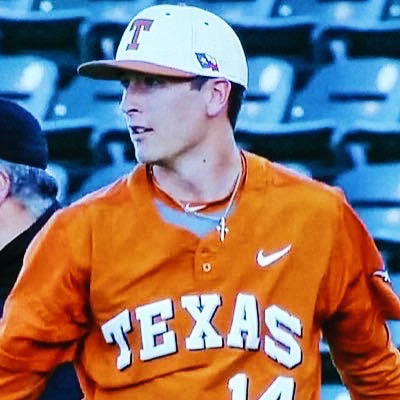 How do you balance schoolwork with playing baseball?
We have great counselor and advisors that help us manage our time. For example, last year we were required to go to study hall two hours every day. I can't tell you the last time I did homework at home because I just do study hall. People ask you to go to stuff, and you just have to be mature and say no I got to do my work. Do you want to be good at your sport, make good grades, or have a great social life? You can't have all three.
Do you have any superstitions before games?
Ok, I have bad superstitions because I am a mix of a fisherman and a baseball player so those are the two most superstitious people. Before games I always drink a quart of chocolate milk and a large cheese pizza. If I don't I get nervous.
Does it have to be a particular brand?
It has to be Papa John's pizza and Promised Land milk.
Song to get you hyped up for a game?
Promise by Kid Ink
Song to run up to the mound?
Those songs have to be different. You can't have a song that gets you too hyped. I like to stick with country.
Position that you'd hate to play the most?
Ooo catcher. They get beat up.
True or false, if you are not the best baseball player, you are put in right field.
Umm, true, up until college. High School and below, that is definitely true.
Which MLB team do you want to play for?
I've always thought it would be cool to play for my hometown team, the Astros. That would be the best place to play. New York is a little too cold for me. Anywhere warm. But, if the Yankees want you on the team, you don't say no. You get over your fear of the cold.
What advice would you give to someone who wants to be a baseball player/ pitcher like you?
It doesn't matter how much talent you have, how good your stuff is, you need to have the mental side of the game down. If you don't have that down, you are just done. I personally know some guys who have way more talent than I did and they could have blown me out of the water, but they didn't have the mental side of the game so when things started going wrong, they shut down. Just have the mental element down, that's the key.