UNC student leads topless march in downtown Durham
'We're still in the Bible Belt'
A UNC Women and Gender Studies major took her studies to the streets of Durham by leading a topless march. 
After painting themselves with phrases like "reclaim your body," the group marched in a Go Topless Solidarity March to promote gender equality.
Organizer Andi Thurston, 22, told The Tab she was "really nervous" when it started.
Andi said she had always wanted to do a topless demonstration. When she found out about the Go Topless organization, and the Free The Nipple movement, she decided to plan a march.
"Even though I consider Chapel Hill a progressive place and a place that's very open-minded, we're still in the South, we're still in the Bible Belt," she said. "But there's a huge community of people who care about these issues."
The demonstration was originally planned for Raleigh, but the city has an ordinance making it illegal for children under age 14 to see exposed breasts in public.
At this point, Andi decided to move the demonstration to Durham, which has no laws against going topless.
The City of Durham asked for some time to warn people, but Andi refused to push her march back. "I wasn't doing anything illegal," she said, "I was just exercising my rights."
Of the 40 to 50 people that RSVP'd on Facebook to attend the march, only five showed up.
Andi said she figured they just got nervous or were busy, noting "it's a big deal" to go topless.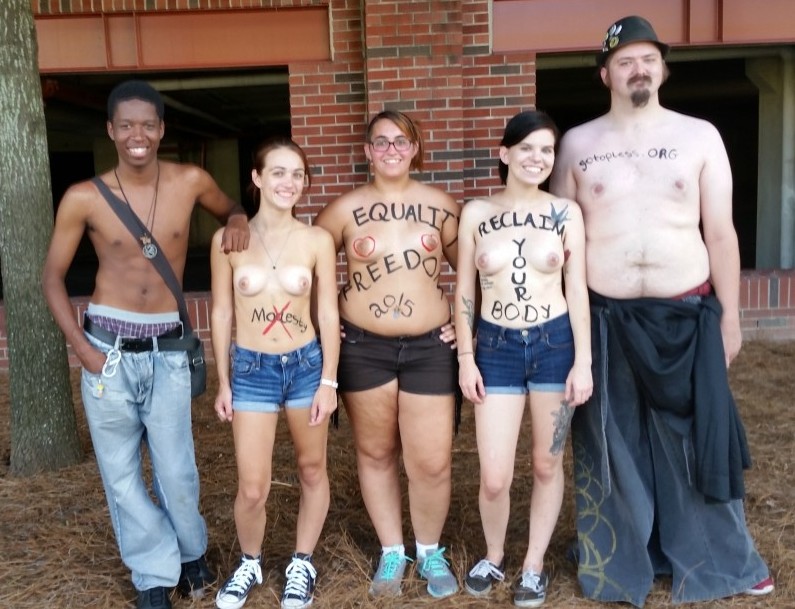 "I wasn't nervous at all leading up to it, and the second it came for me to take my top off, I was really nervous. I was like, I don't want to do this," she said.
Responses to the march were mixed, but Andi said most were supportive. Many people took pictures or offered thumbs up.
Women told her they thought it was "awesome that we had made it this far." Some people called the police, but officers explained to these concerned citizens that being topless in Durham is actually completely legal.
As could probably be expected, horny guys became an issue. Andi said "there were people saying 'Hey, I like your body,' or 'Where's your boyfriend,' and that just gave me more confidence to keep doing it."
"It's just your body, but socially we've been conditioned to view breasts as purely a sexual thing, and that's just not the case," she said. "It's a stigma that needs to be quashed."
Andi wants to start monthly topless walks around Durham, even if she does it alone. "I had so much fun doing it, and as soon as my top came off I just felt so natural."