The best social media reactions to the UH brown water scandal
Since September 20th, the University of Houston has been plagued with "brown water issues".
On Twitter, UH addressed the water discoloration.
"The University of Houston Main Campus is presently experiencing discoloration of water in its facilities supplies by the City of Houston. As a precaution, until the city identifies the problem and ensures it is safe for consumption, the University of Houston is recommending our campus community avoid drinking tap water on campus. UH is coordinating with the City of Houston to flush the water system on campus to expedite removal of discolored water. Both the city and University are collecting water samples for testing and expect expedited results."
In other words, the water in some places on campus resembles this:
UH officials are keeping students updated on the murky situation. Douglas Bell, an Assistant Director for UH Student Housing and Residential Life, sent out an email to students, stating, "As you know, campus is experiencing a water issue that started yesterday late afternoon with reports of discolored water. However, at this time, we do not yet have an update from the University about the quality of the drinking water. We expect an update tomorrow.  It is recommended that water from taps not be consumed until notified otherwise.  Toilets are able to be flushed and showers can be taken at your discretion."
In the meantime, some students are finding humor in the situation.
Whether it's through a Mad Max: Fury Road meme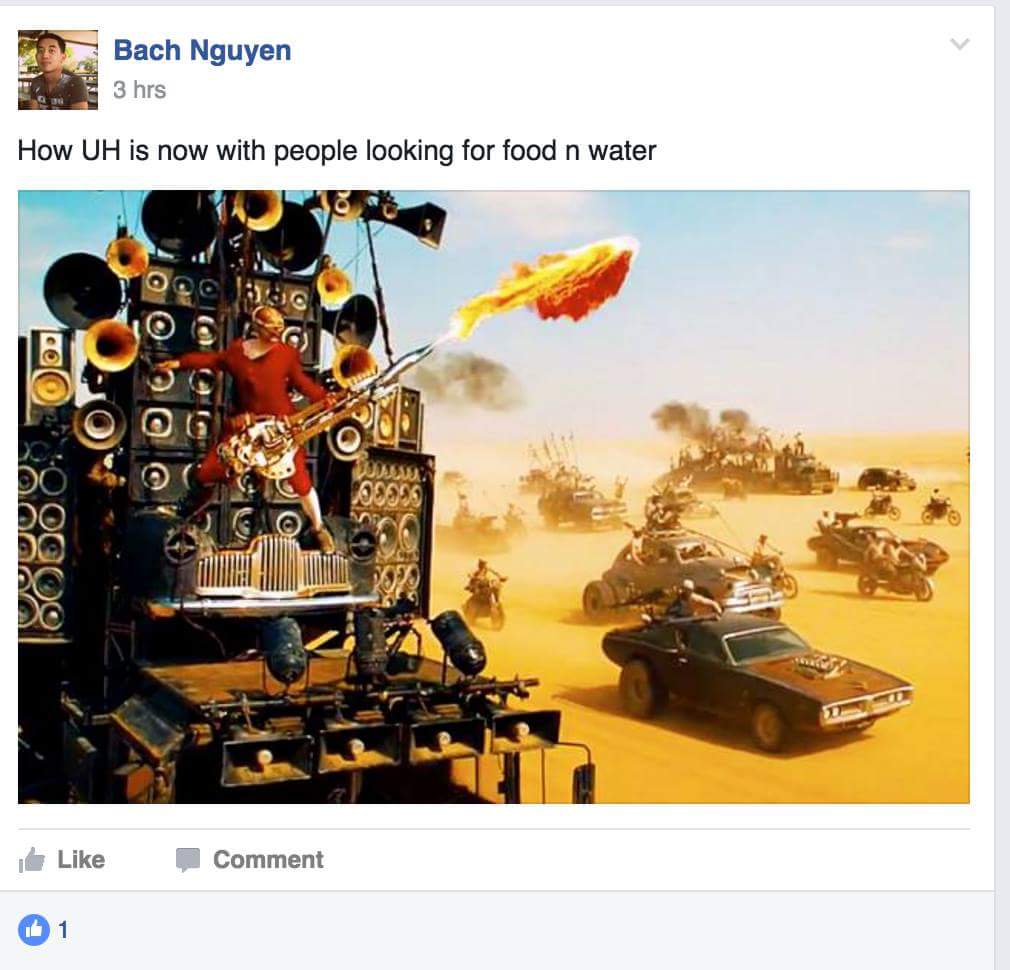 Or relating to SpongeBob…
Or almost starting a restroom fight
Or bluntly explaining living situations
Or stating the obvious
This issue is uniting the student body
As of 4:51p.m, an alert was sent out to the student body, reading,
"The lines were flushed overnight, the water was clear this morning, and we are awaiting the results of tests on water samples delivered to both the City of Houston and an independent lab.  Out of an abundance of caution, until the City of Houston ensures that the water it supplies to the UH Main Campus is safe to consume, we continue to recommend that our campus community avoid drinking tap water on campus.  We anticipate this recommendation will stand overnight and will provide further updates as information becomes available.
"At this time, food service locations on the UH campus will either remain closed or offer a limited menu.  However, UH has taken numerous steps to ensure our campus community has access to food and drinking water.  This includes 125-gallon "water monster" tanks located at residential halls, deliveries of bottled water, as well as food trucks stationed on campus.  Dining updates may be found at http://univofhouston.campusdish.com under "Important Updates" or on Twitter at @UHDining.
Please continue to visit the emergency website (www.uh.edu/emergency) for regular updates regarding this emergency situation."
The end is nigh. Maybe.