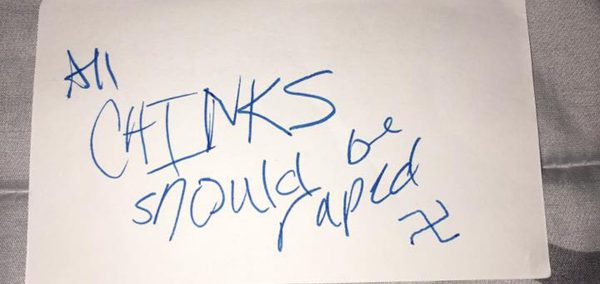 UConn student finds note saying 'All chinks should be raped' with swastika drawing
They found the note on Tuesday night
A UConn student found an index card covered in racial and sexual slurs on their bulletin board on Tuesday night. Written in thick blue marker was "All CHINKS should be raped" accompanied by a Swastika.
In a Facebook post the student said they had spent four hours covering the bulletin board with a rainbow flag, information about affirmative action and nonviolent protests, a pledge of inclusivity and a title that stated, "Love Will Prevail."
When they came back to the hall they found the obscene remarks posted to the bulletin board.
The student created the post in the hopes to educate people about how their words and actions affect others. In the post the student described the incident as "unbelievable hurtful" and wrote that it took them 20 minutes before they could call the police. The student said it was baffling to know that someone had taken the time out of their day to intentionally hurt someone else.
They also acknowledged that the person who did it may never be caught but addressed them anyway, saying, "You may think that you are funny, that your comments don't mean any actual hurt, but I can guarantee that eventually you will cause irreversible harm." The student then asked the offender to "please think about what you are doing."
The student also said, "I think it is important to recognize that these terrible acts have happened and are happening across all college campuses and they definitely happen at UConn. Be an active bystander. Don't let hate rule our nation or take over our community."
In response to the post, the student's friends and family expressed their love and support. Many of them shared the post and spread the message with the hashtag LoveTrumpsHate.