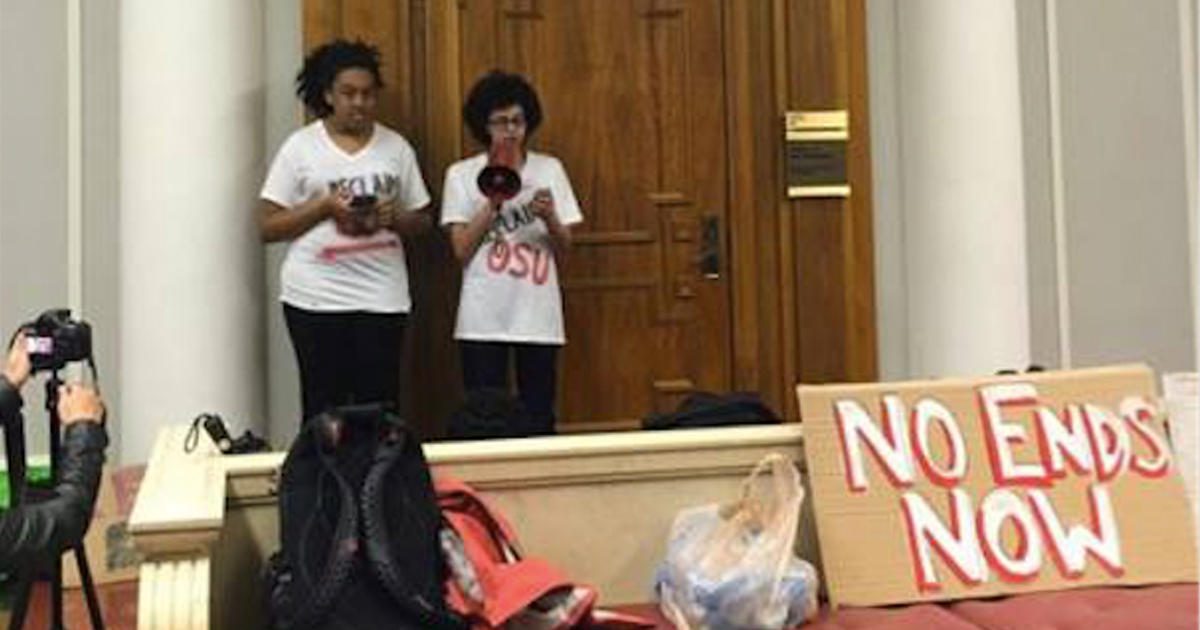 Reclaim OSU has claimed Bricker Hall
'Free speech is like a muscle: you have to use it or it's gone'
Earlier today, a group of Ohio State students made up of The International Socialist Organization, United Students Against Sweatshops, Real Food Challenge, Committee for Justice in Palestine, Sierra Club Student Coalition, Still We Rise, and OSU Coalition for Black Lives, along with several faculty members and campus workers, began occupying Bricker Hall to demand that President Drake meet their requests.
Their demands are actually quite simple: for OSU to provide "complete, comprehensive and detailed access to the Ohio State budget and investments," and that the "administration of the Ohio State University be responsive to community calls for justice."
This group of students feels as if their voices have been silenced by the administration of Ohio State and are occupying Bricker Hall to show that they will not be complacent as Ohio State represses their students, faculty, and staff. They stand for equality and justice, and they believe that their voices deserve to be heard.
The members involved in the sit-in have locked themselves inside Bricker Hall and plan to stay there for as long as it takes until their demands are met. President Drake has allegedly locked his door and called the campus police.
Currently the police outside Bricker Hall are not allowing any more students to enter the building, effectively making it impossible for the students inside to receive any food.
While the students involved in the protest feel that police presence is overbearing, the Campus Police have released a statement saying they respect everyone's First Amendment rights, and that their presence is only meant to enhance safety and allow for students to voice their concerns peacefully.
Administrators are currently telling students that Ohio State won't listen to the demands until morning; however, the students remain steadfast. Maryam Abidi, a junior at Ohio State and student activist who has been at Bricker Hall since 4pm explained that what they really need now is "more people outside, that would be what we need."
The event Reclaim OSU seeks to give a voice to those who have been silenced by the university. Ranging from issues dealing with diversity and sexual assault, to various health concerns, the students will not rest until they are given the voice and power they deserve. Reclaim OSU is asking students to share their stories of how their voices have been silenced by the university on an online forum. In the words of Dr. Pranav Jani, "free speech is like a muscle: you have to use it, or it's gone."
More information about the Reclaim OSU movement can be found on their Facebook event page.