Kanye West's 'Life of Pablo' pops up in SoHo
Yeez louise it's a long line
Hundreds of people squeezed inside the gated sidewalks of lower Manhattan this afternoon in a last mad-dash attempt to get their hands on Kanye West's "Life of Pablo" merchandise.
The temporary pop-up, located at 83 Wooster Street, has been open since Friday and shut it doors tonight at 8pm.
Lord Yeezus announced the shop's opening via Twitter on Thursday, inciting a craze that rallied hoards of fans out of their homes and onto the streets of SoHo, blocked off to traffic by around thirty policeman.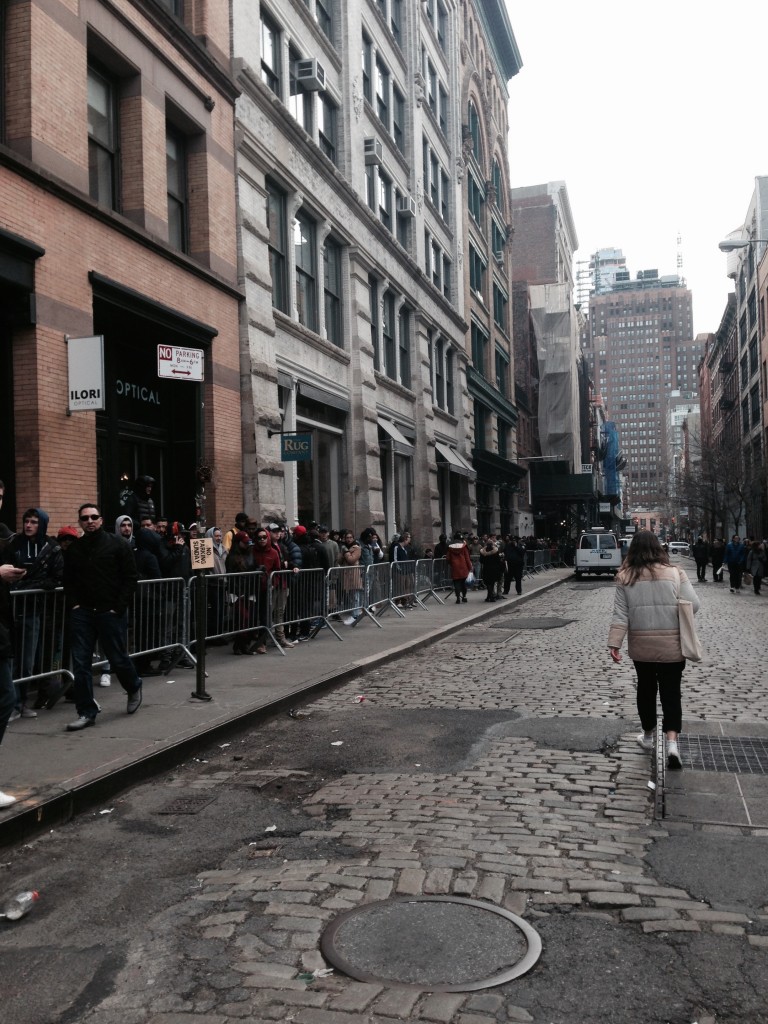 The merchandise, unavailable online, included short and long sleeve t-shirts that pay tribute to Robert Kardashian, caps and beanies embroidered with "I feel like Pablo," bomber jackets, red and blue hoodies, and the uber-exclusive denim jackets replicating West's studio notepad.  
Fans at the front of the line had been waiting for about five hours and were excited to finally be ushered inside, in pairs of two.
The crowd ranged mainly from late teens to early thirty year olds, and most said they were hoping  to buy hats, hoodies, and the denim jacket, if any were left. A group of friends, who had successfully made it into the shop, said they had taken this morning's 5am bus from Washington D.C. in order to nab what pieces they could.
Kanye West's line is pretty reasonably priced, with short sleeve t-shirts going for $45, hats for $40, hoodies for $95, bombers for $350, and the denim jackets peaking at $400, in comparison to the first season of Yeezy, where hoodies reached over $500 and outerwear was closer to $3000. However, with the 'Life of Pablo' merchandise, fans know they are buying the tour-inspired pieces for the name, more so than for quality.
Although West will undoubtedly be peeved when his garments resell online for double their value, every little bit helps when you're $53 million in debt. Plus, in regards to reaching his fan base and spreading the hype,  the 'Life of Pablo' pop-up was definitely a massive success.