'I know I ain't no bitch': UMich student kneels until he bleeds protesting campus hate crimes
Students are leaving water and snacks on The Diag for Dana Greene Jr.
Have you ever knelt on the ground for so long that you couldn't walk when you stood up? One University of Michigan student is planning to "kneel under the sun" until he bleeds.
Dana Greene Jr., an MPH candidate at the University of Michigan is kneeling to protest the hate crimes that have plagued his university. In an open letter to University President Mark Schlissel, Greene condemned Schlissel's behavior and the lack of action on campus to protect student's rights.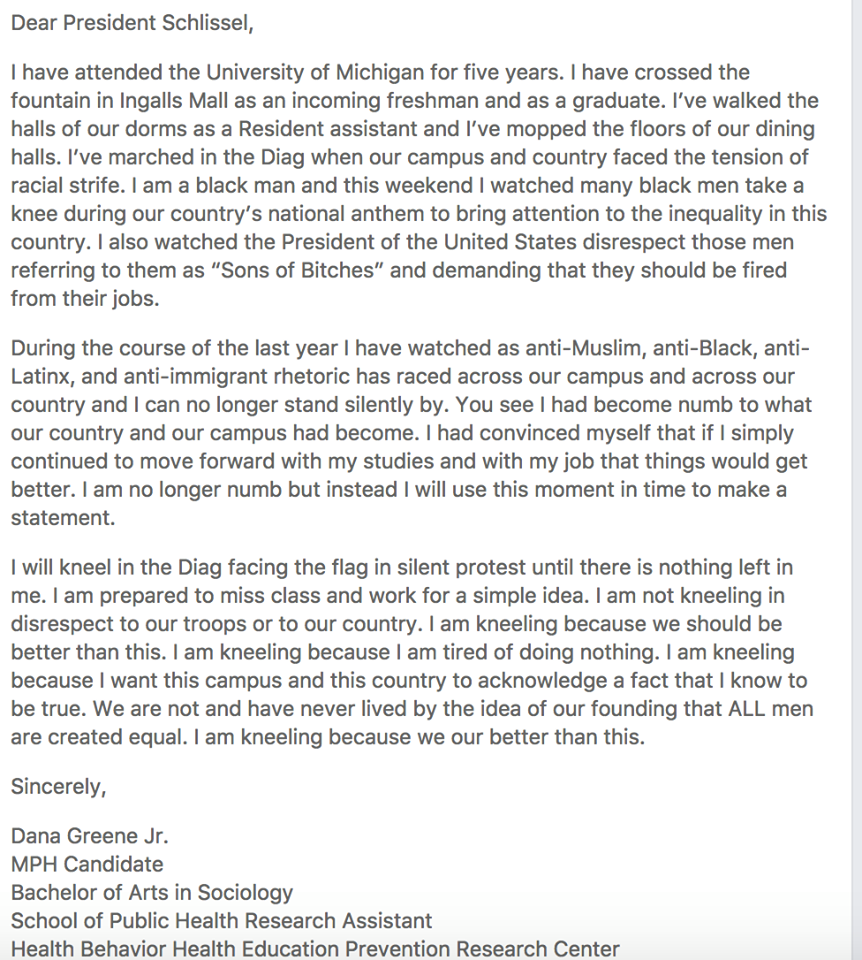 Greene wrote, "During the course of the year I have watched as Anti-Muslim, anti-Black, anti-Latinx and anti immigrant rhetoric has raced across our campus and across our country." He concluded the powerful letter with his plan of action — to kneel on The Diag facing the glad in silent protest.
In an exclusive interview with The Tab, Greene claimed he was tired of the injustices occurring on campus. Over the course of the past week, there have been a series of racial incidents on campus. This began with the racial slurs that were written over a West Quad student's door, an act that truly made students feel unsafe on campus.
Students responded with a Black Lives Matter protest during which a discussion with Schlissel was held. Unsurprisingly, not only did Schlissel leave the conversation early, but during his time at the discussion students claimed he kept trying to redirect blame elsewhere.
After the discussion ended, students took to the streets to honorably march to Schlissel's home. Shortly after they began, a white man assaulted a protester. The next day, students chalked, "Black Lives Matter" on The Diag seal, only for other students to attempt to cross it off and write, "All lives matter."
What pushed Greene to take action was President Trump's statement on Friday in Alabama. In response to NFL quarterback Colin Kaepernick kneeling during the "Star Spangled Banner" to protest racism in America, Trump remarked that NFL players were "sons of bitches" and proposed that those who disrespect their nation be fired from their jobs.
Greene was infuriated. "I know I ain't no bitch, just because they decided to take a stand for social injustices that not only happened to black people but to all people of color, frankly anyone that's just different, they are an S.O.B who has been disrespecting the flag? Well personally, I think we've been disrespecting the flag for a long time," he told The Tab.
Greene believes that we have been disrespecting the flag since our founding. The United States is a country based on equal freedoms. That is a simple and unequivocal fact. His act of protest is not only fueled by the hate crimes occurring on campus, but also because he wants to bring attention to the fact that Trump doesn't represent the freedoms of everyone in this country.
Greene knelt at The Daig from 7 am on Monday until around 3:30 am Tuesday, but he wasn't the only one there. Other students have joined to stand in solidarity with Greene and his message to Schlissel. The site is filled with umbrellas to protect students from the harsh sun and the ground is covered with food and water left by passing students to help the kneelers get through the day.
UMich upperclassmen Serena Brown and Kamaaria Sanders have also joined Greene's protest. They too want to protest the terrible acts both across campus and the country. Though they have not been kneeling for quite as long as Greene, they are proud to support his fight.
Show your support for Greene and the other students. Join the fight. Stop by The Diag and kneel yourself. If you can't stay, leave some water or snacks. This isn't just the fight for Greene or students of color. This is everyone's fight. It is our duty as citizens of this country to stand up for the rights of everyone and refuse to let them be infringed, regardless of race, creed or color.
The President of UMich has responded to Greene's protest via Twitter.