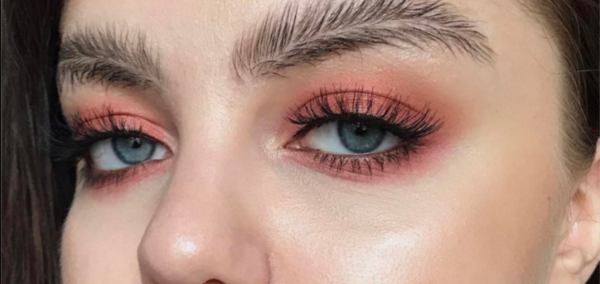 A definitive list of the most what-the-hell 'beauty' tutorials of all time
'Dick liner' was only the beginning
On Monday, beauty blogger Mykie uploaded a makeup tutorial inspired by Dr. Dao, the United Airlines passenger who was violently removed from his flight by security after refusing to vacate his seat on the overbooked flight.
Mykie's video, which features a whooole lot of fake blood and what might be yellowface, has gotten a range of (mostly negative) reactions, from "why would anyone do this" to "Okay, but her eyeliner game is strong." To her credit, Mykie's tutorial is meant to be satirical, but it still has a lot of people pretty pissed, and mostly just kind of confused.
While Mykie definitely takes the cake for having the most head-scratching makeup tutorial on the internet, she's not alone. Here's a few looks that'll make you want to pull an Alicia Keys and tap out of the makeup game for life.
Dickliner
For when your late-night look is just…missing something. Namely, a set of hairy testicles protruding from your lower lashes.
Feather eyebrows
In case you're wondering how to get this look: the shadow's by Mac, the gloss is by Lipsi Cosmetics, and the brows come courtesy of Elmer's glue.
Full-face glitter
Beauty inspo: the sun.
Furry nails
Listen, I'm just as bummed about the end of Teen Wolf as everyone else. I'm just not sure brushing your Golden Retriever and slapping its fur on your pinky toe is the best way to express it.
Crayola makeup
This girl somehow ends up looking kind of flawless with nothing more than the materials you used on your first grade art project. Personally, I don't have the skills for that, so I'll save the crayons for my adult coloring book.
Snapchat filter makeup
Maybe if I show up looking like an IRL version of the gold butterfly filter, the hot guy in my Psych class will finally notice me?
The 100 layer challenge
I admire the dedication put into this look, but when Nars foundation costs $50 a bottle, who has the funds for this?
Clown contouring:
I'm sorry, but have you SEEN the trailer for IT? There is nothing cute about clowns. They're freaking terrifying. Keep that shit away from my timeline and my face.
That time someone crushed up an Oreo and tried to use it as mascara
You can buy a tube of Wet N' Wild at Target for $2.79, but where's the fun in that? I can just picture this girl walking down the street and someone asking her whether she's wearing fake lashes. "No, it's just this new stuff by Nabisco."
Or when people just bit the bullet and did full faces via their refrigerators
Covering your face in chocolate and peanut butter is less of a makeup look and more of something you might do while you're high and craving a Reese's.
Or when everyone ditched their Beauty Blenders and used eggs instead
Forget about dyeing eggs for Easter. Dip those babies in foundation and get started on your ~lewk~.
While all of these tutorials are crazy, I have to give some props to the artists behind them, seeing as I can't even do a smoky eye without looking like I've been punched in the face. Keep up the good work, but maybe let's stick to highlighter instead of fake blood.