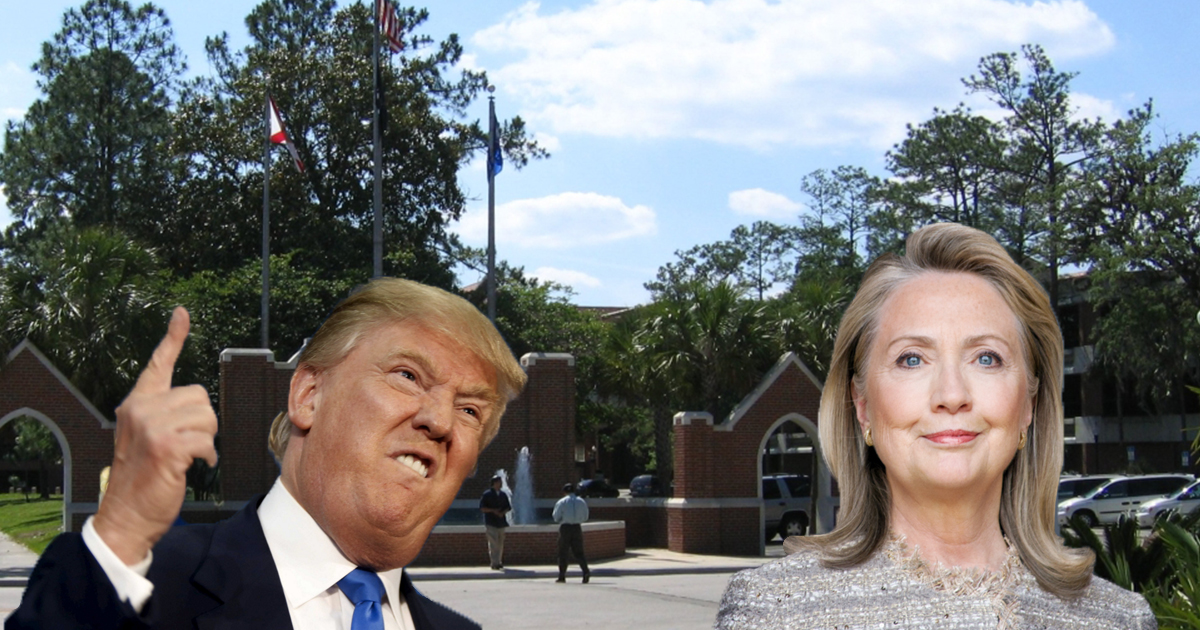 If the 2016 presidential candidates were UF dorms
The housing selection at UF is brutal. If you aren't in front of your computer hours before your supposed 'selection time,' you may just end up living on an Ocala landfill. Assuming you're lucky, and actually scored a place in walking distance to campus, there are still a million and one things that can go wrong with your living quarters.
UF dorms and the presidential candidates in the upcoming election are similar: It's a hit or miss, either enticing overall, or just plain disastrous.
So, here you go: The University of Florida's residential buildings, if they were 2016 Presidential Candidates.
Murphree -Ben Carson
I asked my best friend to describe Murphree to me, she said "the rooms make no sense, they're really random and mine had a sink…" Which makes SO much sense because sinks are the perfect places to store grain! Sure, pyramids are preferable – just ask 'ole Ben Carson. 
This man is bananas and diabolical. He's a  respectable surgeon who is surely FTK, but really frightening and confusing.
The Murphree area is "beautiful and calm" which is how some people describe Carson's voice (I think it's creepy), but it's not worth rolling the dice for, especially when living quarters/The United States' integrity is at stake.
Fraternity House – John Kasich
John Kasich is a brother of the Alpha Sigma Phi fraternity, and has the confidence of a fraternity gentleman. He literally wrote a letter to Nixon his freshman year discussing his concerns with the nation and asked to meet with the president. If that request isn't a #TSM, I don't know what is.
Like a fraternity house, John Kasich has seen it all by serving on everything from The House Budget Committee to The House Armed Services Committee. Kasich's repeatedly refers to himself as a "traditional man." Even though he loves holding onto his uber conservative values, this man has gone as far as calling himself "The Prince of Light."
'Frat guys' certainly think highly of themselves and have probably referenced Anchorman by saying "I don't know if you know this, but I'm kind of a big deal."
I don't know that they would go as far as calling themselves "The Prince of Light."
Beaty Towers- Bernie Sanders
Like Bernie Sanders, Beaty's age exudes charm, and is certainly an acquired taste. Bernie's ferociously active nature mirrors the endless fire drills Beaty residence are subject to, but they do after all look out for everyone's safety and wellbeing.
Beaty has shaped my freshman dorm experience. First I attempted to bully my roommates out of the dorm through aggressive tactics which only ended up hurting myself *cough cough people who support Donald trump.*
However, we later took the time to engage in late night conversations, do favors for one another, hang out leisurely (intentionally), and I can now call my roommates some of my dearest college friends *hi Bernie supporters.*
Our SOCIAL and COMMUNAL (I went there) bond has truly taught me the true essence of camaraderie.
Marco Rubio -Off Campus
You would think Marco Rubio would be the most interesting 'dorm' to write about since he went to UF. But, because he was a transfer student from the local community college, he didn't have the opportunity to live in a dorm freshman year.
Like an off campus apartment, he takes himself seriously and needs his own space. With his stance on immigration reform, he would end up with his ideal roommates. Living close to campus can be costly, so this apartment would be far, far away in a 'fiscally conservative' friendly complex on Archer.
It would also be a dated facility that dismisses conservation and sustainability because to him, increasing employment is more pressing than global warming.
Jennings- Hillary Clinton
The style of the rooms and residence hall layout mimic the dorms created before Jennings. It's a renewed version of what previously existed, much like the possibility of great Hillary succeeding President Obama.
It's a safe bet to select Jennings as your dorm of choice; reliable, traditional yet modern. It's a place where you're guaranteed to prosper. Jennings is arguably the best dorm to make friends in, and it typically is home to more female residents than male residents.
Some people however will point out there are some rooms that are, well, mold infested. It's not a reason to reject Jennings as your home, but enough to complain… #Benghazi
Cypress -Donald Trump
Cypress is the most luxurious dorm on campus. It makes for a lavish dorm experience, and each time you walk into your room, you get to jump into your XL FULL SIZED bed which rubs itself in our extra long twin bed faces.
Like Donald Trump's policies, Cypress has a lot of criteria you have to meet in order to benefit from the lifestyle they provide.
You have to swipe people in and out–basically Trump's proposal on how to address the Mexicans and Muslims–keeping track of who exactly enters the building, where they go, etc.
It's the Trump Palace of Gainesville, their 24 hour area desk may as well be a concierge. Cypress' luxury taps into the anger of students who live in sub-par dorms and then tries to get them to move in as a sophomore in the fall– which literally nobody wants to do.
Ted Cruz -Lakeside
At Lakeside, everyone is crammed into a teeny tiny box that they call a "private bedroom." It's basically the falsest version of the truth, which is the best way to explain anything and everything Ted Cruz has to say.
Even Marco Rubio said "He has spent the last two weeks literally just making stuff up," so thank you Rubio (Gators don't lie).
Being placed at Lakeside (without a scooter/financial mobility) is more horrifying than not having the right to do what you want with your body, or perhaps not being able to marry the love of your life.
Lakeside really sucks as a dorm because it's far, the rooms are too small, and the kitchen looks like a doctor's waiting room. I'm not even sure Lakeside adequately analogizes Ted Cruz' evil. He is Machiavellian, and any residence hall like him ought to be knocked down immediately. #GOPhuckingMakeItStop