15 of the best places on campus for your dissertation picture
Locations to fit every Instagram, no matter what your aesthetic is
It's finally that time of year, you've toiled for the past two years and the end is in sight. You've cried over it, you've had your meltdowns, but you've finally done it. You're cradling in your hands what has been your worst nightmare, but also one of your proudest achievements.
So, where are the best places on campus to show off your dissertation?
Lucky for you, I've compiled a list of 15 of my favourite spots on campus, so go wild and congrats on all your hard work!
Heslington Hall
If you haven't got a dissertation picture outside of Hes Hall, are you even a UOY student?
The Quiet Place
Directly opposite Heslington Hall, the large topiary bushes of the Quiet Place make York look ten times posher than it is. If you're looking to impress your mates at Oxbridge or St Andrews, then this is the place to go.
Derwent B Block Lawns
If you ignore the ugly prison blocks, Derwent is actually one of the most aesthetic places on campus. Take your picture here if you want to avoid the cliche Hes Hall pic but also stay in line with tradition.
Derwent K Block Lawns
The lakeside lawns of Derwent once again proving that there's more to this college than the asbestos, who would have thought?
Halifax Bridge
A picturesque, quieter part of the Campus West lake opposite from Spring Lane Building. If you wear walking boots and a fleece 24/7 round campus, then this is the place for you.
The Buddha
A hidden gem of Campus West, The Buddha can be found in between Spring Lane and the Berrick Saul Building. The Buddha is a perfect location if you're channeling those zen post-dissertation vibes.
Greg's Place
Another staple of the York student's Instagram. If you don't have an indie, edgy picture looking into the distance on Greg's Place, you aren't a true UOY student.
Vanbrugh Bowl
Surrounded by blooming blossom trees and vibrant daffodils, the Vanbrugh Bowl is perfect for those with an artsy gram.
The Warren
The Warren isn't an obvious choice of location for a dissertation picture, but the colourful blossoms and two toned walls will certainly fit your gram if you're going for a plandid.
Provost Garden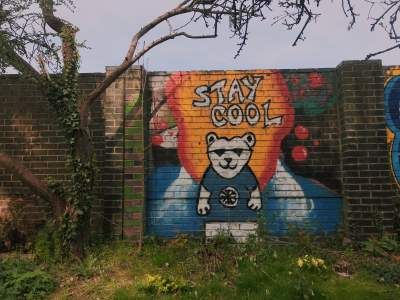 For all those edgy, urban students wishing they were at Manchester/Leeds. Provost Garden? Sorry, did you mean the East Side Gallery?
The Wentworth Bridge
The Wentworth Lake (formally known as Scullion's Lake) is the largest part of the Campus West Lake and boasts greenery all around. It's not everyday you get to have a massive lake as the backdrop for your dissertation pic!
The Sociology Building
The back of the Sociology building on Campus West is surrounded by little hills and cute blossom trees, reinforcing that York is one of the prettiest campuses around.
The Bridge by Central Hall
Central Hall certainly divides opinions amongst York students, with some professing it looks like a cool retro spaceship, and the rest complaining about the fact that we're graduating in said spaceship as opposed to the Minster.
The bridge by Central Hall with coloured UOY flags certainly makes for a great diss pic though, what better way to show off your pride for being a York student?
The Aldi Fields (Walmgate Stray)
Not technically on campus, but golden hour here would make a lovely candid of you and your mates holding up your dissertations. Trust me, the sunsets here make it so worth the trek.
Campus East Lakeside
The lakeside is covered in vivid yellow flowers, and its peaceful atmosphere is perfect for those channeling the 'at one with nature' or 'travel blogger' vibes.
It's not everyday that you get to be so proud of yourself, so remember that this is your moment, and bask in it fully. Well done you!