Protest in Dalton Square after Crime Bill backed by MPs
'No justice, no peace, fuck the police'
Following the death of Sarah Everard, vigils have taken place all over the country over the past couple of weeks. Protests are gaining significant traction in recent days following the government's flagship crime legislation backed by most MPs in the House of Commons. The Police, Crime, Sentencing and Courts Bill received a majority of 96 votes at its second reading, making it one step closer to law.
This has been particularly controversial as many fear it could curtail the right to protest, although government ministers argue the reforms will help keep people safe. The Bill's contents have been called into question following the police response to a Sarah Everard vigil that took place in Clapham Common at the weekend.
In Lancaster, protests have taken place multiple times in the last week on Sunday, Monday, Tuesday, and tonight.
This Thursday, Lancaster protestors walked from Dalton Square to the police station, passing benches tied with ribbon and the hashtag "#SheWasJustWalkingHome."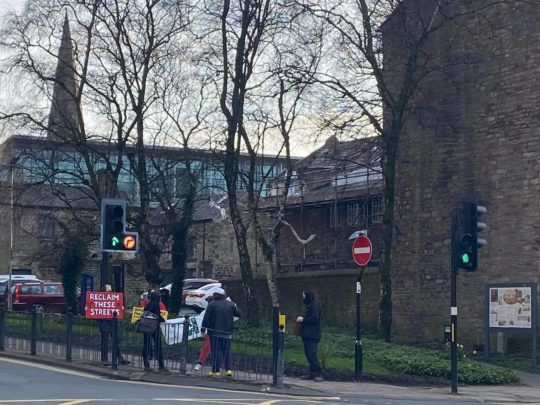 As they made their way through Lancaster, they were heard chanting, "No justice, no peace, fuck the police" and "Whose rights? Our rights?"
As the protest moved through the town centre, they began to chant "Defend our right to protest".
Related articles recommended by this writer
Meet the County students behind the @flat11lancs TikTok account
'We believe that all children deserve a childhood': An interview with 'Make A Smile'
Everything Lancaster students need to know about ILOVETOUR 2021