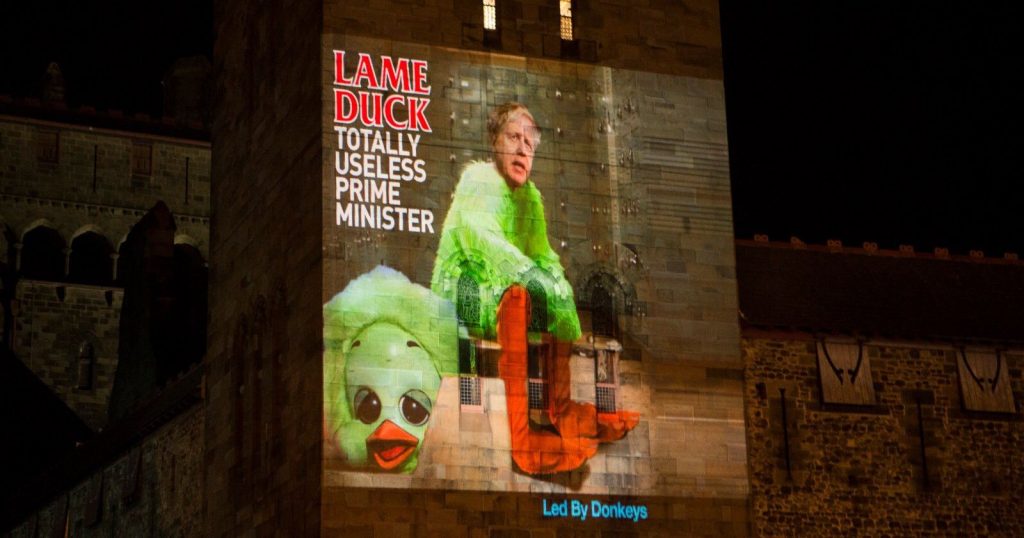 Image of Boris Johnson in duck costume projected onto Cardiff Castle
Videos of hypocritical quotes from Micheal Gove were also played
A huge image of Boris Johnson in an 'Orville the duck' outfit was projected onto Cardiff Castle last night.
The advert called the Prime Minister a 'lame duck'- a phrase used to refer to Prime Minister's unable to get things done in office. It comes after Boris Johnson lost his majority this week.
The advert mirrored a Conservative party poster posted on twitter yesterday which depicted Jeremy Corbyn in a chicken suit, after he refused to agree to Boris Johnson's timetable for an election.
The poster was named 'JFC: Totally Spineless Chicken'- so we can add acronyms to the list of things tories don't understand.
The image on Cardiff castle was projected by campaign group Led by Donkeys, who post past hypoctircal quotes from Brexiteers on billboards around the country.
They also projected a video of Micheal Gove, who is currently in charge of no deal planning, talking about the dangers of a no deal exit.
Cardiff's SU President has announced a campaign aiming to get students registered to vote ahead of a likely autumn general election.