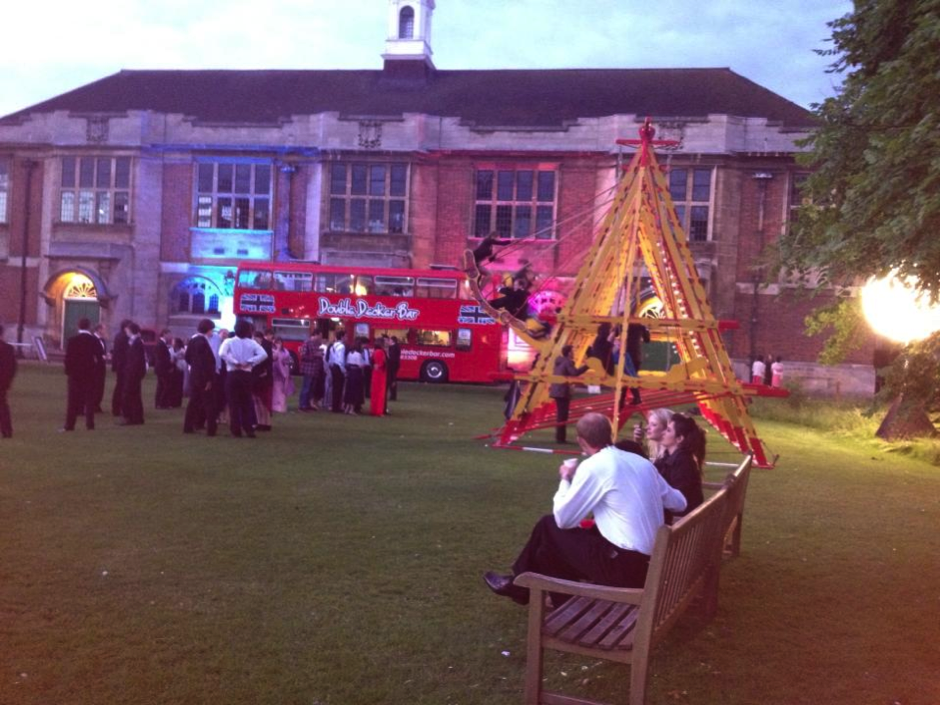 Emma May Ball 2013
FRANCESCA ROGERS was blown away by the "frustratingly perfect" Emma May Ball.
acaeon
actaeon
Bus
donuts
double decker
Emma May Ball
gabrielle aplin
London
london bus
london eye
May Ball
pick n mix
spector
tower bridge
Emma May Ball
Last Call to London
Sunday, 17th June, £127
Emma May Ball was almost frustratingly perfect. Thanks to the never-ending  supply of booze, my notes are essentially useless ("nice pick 'n' mix, donuts average"), but I really am struggling to find anything significant to criticise about this highly unique and exceptionally executed night.
I overheard a couple of 'witty' remarks about the theme as I walked in ("oh wow, I've always wanted to go to London"), but it turned out that the London theme (I never completely understood the 'Last Call to' part…) was what made the ball so special. The design was superb and made inspired use of the grounds: the underpass was transformed very convincingly into a London Underground Station; the bridge became a Tower Bridge photo point; each of the courts/halls became different London landmarks/areas.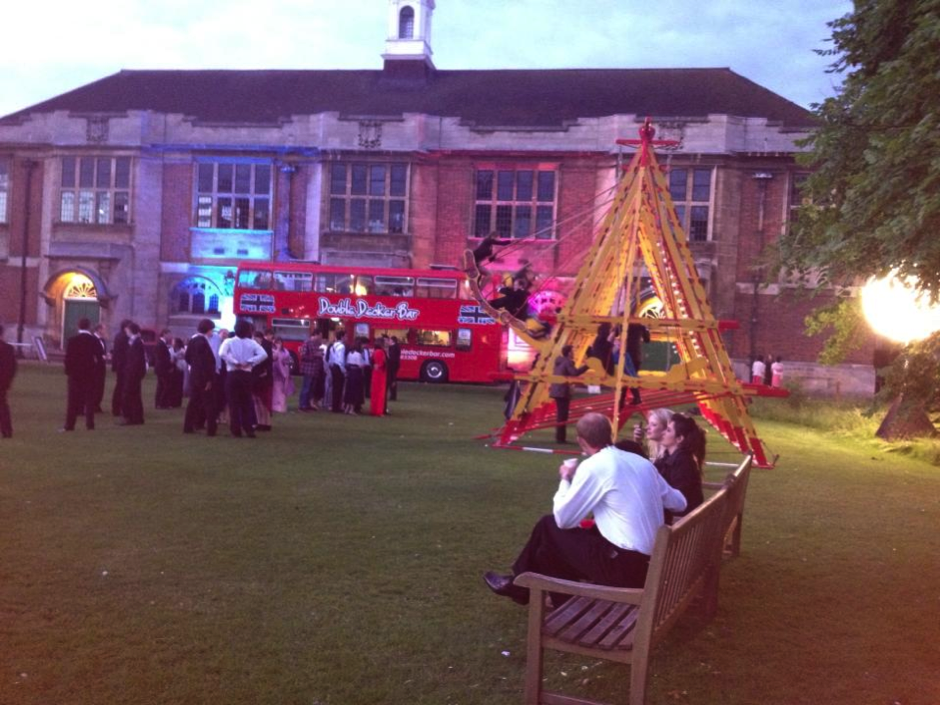 Personal favourites included 'Hamleys', which transformed the bar into a dreamlike toyshop with vodka jelly, caricature sketching, and pick 'n' mix, and the 'Harrods Food Hall', which filled the Old Library with cheese, wine and whisky tasting, and laid-back entertainment.
As far as I'm aware, the food and drink never ran out, and, apart from at the hot drinks stand, queues were kept to a minimum. A spectacular range was offered, mostly keeping within the broader 'English' theme but including several pleasant surprises: you'd be walking along, sipping Pimms and eating fish and chips, then suddenly someone's offering you sushi and Disaronno. No complaints.
The headline act, Spector (still in-keeping with the London theme), were met with a mixed response. Lots of people seemed not to have heard of them before, and others described them as "like The Killers but worse", but Spector gave a lively and professional performance which brought in a hugely enthusiastic crowd. The second headliner, Gabrielle Aplin, was much more popular, probably because of the John Lewis Christmas advert song which she cleverly saved until last so that no one would leave (I assume).
All the entertainment was perfectly timed. A chance to sit down during Gabrielle Aplin's set offered welcome respite after an energetic performance by Holly and the Sorchestra, and I particularly enjoyed the late night cabaret, magic, and explicit comedy from Neon Moon Cabaret Club, Matthew Le Mottee, and Late Night Gimp Fight in the 'West End/East End' hall. It had got to that stage in the night when all anyone really wanted to do was eat donuts and watch others get naked, and the ball committee clearly picked up on this demand.
The other non-music entertainment was also great fun, including human table football, a Taxi Cab photobooth, Swingboats, and a double decker bus (which was also a bar!). The only London landmark they were missing was the London Eye, which was a shame, but this was presumably just because of budget constraints.
Ultimately, Emma May Ball offered an unbeatable 127-pound experience. Everything looked incredible, ran smoothly, and there was never an opportunity to get bored, hungry, tired, or sober.
Food and drink:
5/5
Wow factor:
5/5
Value for money:
5/5
Star attraction: inspired use of the theme
Biggest turn off: the pick 'n' mix gave me a nosebleed