Everything incoming freshmen should know before starting at WFU
Some advice from a graduated senior
Having just entered the world as a college graduate, I am envious of the position the Class of 2020 is in. You will about to experience the best four years (at least, they were mine) of your life.
You will be given the chance to think critically, form lifelong friendships, attend late night pizza parties and open mic nights and meet one of the most interactive faculties in higher education. While Winston-Salem might not be one of the country's biggest hot spots, WFU is a gem of a university.
But every freshman should still understand what they are getting themselves into. So from my old age, here's everything you should know before entering "The Forest."
Cookout milkshakes are a must
Not a North Carolina native? I wasn't either. So I was surprised to find out this popular milkshake/fast food chain offers some of the thickest but biggest range of milkshakes ever offered by a drive-in.
Want to try a variety of flavors? You have plenty to choose from: there are 40.
Tribble is a beast
Since WFU is one of those "liberal arts" colleges, you will have to enter every academic building at one point. One of them is Tribble, which is one of the most confusing buildings to ever exist. You never quite know if you are in wing A or B. I suggest navigating through Tribble a day before your first class starts if you want to make it on time.
Orientation week is crazy (in a good way)
Before classes kick in and you are greeted with the wonderful work load that is "Work Forest," take advantage of EVERY social opportunity at orientation week. Make friends, attend social events (on or off campus, on another planet, whatever your choosing!) and most of all, have fun!
Bring rain boots
When Wake Forest rains, it becomes "Lake Forest" (I don't mean that college in Illinois). Literally, when it rains, it monsoons. Bring boots…and a coat, and an umbrella. Maybe, even an ark too.
Football games are for dressing up
Before entering WFU, I thought of body paint and foam fingers when I envisioned college football games. Instead, it's bow ties, Lily Pulitzer dresses and cowboy boots galore. However, don't fret. Dress as you like. There is no dress code. The more unique your outfit is (in this case, it would be a t-shirt and jeans), the more you stand out. And what a beautiful thing that is.
Don't study in your dorm if you want to focus
If you are like me, you need silence when you study. Usually, if I see cute guys or friends I want to talk to, I tend not to study so well, which is why my grades went up when I actually studied in the library after my first semester of college instead of the common room in my dorm. There are 7 floors in the ZSR library. Use them!
Don't be ashamed to ask for help 
Having trouble in a class? Need some extra study tips for that killer chemistry or economics exam? The Learning Assistance Center offers free tutoring and academic advising. Always make sure to use your resources. College is a different beast academically than high school and if you need help, take it upon yourself to do it. Don't wait until the last minute and never feel embarrassed. College is an adjustment for everyone.
"Shagging" is not like the British 
We have a tradition called "Shag on the Mag." What is shagging? Well, it is not how the British define it, that's for sure. It's a form of swing dance that is dubbed the official dance of the state. Occurring in the spring of every semester, make sure you watch YouTube videos or attend free lessons by the Student Union if you want to join in on this fun (remember in the N.C. kind of way, not the British!)
Volunteer
We have so many traditions on campus that are dedicated to giving back. Whether it's Project Pumpkin, an annual Halloween carnival where children from the Winston-Salem area visit WFU or running at "Hit the Bricks," an event where students run laps around the quad to raise money for cancer research, these annual traditions are what make the WFU student experience extremely special. Remember to savor every moment. Giving back never goes out of style.
Well-being comes first
We all want to do well–whether it is academically or socially. But we all may have a tendency to over-do it. Whether it's overdoing the social part of university (whether we like it or not, binge drinking is a part of the culture of most college social scenes) or pulling all-nighters at the library; our mental and physical well-being should always be prioritized first. Perfection does not exist. This is a hard thing for many WFU students to embrace. All we can do is live healthy, well-balanced lifestyles and put our best foot forward, knowing the universe will pull us through (and late-night Cookout milkshakes).
Trust me, appreciate every moment of your life in college. It goes by fast. Soon, you will be transitioning from this…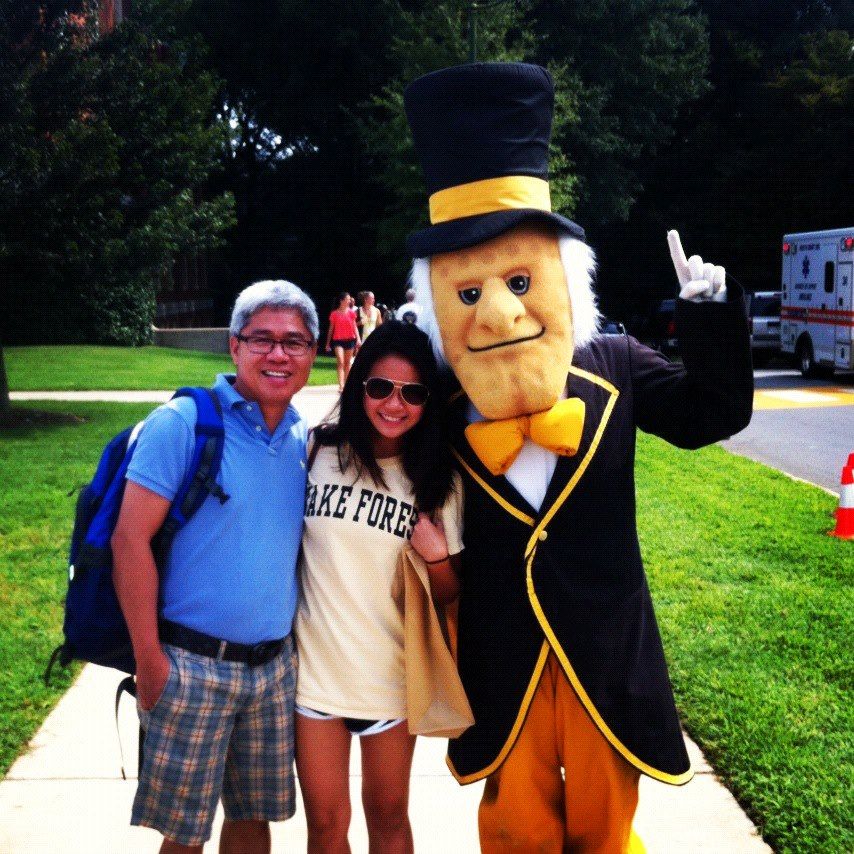 To this: