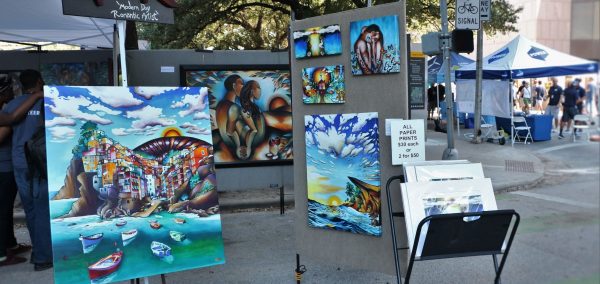 The Bayou City Art Festival was the ultimate off-campus event
From moving sculptures to detailed oil paintings, Houston's Bayou City Art Festival celebrated diversity just like its city. There were artists from all over the country lining the streets Walker, Bagby, Smith, and Lamar.
This fine al fresco art festival has been celebrating fine art in Houston for 45 years now, and it has even been ranked one of the top ten art festivals in the United States.
Among the artists were also rising talent artists. These artists are helped in the festival by being given entry way into the inner workings of the large art festival world.
With Rising Talent Avenue, Bayou City Art Festival hopes to say goodbye to starving artists. By giving them an opportunity to get their name into the art world, these artists will hopefully have better business, allowing them to continue pursuing their passion.
300 artists and 19 disciplines were included in the festival, but all pieces were a spectacle themselves. There were moving sculptures, dramatic floral studio photography, wooden chandeliers, vivid oil paintings, the most detailed ink paintings, jewelry pieces made in every way imaginable, and so much more. The visitors had no shortage of fine art to see! While the prices of many works were steep for college students, looking through each booth is like going to a small art museum.
Don't be shy to talk with the artists though, because their passion and joy over their artwork makes the experience all the more enjoyable. These may be professional artist and the prices are enough to make any college student sweat, but they make the festival casual and welcoming to all art lovers.
The festival included vendors of local food and 10 food trucks. Some are very familiar to University of Houston Main Campus students, such as The Burger Joint, Waffle Bus, and Happy Endings.
They and many more were in attendance to offer both healthy and decadent options for all festival visitors, but all of them offered Houston's best delicious local cuisine.
Under the city skyline in Sam Houston Park, the Children's Creative Zone offered young festival goers a chance to make their own art, listen to live music, or make over-sized bubbles with "Bubble Lady" Hillary Scullane. Non-profit sponsors of BCAF made the booths for the kids' crafts.
Among them were Give Us Paws, the Museum of Fine Arts, and University of Houston – Clear Lake Art Gallery.
According their website, the Art Colony Association, producer of The Bayou City Art Festival Downtown in the fall and Bayou City Art Festival Memorial Park in the spring, has raised 3.5 million dollars in support local nonprofit organizations.
The festival always has a featured artist. Dania Olivares, who was also last year's featured artist, is a Texas-born Mixed Media artist who originally worked as an economist.
On her artist page, she said: "In 2011 my husband I decided to move to McAllen and start a new life with our baby".
"I spent the first month's job hunting…finally a position proposal at another financial institution was offered to me, doing the same thing I had been doing for 8 years in Monterrey. I was extremely hesitant of accepting the offer."
The talented artist was pondering her options for extra income when she and her sister found an art festival in her new town.
Dania said,  "I had a small collection of acrylic paintings and 40 dollars remaining in my savings that I used to pay the festival fee and some canvas."
Dania is a great example of never giving up on your dreams. Her first steps at the McAllen Art Walk has led to become a regular at art shows in Austin and, of course, Houston.
The weekend's weather was a great opportunity for  Houstonians to catch the BCAF, but this will not be the last. The applications for next year's artists are already up on the website, and anyone with an email can subscribe to make sure they catch all BCAF news firsthand. The festival is always looking for volunteers, and you sign on the website and skip looking through Groupon.
Whether you're an artist, a volunteer, or a festival goer, there is something for everyone to enjoy at Houston's Bayou City Art Festival.