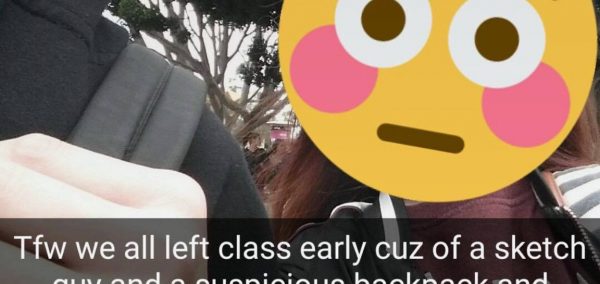 Bomb scare causes Environmental Studies students to evacuate Campbell Hall
Students left after a male in his early 20s left his backpack in the auditorium
An Environmental Studies lecture was interrupted by a disruptive male in his early-20s, causing students to evacuate the premises.
Students left Campbell Hall after it became apparent that the man had left a large black backpack in the auditorium.
During Professor Graves' "'Introduction to Social and Cultural Environments" class, an unidentified man walked onto stage and aggressively confronted the professor.
@shawnngee and then he left his backpack to go to the bathroom so everyone was sussed out and dipped LOL

— wvngg (@wvngg) May 23, 2017
He was then ushered to the back of Campbell Hall.
According to reports, the man then shouted, "Remember when you called me a socialist?", before continuing to talk to himself and those around him.
After a few minutes of disruption, the man left the auditorium at his own accord.
Professor Graves attempted to calm the situation but a student pointing out that a backpack had been left behind prompted students to evacuate en masse.
Tensions were particularly high as today marks three years since the Isla Vista shooting.
Terrible day at ucsb turned terrifying, much love to everyone else in Campbell Hall and stay safe in Isla Vista today

— Olivia☀️ (@LiviLoo11) May 23, 2017
The Department for Environmental Studies were contacted for comment on the scare. They were unavailable at this moment for an official statement, but told The Tab:
"We are aware of what happened and, yes, students did leave the class."
This is a developing story.