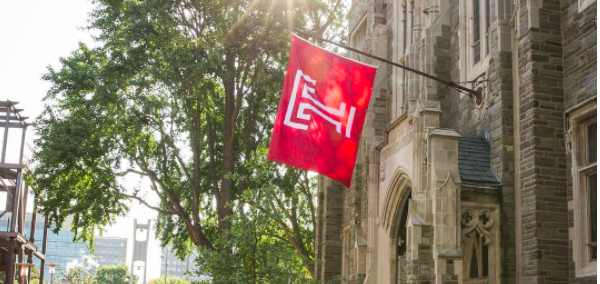 Students will be phone-banking for Temple tomorrow and here's why you should too
With the funding hanging in a balance, the in-state tuition discount is in peril.
Temple University is a "state-related" university which means a portion (approximately 10 percent) of its budget comes from the Commonwealth of Pennsylvania in order to subsidize tuition costs.
This funding, as Temple President Richard Englert said in his recent opinion piece in the Philly Inquirer, is vital to sustaining the in-state tuition discount Temple University affords its students who reside in Pennsylvania. Without it, Temple would be forced to become a private institution. President Englert mentions "The fact is, Temple provides extraordinary value to the commonwealth in so many ways."
This portion of Temple's funding is supported every year by a bill in the Pennsylvania State Legislature. For the fiscal year of 2017-2018 (FY2017/18) the bill, on the PA House Floor as SB 328, calls for the funding detailed in President Englert's opinion piece. The bill, which is sponsored by Pennsylvania State Senator Vincent Hughes (D-Phila.), who is also a Temple alum, asks for the same funding Temple received in the last fiscal year (FY2016/17). Legislative budget analysts in Harrisburg have said this would not bear any effect on the current Pennsylvania budget.
In July of this year, the Pennsylvania State Senate unanimously passed SB 328, from which it would be committed to passage by the State House of Representatives. The State House has been fighting ferociously over this funding, as well as the rest of the Pennsylvania budget.
When asked for comment regarding the budget stalemate and how it impacts Pennsylvania students, State Representative Brian Sims (D-182) had this to say.
"The state budget is the most important responsibility we have as state legislators… students are facing the possibility of seeing their tuition dramatically spike because of the legislature's inaction."
The gravity of the situation extends beyond elected officials and university officials. Students are expressing their deep concerns and fears with the prospect of losing this funding.
Daniel Borine, a Political Science and Criminal Justice major of the class of 2019, is one of the in-state Temple students who would be affected by these cuts. Borine mentioned, "The prospect of losing funding for Temple is scary."
Borine further expressed concerned for friends and other students who may already be struggling to afford college costs. Borine stated, "I am truly worried about what this could mean for not only myself, but other students who might have a hard time affording college."
Maha Ouni, a member of the class of 2019 and a Political Science major expressed her thoughts regarding the recent courting by City of Philadelphia officials to have Amazon, the online retail giant, construct its second headquarters in Philadelphia.
"I just think it's crazy that we're looking for all these economic stimuli and looking to bring in big companies such as Amazon to Philly yet we can't even focus on funding higher education."
While the task is daunting, Temple Student Government (TSG) has devised a plan to aid in the cause of securing Temple's funding.
TSG Parliament Representative Daisy Confoy (Freshman), recently proposed a resolution calling on TSG to create "phone banking" events which would advocate for Temple's interests in Harrisburg. Confoy, co-chair of the Local Government and Community committee in Parliament, calls for Temple Student Government to create an event with the goal of increasing civic engagement by means of making phone calls to local and state representatives about Temple's budget.
What you can do
Temple Student Government will be sponsoring phone-banking locations across main campus tomorrow where, if you bring your cell phone, they will equip you to call representatives and urge them to pass SB 328.
At the Student Center, the Tech Center, and the corner of Pollett and Liacouras Walk, you will find representatives from TSG giving students scripts and prompts to thoroughly convey your support of the passage of SB 328 to Pennsylvania Legislators.
Representative Brian Sims also encourages students to take part in this activity saying, "The state budget has a very real and tangible effect on those we are elected to serve. By joining together and making your voices heard, you remind those who may have forgotten that critically important fact."
It is critical Temple receives this funding, without it, Temple will be forced to take drastic measures which could jeopardize the careers of students that rely on Temple's affordability, as well as the critical impact Temple's research has on AIDS, the Opioid Crisis, and dark matter.