Basic fall fashion everyone should have in their wardrobe
As the weather cools down from unbearably hot to temperate, we must switch from our sundresses, and shorts, to jeans and leather jackets.
As we make this transition, it's important we have the basics down, because basics are the foundation of our fashion. Without basics, it would be extremely difficult to find easy but still good looking outfits. Unless you want to walk around campus like a bum everyday, because if that's the case, you do you.
But for fashion lovers, thinking about creating cute outfits is a hobby, it gets them excited for the day. And how do they manage to create these outfits? They have a clear foundation of what they like to wear and what they want to wear.
Here are some fashion basics that will change up your wardrobe for the fall, and make you excited to get dressed in the morning.
Leather jacket
A timeless piece that will keep you warm, a leather jacket never goes out of style. It can automatically dress up a pair of jeans or dress down an otherwise fancy dress.
Sweater
Maybe the most obvious, having a sweater during fall time is essential because it will keep you warm as temperatures slowly lower. They come in so many different types that you're sure to find a type that fits your fashion sense. Also, some are so warm you'll fall right asleep in them, although hopefully not in class.
Bomber jacket
A trend that has become popular in light of the fall season, bomber jackets have blown up everywhere this year. Any color and any material will give an instant boost to your outfit. Look luxe and feel great.
Boots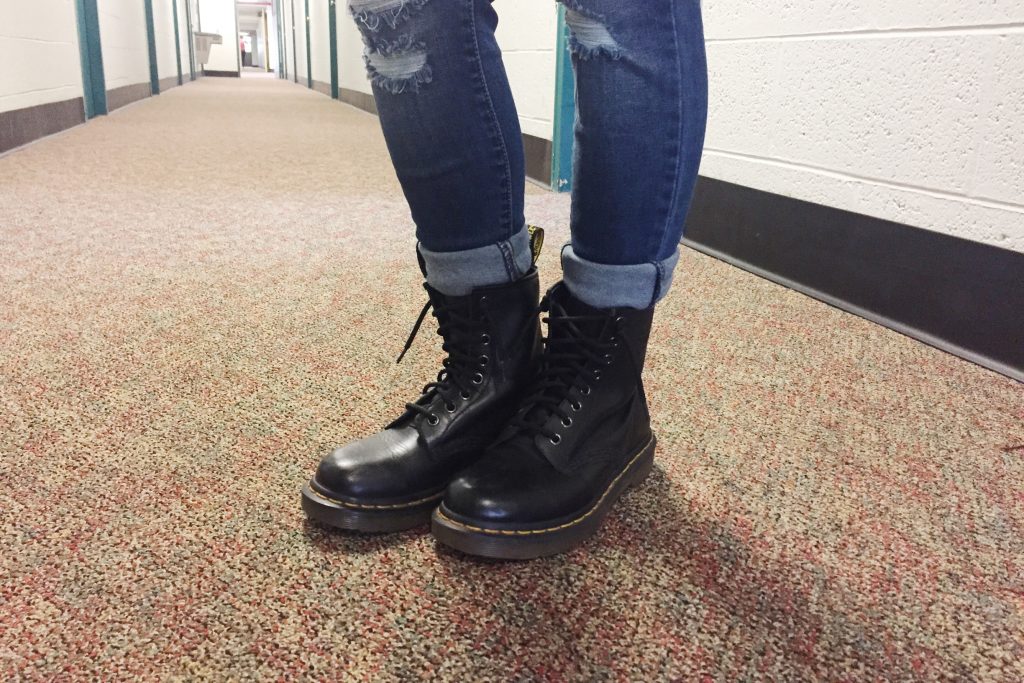 The chosen footwear by most for the fall semester, when the fall season comes boots also come. There are so many different styles of boots that you have a lot of variety to choose from. Common favorites are combat, riding, and ankle boots.
Flannel
When I think of fall, I think of the changing of the leaves, combat boots, and flannels. Having a flannel makes creating outfits so easy, because pairing a flannel with jeans and boots automatically creates a put together outfit. You can layer flannels to create warmer outfits for when temperature starts to drop, or just wear it on it's own. It's a year round basic and very useful in the fall time.
Distressed jeans
Regular jeans will do, but distressed jeans give your outfit a simple flair – they make outfit more fashionable and more interesting to the eye. If you haven't bought a pair of distressed jeans yet, I highly recommend you do so, ASAP.
Knit cardigan
Nothing feels better than being wrapped up in a blanket. But for those times where you have to go to class instead of being wrapped up like a burrito, knitted cardigans are your savior. It feels like you're wrapped in a blanket, but you look stylish and stay warm during the day when you're on the go. It's a win-win situation.
Flats
Flats are another go to for fall footwear. For those times when boots are too bulky for you, flats are there. From classic ballet flats to trendy lace up flats, no matter which style you prefer, they are perfect to switch up your look.
Now, you can pick and choose clothes that work with your style and your daily routine, but this is a solid foundation for your fall wardrobe. On days you're a little lazy, by pulling on a pair of distressed jeans, boots, and a flannel, you automatically look more put together even though you probably are having an internal meltdown because midterms are coming up.
Feel confident about what you wear and walk with confidence, because fashion is the one thing no one can take away from you. Express yourself and be happy with how you look, because that's what matters.