Everything you need to know about the rivalry between PSU and Pitt
The Nittany Lions and the Panthers go way back
DISCLAIMER: completely unbiased journalism.
Whether you bleed Panther blue or you're Penn State proud, you know about the Pitt-Penn State rivalry game this Saturday. If you could care less, here's a little history as to why you should get psyched. If you're already psyched, here are a few reasons you should scream so loudly you tear your vocal chords. Also, root for Pitt.
These battles were considered one of, if not the, biggest rivalries North of the Mason-Dixon Line. The games often had regional and national consequences at stake. The Panthers and Nittany Lions often met to fight for Eastern College Supremacy and its consequent recipient of the Lambert-Meadowlands Trophy.
Though some PSU students consider the Panthers cold-blooded rivals as much as Pitt fans do, Penn State has never played another football team as much as the Panthers. Penn State is Pitt's second most played football opponent, the first being the WVU Mountaineers. So, suck it PSU—you aren't even Pitt's top rival.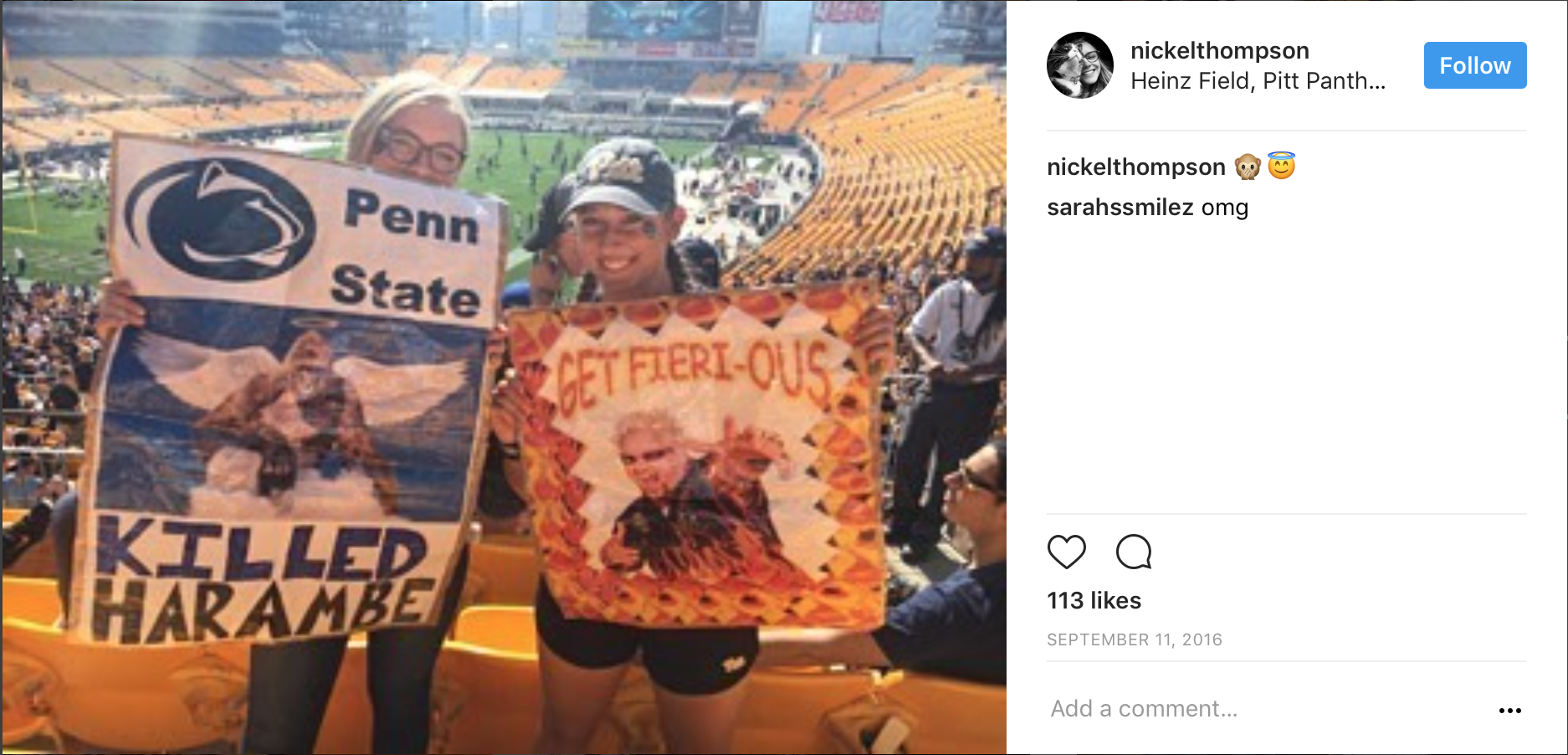 General Overview
The rivalry dates back to November 6th, 1893—the first game ever played at Old Beaver Stadium—not that anyone cares about the Old Beaver Stadium. The initial era of this rivalry was controlled by PSU, winning 12/15 games.
Following that, the Panthers responded with a bitch slap to PSU's ugly Nittany Lion face, with a record of 21-2-2 from 1913-1940. During that period, Pitt had a 14 game win streak. Head Coach Jack Sutherland never lost to PSU during his 1928-1938 tenure.
From 1941 to 1951, the rivalry was even (6-5, Pitt-Penn State), but most people during this time were worried about a bigger rivalry: The Allied Powers vs. The Axis Powers. At least both schools were back to back world champs in that victory.
As of the year 2000, PSU has had bragging rights. After 1952, Penn State held a whopping 31-13-2 record over the Panthers. Some uneducated Nittany Lions argue that since those games are the most recent, they're the only ones that matter. I say, "neigh," or you know, whatever the hell noise Nittany Lions make, as both had extreme ups and down.
Pitt won its first National Championship (1976) eight years before their Pennsylvania adversaries first national championship (1982). On November 26th, 1976, the undefeated number one nationally ranked Pittsburgh Panthers were tied with their Pennsylvania rivals 7-7 at the half. To the surprise of many, head coach Johnny Majors moved Tony Dorsett to fullback. The move would help the panthers win 24-7. The 11-0 Panthers continued on to the Sugar Bowl, defeating the Georgia Bulldogs for the national title.
On November 28th, 1981, PSU faced the 10-0 Panthers. The Panthers were foaming at the mouth at their three course meal, with a Nittany Lion defense as an appetizer, PSU's offense as the main entree and their special teams to top it off with dessert (and gatorade to wash it down…stay hydrated kids).
Pitt Stadium wreaked of Nittany Lion urine as the Panthers instilled knee-shaking fear upon their rivals…probably. The game was led by quarterbacks Dan Marino (the amazing actor from Ace Ventura: Pet Detective) and Todd Blackledge (I've literally never heard of that name). The game was tied 14-14 at half, but against all odds PSU would go on to win 48-14 and cost the Panthers their second shot at the National title. The Panthers were stunned.
A year later, the rivalry matchup was highly anticipated as both teams were college football monsters. The Panthers were ranked #1 in the preseason (eventually dropping due to a loss to those drunks at Notre Dame). Both teams held a record of 9-1 ( PSU's only loss was to Alabama…Roll Tide). Again, it was the famed football player and actor, vs. that random guy on Penn State. Shockingly, that no name QB would lead PSU to edge out Pitt and go on to FINALLY win their first national title.
The Breakup
In the '90s, the rivalry games started to fade as the schools lost their conference independence. Penn State joined the Big Ten while Pitt joined the Big East. Due to conference requirements for scheduling, it became harder to schedule the rivalry.
The last game before the 16 year break was in 2000. PSU proposed a schedule in which the teams would meet more times at Beaver Stadium than at Three Rivers Stadium in the series. The baby lions —sorry, Nittany Lions— proposed that the teams meet for a three or five game series, meeting at Beaver stadium either two or three times, and at Three Rivers either one or two times. The two could not agree. PSU was too greedy. Okay, Penn State's reasoning was understandable because only 23 of the 96 games were played at Beaver Stadium. But hey, Happy Valley doesn't have pierogis… so obviously more games would be played at Pittsburgh. "Um, hello? Hi appendage store, I'd like to order one leg please because my Nittany Lion frenemy doesn't have one to stand on."
The renewed series is scheduled for four games, the home teams switching each year beginning with Pitt in 2016 and ending at Beaver in 2019. Hopefully, PSU doesn't beat the Panthers in all four games–because they are so much better than us, right? Oh wait…
That said, would one be lost without the other? Like a relationship a la Joker and Batman, what would one do without the other if their relationship ended?
Oh yeah, we'd focus on WVU because PSU isn't the joker to our batman, they're the riddler or something else we don't really care about.
PS: PSU Athletic Director Sandy Barber has said that PSU will not renew the rivalry until at least 2026, according to NBC Sports. They aren't renewing the series because Nittany Lions are scaredy cats — not according to NBC sports, but according to my opinion. Get amped about the rivalry while you can, Panthers!