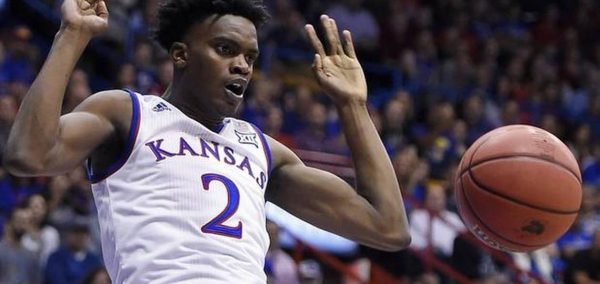 Seriously, why is LaGerald Vick playing against us tonight?
LaGerald Vick has been under investigation for allegedly 'punching the student in the arm more than once and kicking her in the face' in early 2015
The month of March continues to bust tournament brackets, and Oregon fans will be able to watch the flying Ducks try and pull an upset on the Kansas Jayhawks in the Elite Eight. However, even though Kansas has been a powerhouse team, there's more to their top 5 ranking.
Since last year, Kansas guard LaGerald Vick has been under investigation for allegedly 'punching the student in the arm more than once and kicking her in the face' in early 2015. Following the incident, the university recommended that basketball coach Bill Self put the sophomore on probation for two years in light of the university finding that Vick committed domestic violence. However, he wasn't faced with any charges and it was unclear if coach Bill Self ever followed through with the recommendation.
This situation surfaces an alarming question for many: why didn't KU take further steps to discipline Vick when he allegedly physically hurt those around him?
One of the most shocking things about this is that while the school released a vague statement, they didn't allow coach Self to address it in the media as the Jayhawks looked to chase another national title.
'I have been told I can't comment on a university investigation,' Self said in his statement.
'Due to previous practice by the university and athletic department, I will not be giving any details on such investigation.'
This is bullshit, because it's absolutely wrong that Self didn't suspend Vick when he may have caused harm to his fellow peers. Not only does it further the fact that the university's using a cover up to make it look like the situation never happened, but it also brushes over the safety of females on college campuses. While females may be able to report a case, it doesn't guarantee that it'll be taken as seriously depending on who the offender is.
While investigations involving police activity involve the university, the coaches need to become more involved in the process and cooperate with them to make sure other students on campus feel safe and understood after this situation. It looks like he's encouraging destructive behavior, and that discipline doesn't have a place for those with natural athletic talent.
Let's talk about athlete privilege. Those who are athletically-gifted come to a university and are not only expected to perform well academically, but also become an image for their respective schools, which constitutes a reputation. However, when athletes misstep the university image is tarnished. It's in instances like this when athletic departments try and keep cases such as this under wraps so people don't catch on that something happened, especially for a high-profile NCAA name. Let's face it: if you have athletic talent, athletics will shelter you and do all they can to make sure you don't get charged.
The issue of suspending athletes such as Vick needs to be revisited by the NCAA, not only to get help for those who are caught in these heinous acts, but also for the victims. College sports are strong assets to universities, but until they figure out how to put a stop to those who put others in danger it can hurt their reputations, too.