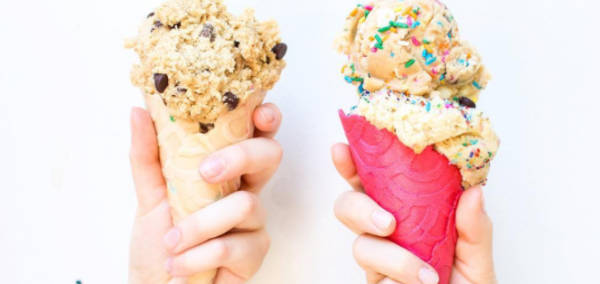 Dō gave people food poisoning and our parents were right
They said don't eat raw cookie Dō and now we are paying the consequences
NYU students beware. Your favorite insta-worthy desert sport – Dō – has received allegations of food poisoning.
On Thursday, two students Julia Canigiani and Kathereine Byrne filed a lawsuit against Cookie Do, Inc for allegedly giving them food poisoning.
According to Bloomberg, approximately fifteen minutes after consuming a cookie do sandwich, Canigiani claims to have felt stomach pains which became worse as the day went on. The rest of her afternoon was supposedly spent in the bathroom. Byrne also suffered from stomach pain and both complained of nausea.
These allegations come after multiple allegations on Yelp accusing Dō of giving them food poisoning.
NYU students had mixed reviews regarding the allegations.
Nick Fell, a sophmore in CAS, was not too deterred by the allegations:
"I've eaten it and have felt fine. I mean I wouldn't go out of my way to eat it, but if the opportunity presented itself and someone was like hey let's get Dō, I'd still go" Fell said.
While others were more unnerved by the claims of illness-inducing cookie dough.
"That definitely would stop me from going to Dō. I went last spring and thought it was way too sweet, so hearing about this as well would make me not want to try it again," Talia Milavertz, a senior, said.
"I wouldn't be surprised if [the allegations] were true. To be honest, it gives me a stomach ache every time I eat it" said Monica Rodriquez, who is a senior at NYU.
"My thing with this is that since there are multiple people complaining, there's a likely chance that the food has some issues. Dō is such a popular thing now and they have to take responsibility of making their food safe to eat," Sabrina Lou, a sophmore, said.
If you have any comments, questions, or concerns regarding the case comment or message the TAB NYU on Facebook.
Photo credit: @cookiedonyc
Updated September 26, 2017 12:31 am.