Here's why students at NC State have been living in shacks all week
Plants, and hedgehogs, and dogs, oh my!
Each year, NC State organizations build shacks for students to live in for a week as a Habitat for Humanity fundraiser.
Clubs, scholarship groups, fraternities, sororities and other student organizations plan out a home they must live in for the entirety of the fundraiser. Someone from the group has to be inside the shack at all times, overnight included.
The money raised goes towards the NC State and Wake County chapter of Habitat for Humanity to build houses for community members at our site off of Lake Wheeler Road. The goal this year is $65,000 in the five day week.
Rachel Jessup, a forest management and plant biology major and one of the students with the very popular College of Natural Resources log cabin, likes the concept because "everyone can see it from around, it's a physical fundraiser. You get to build things and live in it so there's a person-to-person aspect you don't get with fundraisers that are online."
Unity Shack, which is made of five different campus groups, had a cute little hedgehog named Gillie to attract attention and donors. "We're excited to support Habitat for Humanity because we think everyone should have a safe place to call home that's affordable," Jennifer Manis said.
Caldwell Fellows, a scholarship and leadership program on campus, sold plants while serenading the crowd with a little "Free Fallin.'" One of the Fellows, Craig Prince was happy to get to know other shackers. "You get to know lots of people from other organizations you wouldn't normally meet."
But the most meaningful part of the fundraiser is experiencing a different living situation. "Living in a shack really makes you think. We get to live in cushy residence halls where our needs are met, but then you stay in the shack for a night where you can't charge your phone and you start thinking how important it is to have affordable housing so people can live sustainable and happy lives and be healthy," Craig said.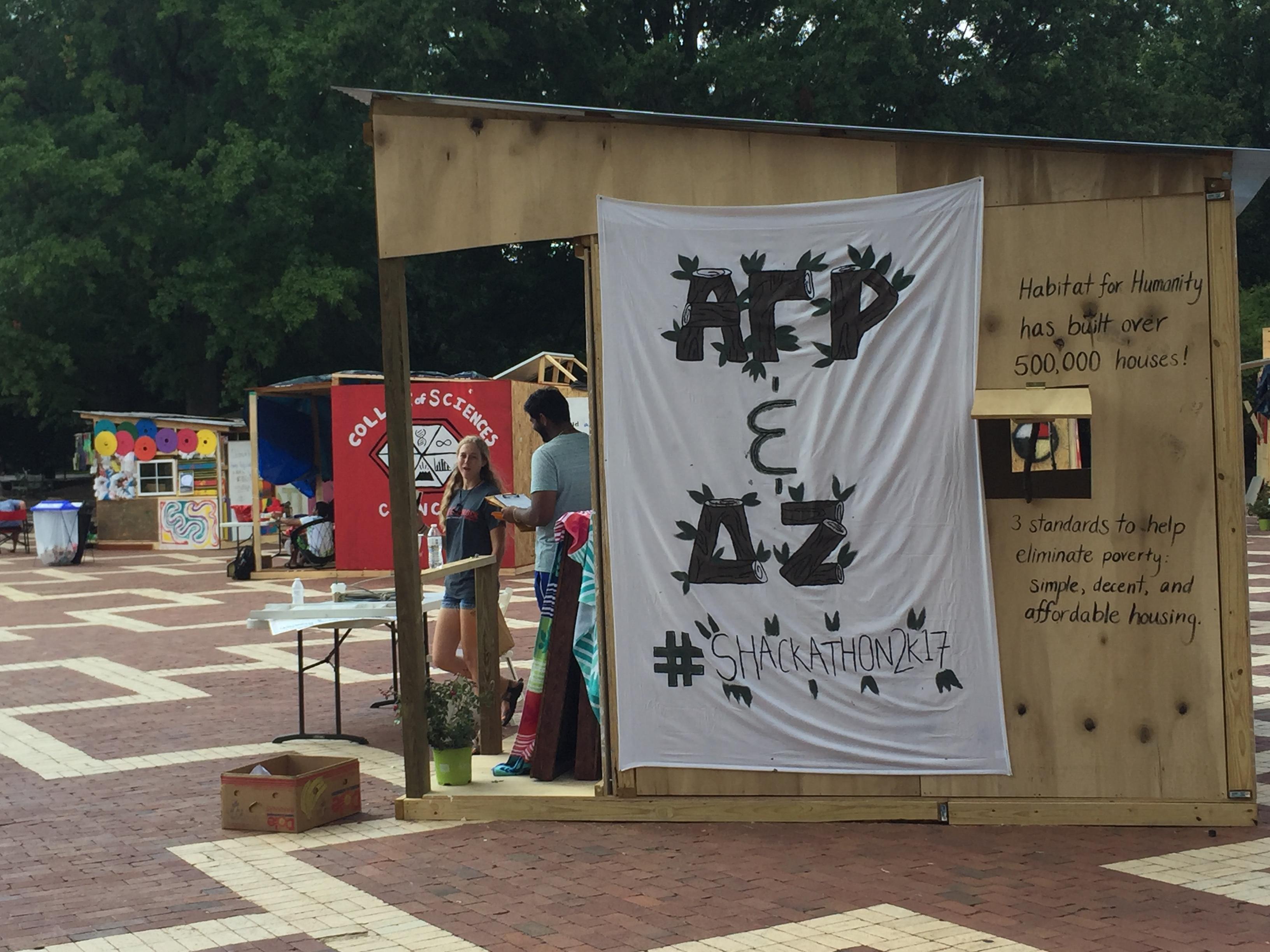 There's one day left in the fundraiser and so far everyone seems to be in good spirits. Shacks are still selling t-shirts, baked goods, canvas paintings and plants so go check them out in the Brickyard to help out a great cause.