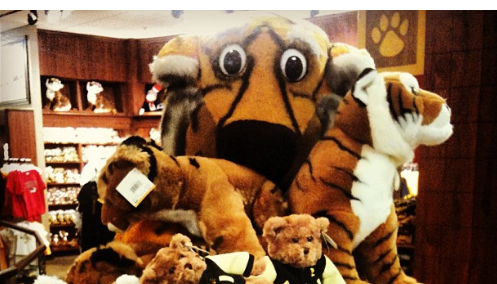 Every Mizzou Instagrammer you need to follow as soon as humanly possible
Meet the Instagram Queens and Kings of Mizzou.
Are you social media-savvy? Stay connected with the Instagram Queens and Kings of Mizzou. Clicking on any of these profiles will leave you knee-deep in the feed with wonderment and awe…or will at the very least inspire you to step up your 'gram game.
Cate Willis (@cate.marg)
With over 2,000 followers, Cate Willis is definitely a Mizzou blogger you need to know about. Expect frequent posts of coffee shop trips, artsy collages, succulents and cozy spaces from Willis. Her blog, Habit & Heart, also has a great aesthetic.
The Bridge (@mizzoubridge)
Mizzou's The Bridge, a store located in the Student Center, is a hipster haven for MU students; With a slogan "Empower the Creative," the store's 'gram reflects the artistic and unique customers the store tailors to. From photos of embellished denim jackets to handmade thank you cards to one-of-a-kind pieces of jewelry, the store's feed will inspire you on the daily.
Tim Tai (@nonorganical)
Tai is practically another celebrity on campus. During the riots on campus last year, Tai was confronted by a group of protesters as he was trying to document the event as a freelance assignment for ESPN. Last year, he was rewarded for his bravery when he received the First Amendment Defender Award in Washington D.C. Although his photographs on his Instagram are more relaxed than on his professional website, his pictures capture special moments in time, and his account is definitely not one to be missed.
Ellie Hicks (@Ellie_hicks)
Hicks is a KC native with a photography background, which is evident through her carefully composed photos on her gram. With her bio being, "my life, curated," Ellie's Instagram reflects her artistic and creative persona.
Toni Morcos (@tonimorcos)
Morcos also has an incredible Instagram that showcases her photography skills. Her account has a whirlwind of variety, whether it involves detailed portraits of her friends, macro photos or travel photos.
Annabelle Ludwig (@annabelleoftheball)
Ludwig's Instagram is truly one-of-a-kind, just like the grammer herself. Her latest post, for example, is a short stop motion video: a pleasant surprise for her followers' feed. With filters that make you feel hella nostalgic, Ludwig is truly the "artsy girl next door."
Tori Foushee (@tori_foushee)
Foushee is a Chi Omega member with a big personality and great sense of style. Oh, and she also blogs on the side.
Nate Wright (@Bokeh.wright)
Don't worry Insta-boys, I didn't forget about you! Wright's account is definitely for photography enthusiasts out there. Wright has a colorful account, complete with nice contrasts of warm and cool tones throughout his page.
Madeline Best (@myfairstyle)
Who knew there were so many style bloggers at the 'zou? If you are ever lacking inspiration in the makeup or style department, be sure to check out Best's page for the BEST fashion and beauty trips out there…sorry, couldn't resist!
Truman the Tiger (@truman_thetiger)
And last but definitely not least, Truman the Tiger needs to me on your list. Truman is not only Mizzou's beloved mascot, but also an Instagram enthusiast as well! Scrolling through Truman's account, you can find the tiger by the columns, with the football team, or even making friends at the MU bookstore with a bunch of tiny tigers.
Did I miss any must-see Mizzou grammers? Comment below on which accounts you love to see pop-up on your feed!