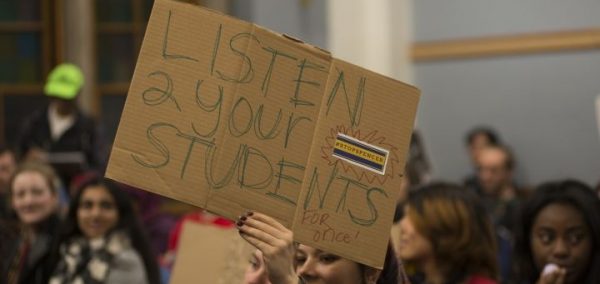 'Please U-M just let him speak': What are we going to do about Richard Spencer?
All signs are pointing to UMich allowing the alt-right leader to speak on campus
Last night in a packed meeting of the Board of Regents in the Michigan Union, President Schlissel addressed the University community regarding alt right leader and white nationalist Richard Spencer's request to speak on the University's campus.
Spencer, initially requesting a space to speak from the University in October, recently upped the stakes on his demands, pressing that UMich must provide an answer to his request by November 24th at 5pm. If the University doesn't comply, Spencer has threatened a federal lawsuit.
Spencer has already won a lawsuit against Auburn University, who denied his right to speak on their campus in Alabama. Our foes, both Michigan State University and Ohio State University find themselves in the midst of lawsuit with Spencer's camp after rejecting his request to speak on their campuses.
Incredibly disappointed in my alma mater @UMich in not banning Richard Spencer from speaking on campus. Hate has no place on my campus or in my hometown, and this makes students unsafe. This is not what the leaders and best should do.

— Migs (@_mmcgs) November 22, 2017
The grand question is: what do we do? In his address to the Board of Regents and the student body last night, President Schlissel pressed that although no one at the University invited Spencer to campus, and no UMich affiliated group is sponsoring his request, "the law and our commitment to free speech forbid us from declining a speaker based on the presumed content of speech. But we can and will impose limits on time, place, and manner of a speaking engagement to protect the safety of our U-M community, If we cannot assure a reasonably safe setting for the event, we will not allow it to go forward."
In an email addressed to all faculty, staff, and students on campus Schlissel emphasizes the significance of upholding the University values of being diverse and regardless of background including all individuals by honoring them our awareness and an equal opportunity to thrive. "This is a test we did not welcome, but it is one that we must face together."
Reactions to these new developments regarding Spencer's potential campus presence vary.
In Central Michigan Life, Elio Stante writes, "Not fighting Spencer might be the only way to fight him. Letting him speak, and not giving him the attention he craves, might be the best way to shut him down. This is about more than standing by your students and supporting diversity and inclusion. This is about not making a bad situation worse. Please U-M just let him speak." U-M Regent Mark Bernstein said during last night's meeting, "the only thing worse than Richard Spencer being on our campus is stopping Richard Spencer being on our campus."
Meanwhile, members of the student body and several multi-cultural organizations including the Black Student Union (BSU), urge that University administrators fight to protect their students.
Fuck Richard Spencer fuck white supremacy and fuck everyone who thinks denying his request to speak at UMich would be to deny free speech

— Brooke (@brookepierce29) November 22, 2017
Public Health junior, Lyric Kleber states, "potentially allowing a white supremacist to speak on campus, following your denouncement of white supremacy-you can't have it both ways. Hate speech is not free speech. My concern is not for the reputation of this school. It is for the well-being of people of color on this campus. Their voices must be heard."
As a person of color on Michigan's campus I could not feel more uncomfortable every single day I step foot onto The Diag, or enter my lecture halls and see little to no faces that look like mine. I could not feel more disheartened when after repeatedly being promised a more diverse, inclusive, and "safe" environment, I am still subject to the ongoing circulation of messages of hate and racism. The most difficult part of this is recognizing that this vileness will continue, and Richard Spencer's potential presence on campus is a prime example.
When does it stop?