All the best signs from College GameDay at JMU
Our best roasts, DogRates, and The Office references from this weekend
In case you literally live under a rock, ESPN College GameDay came and filmed at JMU this Saturday for our game against Villanova. As expected, our football team crushed it – sending the Wildcats home with their tails between their legs after scoring 30-8.
But we Dukes really shined with our Gameday signs. We raided Michael's and Hobby Lobby and remembered all our best roasts to brag about JMU, roast the heck out of Villanova, and try to get noticed on live TV (or just College GameDay's Twitter). Here's The Tab's roundup of best signs at JMU College GameDay 2017.
The Idiot Sandwich
A real-life wholesome meme
The inevitable SpongeBob meme
aaaaand the inevitable The Office reference!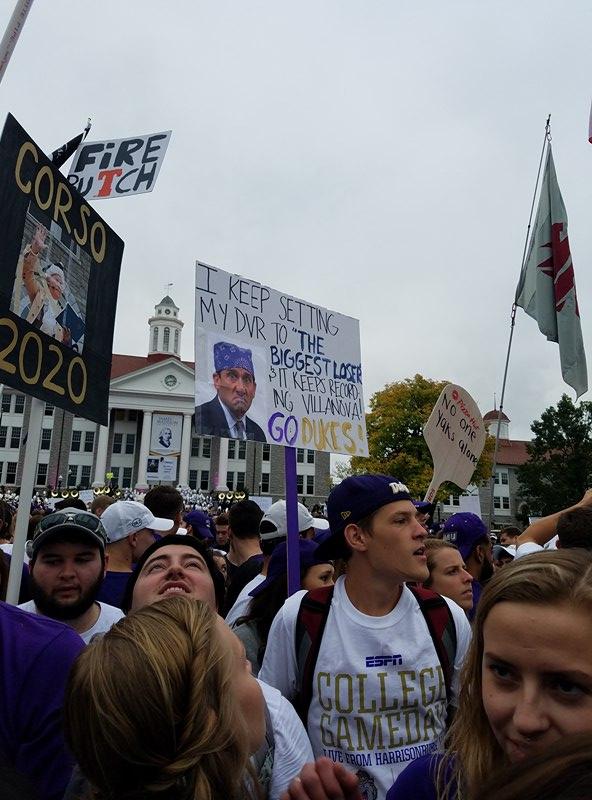 My humble/schwifty contribution
True neutral
This observant linguist
heck! the floofinest doggo in the pit
WHAT TEAM?!
There was a liar in our midst
Another classic SpongeBob meme
And lastly, my straightforward personal favorite:
What were your favorite signs of this weekend? Do you have any horror stories? Were you almost killed by the giant Sigma Nu flag? Email [email protected] and tell all!