Illini Republicans to 'charge different prices based on ethnicity' at Affirmative Action bake sale
The organization claims the event is being held to raise awareness about unfair admissions and tuition rates
UIUC's Illini Republicans are planning an 'Affirmative Action Bake Sale' on Tuesday, March 14, where they will be raising money for the organization by charging "different suggested prices based on ethnicity."
According to the event page description, the different prices are determined "in much the same way as the school weights its admission requirements and scholarship opportunities."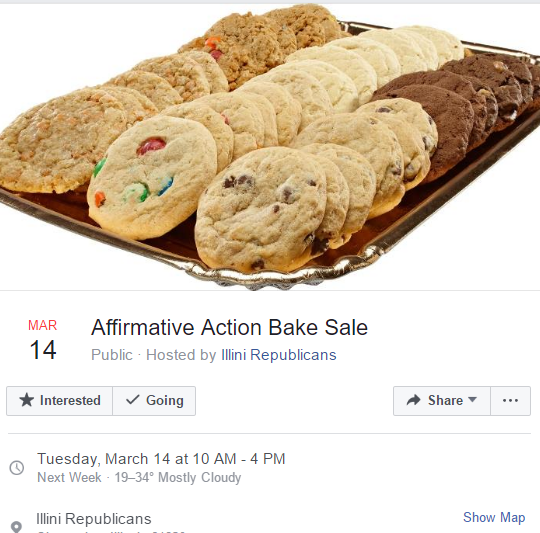 After many questioned the event, The Tab Illinois reached out to the Illini Republicans to confirm that the event is in fact real. In a statement from the Vice President of the Illini Republicans, Timothy Kilcullen, he said: "This is most definitely a real event. It is one that we have been working on and planning for a while, and one that has been done successfully at other schools."
Kilcullen says the event has also been held at UC Berkeley and UT Austin and called it "a fundraiser, but with a twist."
"We will be charging different prices based on ethnicity, in much the same way as the University weights its admission requirements and scholarship opportunities," he said.
@latinarebels UT at Austin always give racist organizations a slap on the wrist. Help me & the thousands of students who are tired of it pic.twitter.com/AO98QTVla0

— Cranberry Juice (@DerpySeaCaballo) October 26, 2016
The organization hopes to show students and faculty "it is wrong on the micro scale at a bake sale…it is also wrong to apply affirmative action to college and job opportunities."
There is no word on what the exact prices of each item for the different races will be, however, VP Kilcullen relayed Asian Americans will be charged the most, followed by Caucasians, followed by Hispanic/Latinos, followed by African-Americans. They are also considering charging more for males.
The event page immediately sparked complaints and hundreds have commented with disapproval, calling the event "racist," "disgusting" and "ridiculous."
"I don't think this is the right way going about this. This is just going to continue the discrimination that is still heavily prevalent on this campus," wrote Gabby Alana Maloney.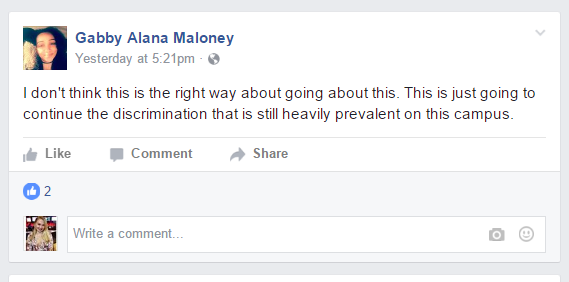 "Will you guys give free cookies to rich white kids whose parents got them admission, or are you gonna say only minority kids are 'undeserving?'" wrote Hetal Bhatt.
The event has also received criticism from UIUC alumni as well as students from other schools.
Krishna Haney, a UIUC alum, called the event "a sad, disgusting display of white privilege at my alma mater."
The Tab Illinois reached out to The Illini Democrats for their thoughts on the event but no reply has been received.
The bake sale is set to happen on Tuesday, March 14, starting at 10am on the main quad. Protest events in response to the bake sale have also been arranged.
An event called 'Blockade the Anti Affirmative Action Bake Sale' hosted by current UIUC students Judah Ohitika and Earnest Lucious, plans to disrupt the Illini Republicans' event.
According to the event description, protesters plan to "surround the Republican bake sale and lock arms to create our own blockade with as many bodies possible."
"We are attempting to prevent anyone from coming through to purchase cookies, socialize or even express support with the Illini Republicans who clearly hold a dominant and racist ideology," it says. 
The Tab Illinois will be covering both events on Tuesday.
---
Featured image taken at a similar bake sale held at UT Austin last semester.