No surprise, FSU has one of the happiest college football fanbases
First things first, we need to get one thing out in the open that we already know: Florida State Seminoles are the best football team. Hands down. Great, now that that's out of the way, let's talk about all of the fans in Nole Nation.
Yesterday, ESPN released a ranking of the happiest fanbases for college football teams in the country. Less than shockingly, FSU came second to Ohio State. It's not exactly gold, but first is the worst and second is the best, right?
Even more satisfying, UF was ranked 38 happiest fanbase. Looks like it really does suck to be a gator.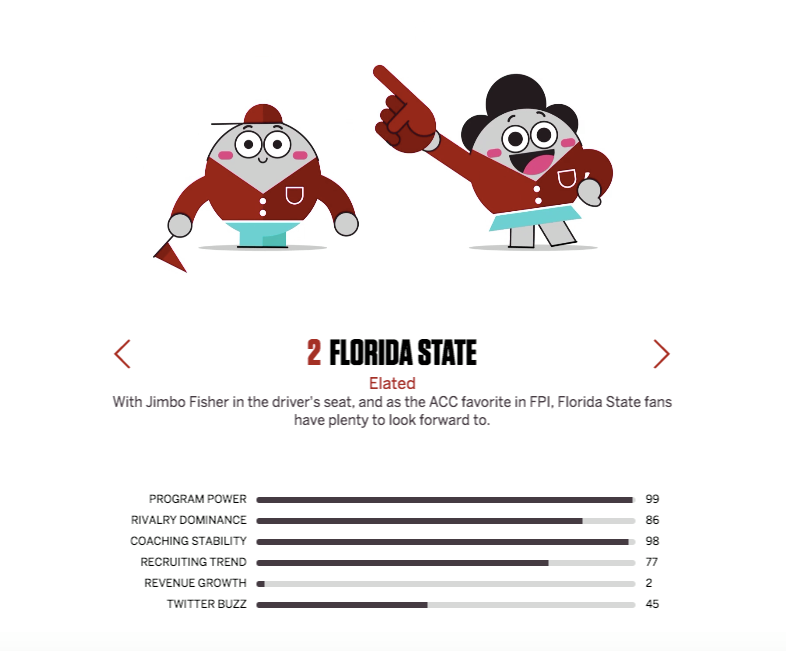 The list was compiled by considering several variables and giving the colleges a score out of 100. Included was Program Power (99), Rivalry Dominance (86), Coaching Stability (98), Recruiting Trend (77), Revenue Growth (2) and Twitter Buzz (45).
Thanks to the talented Jimbo Fisher for leading our football team to the forefront! You have consistently helped us defeat the Universities of Florida and Miami for four consecutive years — soon to be five. We couldn't be happier!
While we'll remain loyal to the Seminoles until the very end no matter what, it still feels pretty damn great to be winners, too.