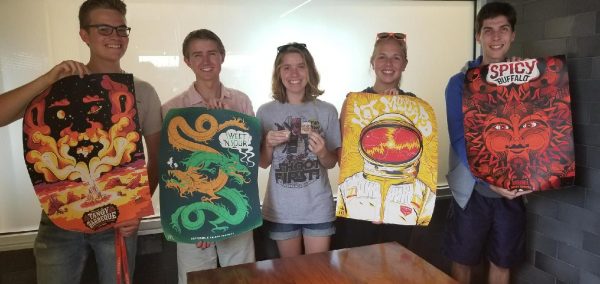 UF students go crazy for Rick and Morty Szechuan Sauce
I was one of them, don't @ me
Around 400 individuals lined up at our local McDonald's for a taste of the famed sauce mentioned in an episode of popular Adult Swim cartoon Rick and Morty. With the McDonald's only having 14 sauces and even fewer exclusive posters, only a couple got a taste. I was one of those lucky few.
Apparently McDonald's brought back the Szechuan Sauce? But not enough? And at some locations people rioted? And they had to call the police? https://t.co/29W2ptJFXp

— Tax Reform Temkin (@MaxTemkin) October 8, 2017
It all began on April Fools day, 2017. It had been over 250 days since Rick and Morty fans had seen a new episode. It had been hinted that there were new episodes coming that summer, but there was no firm news of hope. That is why it was a total surprise when "The Rickshank Redemption" aired on Adult Swim that night. Many fans woke up the next morning to a surprise treat of a legendary episode.
The said episode concluded by revealing that chaotic-good genius grandpa Rick's whole motivation for his inter-dimensional travel was to taste McDonald's 1998 Mulan promotion Szechuan dipping sauce again. This ensued a whole movement of Internet followers begging for the sauce to make a comeback. There was an online petition that received tens of thousands of signatures. Rick and Morty creators Justin Roiland and Dan Harmon actually received one of the few remaining bottles of the sauce from McDonald's.
Months later, season three having ended, McDonald's announced that along with their returning Buttermilk Crispy Chicken Tenders, the legendary Szechuan sauce would also be returning at select locations. They also announced that those locations would have hand-numbered Rick and Morty themed classic sauces posters. The catch? There was only 1000 of each poster randomly distributed around the participating McDonald's. With only five participating McDonald's in Florida, we were lucky to have one of them was very close to campus.
Our troupe of five individuals set out to the McDonald's listed on the website at 4:30 a.m. We arrived at the specifically designated McDonald's only to be told that they had received hundreds of calls the previous day and had turned their phones off. Many employees had no idea of what this special sauce even was. They didn't know if they were going to have the promotion products at all, so they suggested we wait for the manager to arrive.
Around 8 a.m., the manager told us that she had personally moved the sauce and posters to the location closer to campus. We made a mad dash over to the McDonald's of Midtown and set back up camp. We heard from groups who came later behind us that they had been cursed out by the manager of the previous location when they asked about the promotion. At 1 p.m., there were over 50 people in the restaurant.
2 p.m. finally came, and the much nicer manager personally assured us that we would be the first group in line — 400 individuals began to form behind us. They then dropped the bombshell that there were only 14 sauces, five posters and that you couldn't get both. This goes on to say, not many individuals got to try the famed sauce. Fortunately, I did.
My group of five, dubbed kindly by others in line the "Szechuan Squad", purchased one sauce and four posters. The sauce tasted like a sweet teriyaki with a hint of pepper. It was actually the most flavorful sauce I have ever had at McDonald's — reminding me of the premium sauces at PDQ. Many people clamored around us, hoping to get a picture of the coveted sauce. On our way out of the store, we saw 400 people angrily dispersing while several individuals were banging on the back door and aggressively questioning the poor employees.
#szechuansauce They didn't get the sauce at UPenn, but I enjoyed a police speaker saying "Return to your homes. They do not have the sauce"

— Roland Miller (@90sAlternative7) October 7, 2017
So yes, it was worth waking up in the extreme hours of the morning for a sauce referenced for five minutes in a cartoon. It is also an upside that the posters are now selling for $1000 each. Fortunately for all who were not able to taste the sauce, it will be returning at most locations in much higher quantities this winter. And if people rioted about a dipping sauce, it must be worth trying.