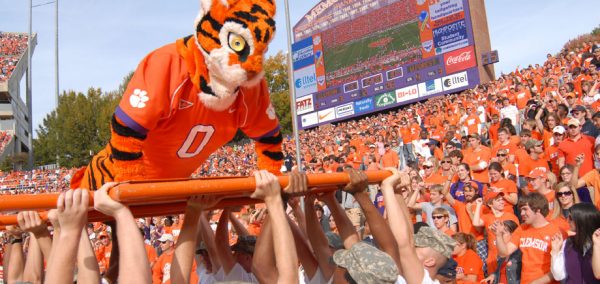 What it means to be Tigertown Bound: The best decision you'll ever make
There's something in these hills
Nothing compares to the excitement of receiving that Tigertown Bound letter and knowing you get to spend the next four years of your life at one of the best universities in the nation. Your experience at Clemson will be unlike any other university with its intense academics, legendary tailgates, and excellent sports programs. Here are a few awesome things you'll get to experience once you're Tigertown Bound.
You get a new forever family
Clemson is known for its tight knit student relationships as well as one the top alumni networks in the country. Clemson graduate, Kelly Rusinack, says "The Clemson Family for me includes how my professors took an interest in me as a person, helped me become respected in my field, and even supported my research in my doctorate program at another university. You're never a stranger to a fellow Tiger – all over the world you will find other Clemson grads who treat you like you were always friends, and root for you to succeed, because it matters to them."
You get to eat Smokin' Pig
The Smokin' Pig is a tasty restaurant that offers a wide variety of foods from sweet potato fries to homemade banana pudding . The restaurant offers a family-like atmosphere mixed with southern hospitality and a dash of Clemson Pride. The Smokin' Pig is a major tourist attraction that Clemson students get to take advantage of all the time. One Tripadvisor reviewer described it as "Pigs should beg to become Smokin' Pig BBQ. The meat is fantastic and the sides are to die for! Don't miss this one."
You get to watch the best football team in the country
You'll truly feel the Clemson family come alive at football games when there are thousands of students and alumni standing hand-in-hand singing the Clemson Alma Mater. Not to mention you all get to cheer on the BEST football team in the country. It's more than being the best though; we have an electrifying fan base and watching the Tigers play in Death Valley is addictive. You'll feel a part of something bigger than yourself as you cheer on the team through thick and thin. As the great Dabo Swinney once said, "I'll see y'all in Death Valley!"
You get the best return on your investment
Student loans suck but having a job right out of college that pays over $60,000 makes the suck a little bit less. If you don't believe me, listen to what the Princeton Review's senior vice president has to say, "Clemson students have worked at more than 375 companies through cooperative education, providing them with the ability to apply what is learned in class to real-life situations, while making invaluable contacts in the field they have chosen to pursue. This makes them strong contenders in today's job market."
You get to experience different flavors of the South
Although Clemson may seem like a small southern town, it's just a few short drives away from bustling Charlotte, artsy Asheville, charming Charleston, and many more places all with different vibes. Often times, you'll see fellow classmates driving to Beyonce concerts in Atlanta, having date night in Greenville, or going clubbing in Charlotte. You are far from limited when you come to Clemson.
As well as having an array of different cities right at your fingertips, Clemson also offers you plenty of natural adventure. There is no end to the hiking trails that surround the university, such as Table Rock Mountain and Issaqueena Trail. If water is more your thing, you can't beat boating on Lake Hartwell or spending a day laying out at Y Beach.
You won't regret your decision
Unless you don't like football or having a high paying job in the future, chances are you will never regret your decision of joining the Clemson family. In the poem "Something in These Hills," Joes Sherman of Class of 1934 wrote:
"There is something in these hills that brings together and binds together and holds together men and women of all persuasions, of all heights, sizes, weights, and cultural backgrounds – something that cuts across every difference, spans every gap, penetrates every wall – something that makes a man or a woman stand taller, feel better and say with a high pride to all within earshot, 'I went to Clemson.'
There is something in these hills that you and I can't define and others can't understand. A wave of warmth always surges through me when 'outsiders' say, 'I don't know what it is about you Clemson people, but your undying love for Clemson is admired by everyone I know.'"
Current students still feel this way and probably always will because there is something intangible about this place. Marley Yates, a senior English major, said, "Clemson was the best decision for me because even though we are a southern school, we really have a diverse group of students with all interests. It was refreshing for me to finally find people who had similar interests. I think that it is this open-minded atmosphere that encouraged me to discover more about myself. The happiest years of my life have been spent at Clemson University."