Alabama is one of the top schools for 'sugar babies' in America
We all know that being a college student is not cheap. We have to pay for our tuition, rent, books, food, etc., but many students have found a different way to pay off all of their expenses this year.
SeekingArrangement.com is a dating site where young adults, many of which are in college, can find a sugar daddy or sugar momma. These sugar daddies and mommas will pay students an average monthly allowance of $2,400 along with pampering and other gifts. As of January 9th, there are 346 UA students who have registered to be sugar babies. 109 students signed up in 2016, making UA the 9th fastest growing sugar baby college in America.
On the website, sugar babies are described as, "Attractive people looking for the finer things in life. They appreciate exotic trips and gifts. Sugar Babies get to experience a luxurious lifestyle, and meet wealthy people on a regular basis."
According to the website, a sugar baby will receive an average of $2440 per month simply by just going on dates with the sugar daddy or mommy. It doesn't stop at cash though, some sugar babies get expensive gifts from their sugar daddies or mommas as well.
Site organizer Brandon Wade claims that, "SeekingArrangement.com has helped facilitate hundreds of thousands, if not millions, of arrangements that have helped students graduate debt-free."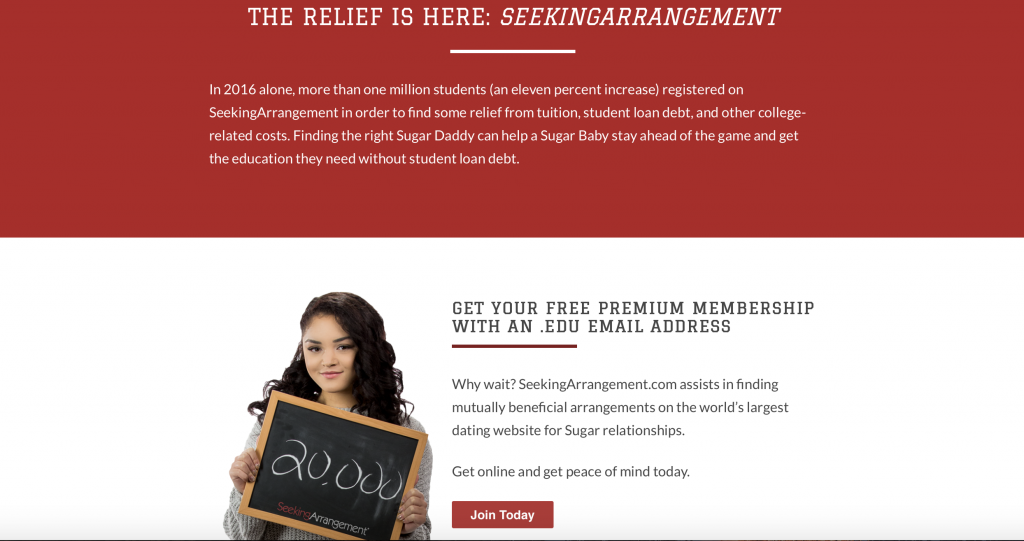 The site even offers free premium membership to students who sign up using their .edu email addresses.
So, if you're looking for a better and, admittedly, fun way to pay for some of your expenses, just go to SeekingArrangement.com, click join and then you're all set to start finding the perfect sugar daddy or mommy for you.