What we learned from UW-Madison's International Women's Day events
'A women's place is 100 percent in the struggle'
On the night of March 8th, also known as International Women's Day, the Madison chapter of Socialist Alternative held an event for feminist socialism against Trump. There were four speakers, with a turn out of 100+ people of all ages. On the event page, a detail about the purpose of this event says, "Join us for a discussion on a socialist strategy to defeat Trump's sexism and the broader systemic gender violence and gender oppression fostered by capitalist politics and economics."
The first speaker was a high school senior from Waukesha, who is a DACA (Deferred Action for Childhood Arrivals) recipient. She came to tell her personal story of how Trump's orders are already impacting her life as well as her friends and peers.
Right now, her sister is the only person in her family to have a driver's license. There was a nine month period when no one in her family had a license, but they lived so far from the school that her father was forced to drive illegally. He is an illegal immigrant from Mexico, however, she has lived here nearly her entire life. Her father has been pulled over three times by the cops for driving illegally, and has been warned that if he is caught again it will result in instant deportation. One of her close friends' father has already been deported as well. This family is struggling with things as simple as getting licenses, something that is vital to their education and well-being, yet are unable to due to their home-country. She is fearful for what her future entails. Her family has been talking about how they might move back to Mexico. She feels supportive, because her parent's haven't seen many of their family members in over 10 years, yet she knows the living conditions of her home in Mexico are not great. She hopes for immigrant and undocumented lives to matter in this movement against Trump.
The second speaker, Heather Huber, came to represent the Madison chapter of National Organization for Women (NOW). Heather provided information about how Wisconsin only has three abortion clinics left. On April 14th, there will be a pro-life protest outside one of these clinics. NOW is organizing a peaceful, anti-protest against the pro-life protesters. Last year, the pro-choice anti-protesters arrived earlier than the pro-life protesters, had a larger outcome, and actually got them to leave within 30 minutes. They are hoping for the same turnout this year. A bus will be outside Chazen Museum on the 14th. It will leave at 7:30 AM and return at 1:30 PM. You can check find more information here.
The third speaker was Hanna Burge, an LA native who is currently a Socialist Alternative member from the Minneapolis branch. She gave a very moving speech about what kind of socialism and feminism this country needs. She claims the socialist feminists are "a new surge of feminism for those who were left behind by corporate feminism." She also said that to fight against Trump means fighting against capitalism, because that is a factor in the patriarchy and misogyny as well, and that "capitalism profits from the exploitation of women." At the end, she made the point that "we cannot depend on the Democratic Party to lead the Anti-Trump resistance."
The final speaker was Darletta Scruggs, an organizer with Chicago Socialist Alternative. She is well known for a viral video in which she took down a Fox News host, Neil Cavuto, arguing for free higher education. The first thing she said was, "I want to start out by saying, and being very clear, that no human being is illegal." Darletta's main focus was on the fact that immigrant and undocumented women, transwomen, and women of color need to be a big part of this movement, and that they cannot be excluded. She gave examples of strikes held in the past, mainly by immigrant women, that progressed our work environment and laws further. One example was of the Polish women in Detroit who went on strike with a sit-in, which lead to the establishment of a cigar maker's union. She made note that we must address how misogyny, homophobia, lies, etc. are engraved into society to understand why hate crimes are happening (after talking about how two transwomen were just killed in NOLA). Darletta also made a point to say that "A women's place is not in the house, a women's place is 100 percent in the struggle." Women must join forces to fight for the rights of all women. She ended with this: "Fuck capitalism, fuck patriarchy, fuck transphobia, and most importantly, fuck Trump."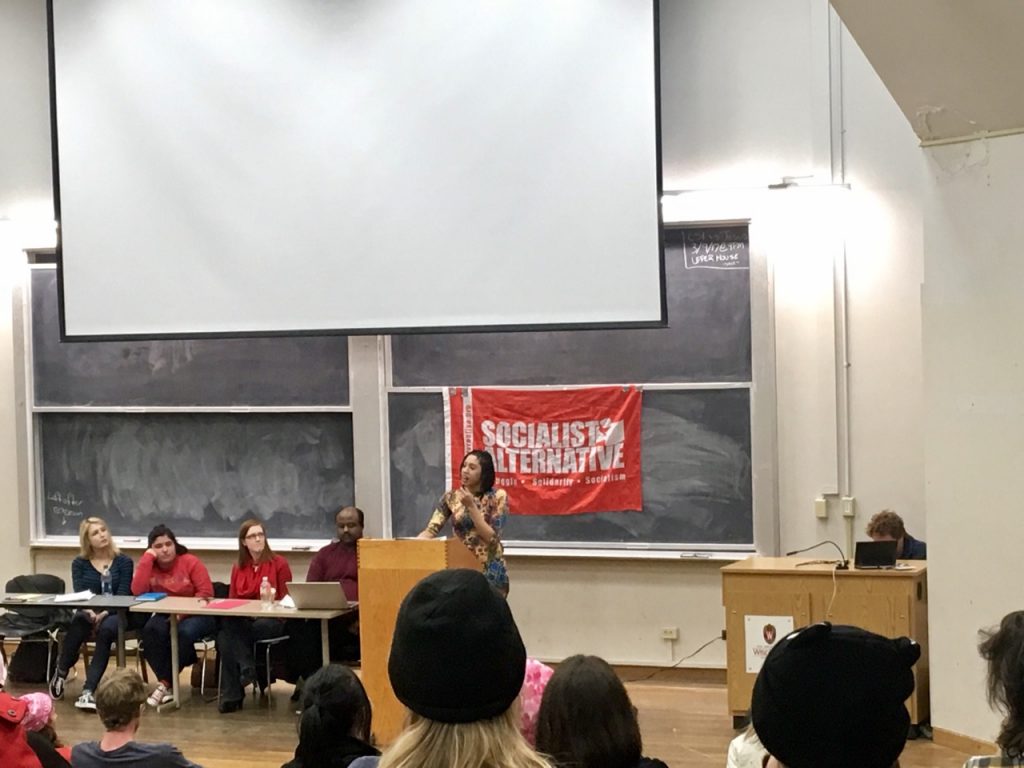 With Madison being such a liberal city, and over 5,000 people interested in this event, you would expect a better turnout. Sometimes Socialism is too far left for even those who identify as super democratic. These speakers and this organization are all in support of Socialists leading the anti-Trump movement, as they believe the Democrats got a good start on it all, but aren't doing enough. You can see more what SA is about on their Facebook page.