Five days, five Tinder dates in Blacksburg
From cupcakes to TOTS Rails, here are my findings
Under instructions to leave my comfort zone, I set out to do the scariest thing I could think of: ask strangers out on dates.
In an effort to explore modern dating, I utilized a dusty, almost untouched app on my phone titled "Tinder." And I know what everyone is thinking: Tinder is for hookups and hookups alone. Well, here I tried to bring other people out of their comfort zones as well, dating boys I met on Tinder in some typical sites around Blacksburg and the Virginia Tech campus as well.
Sunday
We agreed to check out Soundfest, an all day music festival taking place on the Drillfield where the lineup was full of local bands and DJ's. I waited on a hill and soon enough, a boy wearing a blue shirt and shorts and a goofy smile comes bounding up the hill and immediately plops down next to me with, "Hi, I'm Andrew!"
I was incredibly nervous but my nerves dissolved quickly as we introduced ourselves. I found Andrew to be super friendly, even slightly hilarious.
We got to know each other through our shared hatred for Blacksburg weather, McBryde's windowless classrooms, and of course, our love for VT dining, all while waiting for the event to actually begin. We did have a debate about whether the Cantina in Owen's or Turner's beloved Qdoba has better burritos (he was clearly wrong in his love for Owen's Hall but hey, I'm not judging).
Since the music had yet to start at Soundfest, Andrew and I decided to check out the duck pond, a popular attraction in Blacksburg with its overabundance of ducks and beautiful nature scenes. By the creek, we saw a huge fenced-in tarp where about 100 people were running around and throwing handfuls of colored chalk at one another. Each person was dyed a different vivid masterpiece of orange, blue, green, yellow and red, and when the wind blew strong gusty waves through the sky, clouds of color would lift off the people and blow away into the air.
It was a cool sight, Andrew and I looked at each other, both grinning, and took off into the fenced-in area to join. We pelted each other with handfuls of colored chalk, danced in a crazy long Congo line and slid around on our socks.
After that was done, we spent the rest of the day listening to local bands and playing carnival games. I'm glad I got over my nerves because once I loosened up, I had a great time hanging around with Andrew. We got to experience some great music from new bands I had never heard of, my favorite being a local band called "Lost Stars."
I enjoyed hanging out with this stranger I had been so nervous to meet. My first date of the week set me with some high expectations for what was to come.
Monday
For my second date of the week, I invited a boy named Eric to grab some coffee at a popular café off of Main Street called "Mill Mountain." We met in the evening and I was pleased by the atmosphere in this little nook of a coffee place. It had a rustic sort of feel, with coffee bean sacs crowding the floors for seats, as well as regular tables.
Eric and I took a table near the window, and as I sipped my (warm and delicious) Chai Latte, he told me all about his work as a photographer and DJ, as well as his hobbies which include shooting, laser tagging, jet skiing, hiking, and paintballing. Once again, I was surprised by how easy it was to talk to a stranger from the internet. Eric and I laughed about similar experiences playing the game "assassin" in high school, but while he made it to the final four, I got kicked out of the game for getting my target while he was in the ER for a sprained ankle (sorry Kyle). Eric said "you're an animal," and I said "what can I say, sometimes you gotta be ruthless." We also discussed our favorite local places. Both of us agreed that Sycamore Deli is Blacksburg's best asset, with weekly Salsa nights, regular live music, and incredible daily deals on cheap sandwiches, which include a million options.
Dead ends
Two good first dates in a row and I felt super optimistic about the rest of my week. However, this is when I started reaching roadblocks.
As anyone who has used Tinder may know, it has a certain reputation for being an app used only for hooking up. I try to give Tinder the benefit of the doubt, but after my first two days, I started having difficulties arranging dates with people because my matches were interested in sex and I was interested in dates.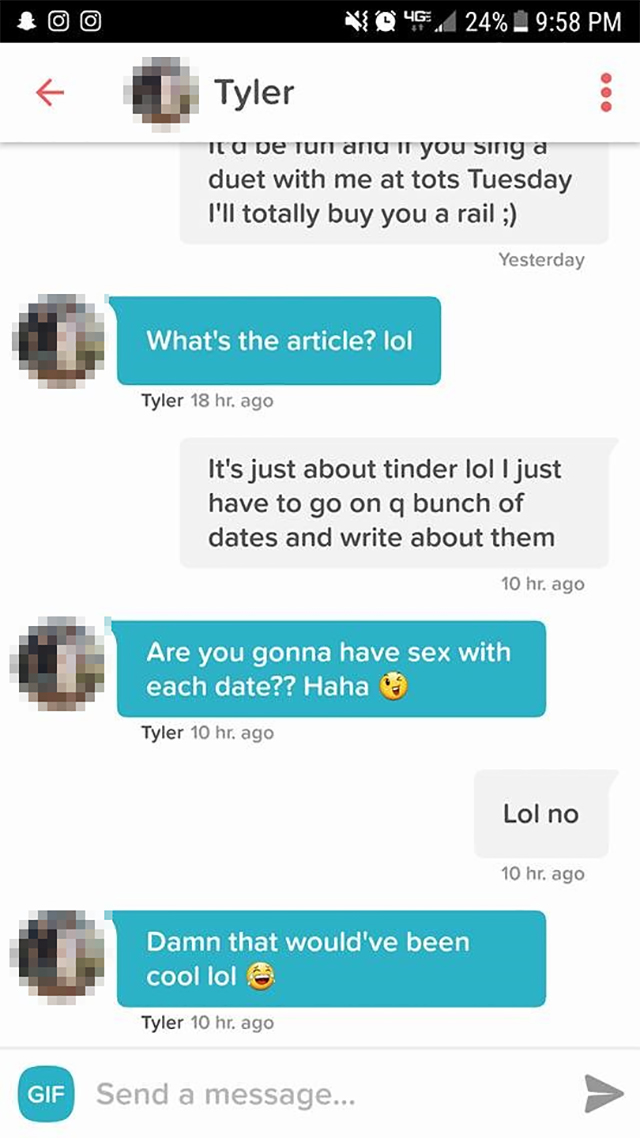 Tuesday
I met a boy named Cam and we agreed to go on a walk down Blacksburg's famous Huckleberry trail. We met on campus (me, trying to be wary to the dangers of internet strangers) and walked together to the trail entrance. By my third date, I had found the butterflies were fairly settled and I was used to the introductions at this point, so it was easier for me to calm my nerves and be myself.
The boy's name is Cam and we talked about nature, his favorite hiking spots, and our life goals and families. Cam and I clicked on a personal level, and I was really interested in listening to his beliefs and stories. One thing he said that stuck with me was "the mountains are my religion." It was really cool to hear him articulate his thoughts and get to know him, all while surrounded by some kickass nature. We trespassed onto a research field and rolled down some hills together, all in all, I'd say it was a solid first date and reinstilled in me some faith for Tinder.
(He didn't want to be photographed but here's a picture he snapped of me in the field we snuck into, photocreds: Cam Trogdon, or mountainbro on tumblr)
Wednesday
Patrick (not the same one from the messages pictured above) and I decided to have lunch at Cabo Fish Taco, a typical Blacksburg hotspot for food and drinks. By now I was basically a pro at meeting Tinder boys, so I was mostly just excited to try Cabo for the first time after hearing so much about it. We took a table outside because the weather was wonderful, and I was pleased by the relaxed vibe of the place. Patrick and I talked about mostly school and finals, and we found we shared some teachers.
We both went for variations of their fish tacos, and the food came quick and tasted delicious. He got a mango margarita as well which was refreshing and tasty. I was pleased by Cabo's service and their food, and it's a place I'll definitely try again.
After the bill had been paid (he even paid for my meal as well!), we started heading back towards campus. Patrick walked me to my class for a Russian conversation class and I was pleased by how much of a gentleman he was.
Thursday
For my next date I wanted to try something different. I found someone who agreed to go on a date and took him to Gobble Cakes, the local cupcake shop. We sat outside and talked for a while, getting to know each other through silly questions. He asked me what the weirdest thing that's ever happened to me was and I told him I've been pooped on by a bird on three separate occasions in my life, and I asked him what the weirdest thing to happen in his life was, and he said "I don't know, one time this girl on Tinder asked me if she could take me on a date and interview me…" You're welcome for bringing some weirdness into your life!
This dude, his name is Nathan, had some funny stories to tell. He's a freshman at VT and he told me he ordered a fake ID and it came with four copies so each of his friends got a copy and they try to use them DT all at the same time by staggering themselves between other people, needless to say, all four of them have never actually made it in together. It's funny that they try to, though.
After some conversation, we went in Gobble Cakes to try some cupcakes. They had a buy 2 get 2 free deal so I got us four cupcakes, asking the lady at the counter to pick the best ones for us. We tried a Crème Brulee cupcake, a strawberry lemonade, a lemon blueberry and a chocolate peanut butter. Most of them had some sort of filling and they were delicious. It was fun to get cupcake all over myself while on a first date, and I told Nathan it'd be a good picture if I surprised him by smashing his cupcake in his face when he went in for a bite. However, good thing I didn't because he said he would not have been happy.
Friday
I was having difficulty arranging another date (likely because of finals week) so I asked Eric from Mountain Mill if he wanted to go to TOTS together. He said he'd go as so long as I agreed to try a rail.
When we arrived, we went straight to the bar. We both ordered rails and some kid next to us said "Don't drink it too fast!" and good thing he did because though the drink didn't taste super strong, it was very powerful and had me feeling goofy by the end.
We hung around the bar for a good amount of time, also hung around the porch areas mingling, and even did some dancing on the overcrowded dance floor. We tried to get a picture in front of the TOTS flag but Eric fell off the table when we were climbing up, trying to excuse himself by saying he's always that clumsy. We decided it would be best to skip the picture after that, wouldn't want any bloody noses.
It was a good, typical TOTS night out. We stayed until closing, and then he offered to walk me home because we couldn't figure out the bus schedule. I'm glad we walked because on our way we passed some people playing live music on the street and everyone heading home from bars was dancing and spinning and it was a great sight. Eric asked me if I wanted to dance, and I agreed (even though I'm a terrible, clumsy dancer) so we did some twirling under the stars while enjoying these men strum their guitars.
Now that my week of dates is over, I've gotten to understand Tinder better. Typically known for only being a hookup app, I've found that though it is difficult, it is possible to date through Tinder and even fun sometimes. Leaving my comfort zone enabled me to gather some cool experiences and get to know some really fun people, hopefully people I'll continue to be friends with in the future. However, my favorite part of doing this adventure was getting to see different sides of Blacksburg. I enjoyed exploring new places with new people, it really showed me a lot of things about my city I had never taken the time to notice, such as the delicious cupcakes at Gobble Cakes and the live music on the streets after hours. All in all, though I was nervous at the start, I'm glad I got to go on all these dates.
Now that I'm basically a Tinder pro, perhaps I'll continue trying to arrange dates through the app. Who says modern dating can't be fun?