A third of all sexual assaults at UVA are reported in first year dorms, according to a new map
19 percent happen in off-grounds housing
The Tab has conducted an investigation into the frequency of reported sexual crimes at UVA, and has mapped this information for the first time.
The data is from 2009-2017, and is based on police logs which the university is obliged to disclose. Some of the data was clarified through requests to university police.
There have been 67 accounts of rape, attempted rape, forcible fondling, sexual assault and attempted sexual assault over the past nine years.
Breaking down the data by days of the week, 50 percent of incidents are reported from the weekend, spread over Friday night to the early hours on Sunday morning.
Weekdays account for fewer reports by comparison – although 15 percent come on Monday.
Zach Schauffler, a third year in the One in Four Club, an all male-identifying sexual assault prevention advocacy group, told The Tab he suspects Monday features prominently as "most sexual assaults occur on the weekend, and survivors often need time to figure out which course of action they want to pursue."
When it comes to months of the year, a third of reports come early on in the semester. This confirms what experts call "the red zone" – students are at most risk of sexual assault in the first weeks of the semester.
While the university warns students at the beginning of the fall semester to be extra vigilant (especially around Block Party), January was the month with the highest amount of crimes, accounting for 19 percent of the whole year.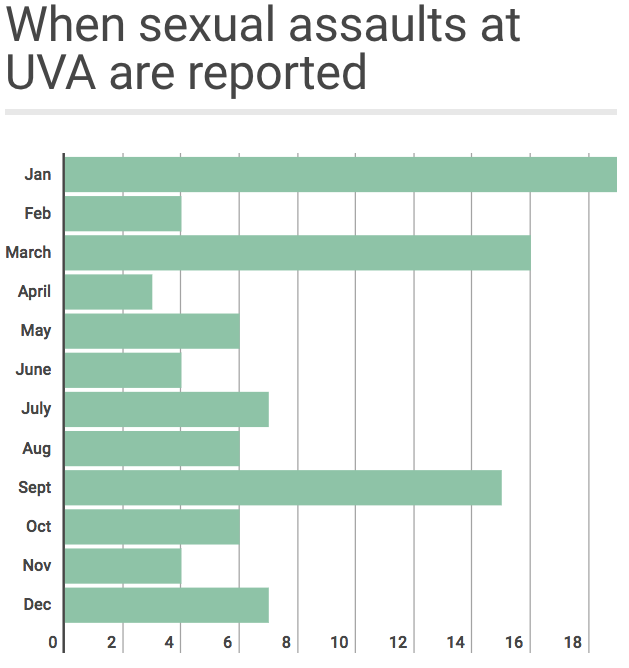 Looking at where assaults are reported, 60 percent are reported from dorms – 33 percent in first year dorms like the Alderman Road Residence Area, and 27 percent in upperclassman dorms like Lambeth.
18 percent were reported at fraternities. Sigma Nu, which is currently inactive due to hazing violations, had three reports of sexual assault, sexual offense and attempted rape between 2013 and 2014.
As the map shows, the incidents have occurred evenly around UVA's most populated areas: Jefferson Park Avenue, the Corner and its surrounding housing, and first year housing along Alderman and McCormick Roads.
One unexpected result from the data analysis was the number of times UVA Hospital appeared as a location on reported incidents. It accounted for 19 incidents over the past eight years – 28 percent of all reports. When we contacted UVA PD about this, they explained that the higher number of reports from 1215 Lee Street does not reflect the actual incidents that have occurred.
A spokesperson said: "The University of Virginia Hospital is a level 1 trauma hospital and treats thousands of patients monthly. The UVA hospital is also a mental health treatment facility with a large section of one entire floor dedicated to mental health care.
"Many of these calls are reported by consumers of mental health care. UPD always responds, interviews complainants, files reports and investigate the offenses reported. Many reports could be generated by remembering past events while undergoing treatment in our facility.
"We have also received calls of past sexual assaults when patients are coming out of anesthesia from a procedure and are unable to recall or are unclear what medical procedure they underwent, and confuse the physical contact with health care providers as inappropriate contact."
Because of the unique status of incidents noted at UVA Hospital, we have chosen not to include them in our reporting.
However students can still learn a lot about the culture of sexual crimes from the data that is available.
The Tab UVA undertook this project to give UVA students the first clear picture of where and when the most sexual crimes take place. It is worth adding, as Zach Schauffler points out, that "sexual assault is a severely underreported crime."
The 67 reports above are "tragically" not indicative of all sexual crimes that occur at UVA. And these are just the reports noted to UVA PD – more crimes could be reported to CPD.
If you are or know of someone who is the victim of sexual assault at UVA, visit the Office for Equal Opportunity and Civil Rights page.
Mapped is an investigative data journalism project from The Tab, looking into where sexual assaults are reported on college campuses.