Multiple students stabbed on UT Austin campus, one dead
Three people have been stabbed and one has died
UPDATE: Rumors of another stabbing incident taking place on UT Austin campus, after the attack that ended with three stabbed and one dead, are "not credible" according to APD.
Police are at 26th, 2400 Nueces and Castilian amid reports of assailants knocking on doors, but APD confirmed to The Tab: "There is no credible threat."
They also tweeted:
Buildings in the area were on lockdown and UT students warned each other not to show their Greek letters, following unsubstantiated rumors about assailant deliberately targeting fraternity and sorority members.
UT Austin student Nathalie Rovall, a 2400 resident who was caught up in the lockdown told The Tab that the door-knocking heard by students was just maintenance workers.
---
Multiple people have sustained potentially serious injuries, and one has died after a stabbing attack on the UT Austin campus.
At least three people have been attacked, and images of students being treated are circulating online.
UT Austin has sent out an alert to say: "Criminal Activity with Injury occurred on campus. Suspect in custody no additional immediate threat to campus. Please avoid the area of 21st and Speedway until further notice."
EMS tweeted a report of three people injured on campus, and one dead:
Eyewitnesses have reported seeing a student pull out a concealed handgun on the suspect, and made him back down.
An image is circulating on Snapchat of a male student being apprehended: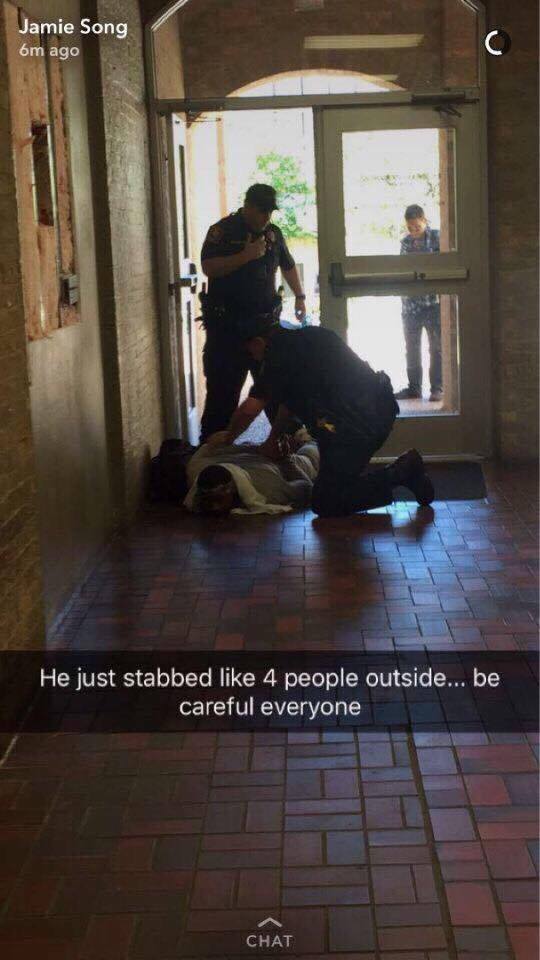 In the wake of anti-Greek graffiti last week, fraternities and sororities have sent out emergency warnings to members to remove letters. Many sororities are on lockdown and doing emergency check-ins.
One of the injured is believed to be in Lambda Chi.
An eyewitness report of the incident is being shared on social media from UT student Alyson G:
"Me and Brandon were eating at Chilantro's truck at a long picnic table. Then at the end of the table some guy comes up in a bandana and stabs the knife into the table and looks all of us in the eye. I thought it was just some theatrical stunt or something. He pulls the knife out without saying anything and turns around to slash some guy in the back of the neck. The slash victim grabs the back of his neck and yells (people look at him and I await some sort of 'gotcha' statement). But then… The attackers walks to another guy and stabs him in like the kidney region in his back. Some guy yells run and we all bolt to McComb's."
Another message is circulating of a UT student claiming: "My roommate's friend just had a knife put to their throats and the person checked to see if she had Greek letters underneath her hoodie."
The unconfirmed rumor appears in another message: "A girl in West Campus just had a knife to her throat. She was wearing a sweatshirt and was asked to remove it to check for letters. She luckily wasn't wearing them and was let go."
We have yet to verify these claims.
UT Police said: "At this time we do not have information about credible threats to specific groups of people."
Campus has now been closed for the day and classes canceled. A UT Austin alert said: "Due to the violent attack on campus this afternoon and multiple buildings being close, we are canceling classes and events for the remainder of the afternoon and evening while the investigation is in progress. There is currently no ongoing threat on campus."
In a press conference, President Greg Fenves said: "This breaks my heart to have to announce this… we are going to actively investigate this."
David Carter of Chief of Police at UT Austin added a man was apprehended with a "large police style hunting knife."
He confirmed three students are receiving treatment and one is dead. He added Kendrex Jay White, a student at the university, is in custody.
We contacted UT Austin about the incident, and a spokesperson told us: "We are not aware of anything that's happening."
More to follow.