Springfest was canceled in the middle of Migos' performance because DPS was understaffed
They'll say, 'USC students were too bad and boujee'
The Los Angeles Fire Department shut down Springfest in the middle of Migos' set after the crowd in McCarthy Quad exceeded limits that DPS could control.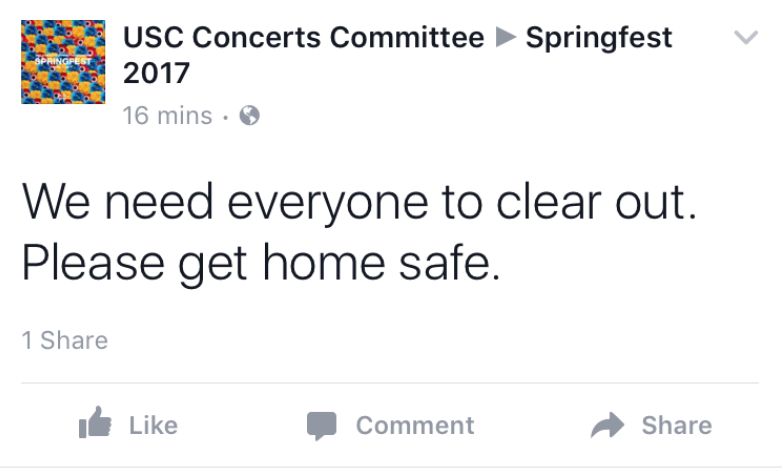 A source on the USG Program Board said, "DPS didn't have enough staff. They let everyone in and they should have had a limit."
Remember when Migos played one song and then they cancelled springfest

— Jonathan Rodriguez (@Olatnip) April 2, 2017
The annual concert is free for students and one guest with a valid student ID. Nonetheless, many students were not asked to show their ID at the entrance of the concert, possibly causing the quad to exceed capacity. The event started at 12:45 p.m. and was supposed to end promptly at 11 p.m. but was cancelled around 9p.m.
Apparently Springfest got canceled before the headliner cause it was getting too crazy. This is why we can't have good concerts…

— Maddie (@mlum14) April 2, 2017
"People were getting trampled and there were too many fights so they shut it down. People were literally breaking into fights and I was in the elevator with a girl who got trampled," freshman Samantha Lutschaunig said.
Migos performed just two songs before everyone was asked to leave. Rae Sremmurd was supposed to headline Springfest, but never made it to the stage.
A riot squad, LAPD, ambulances and other emergency units reported to the quad to control the crowds.