What your laptop sticker says about you
Laptop stickers seem to have become an essential college accessory. For some, they may just be for decoration. For others, choosing and placing their stickers is a careful and precise process that illustrates their personality…or at least the the personality they want others to see. Sometimes, however, there is a disconnect between what you intend to project with your lap top stickers, and what they mean for others.
Your state
These are typically out-of-staters showing pride for their home
What you think it says: Look, I'm a cool and interesting ~foreigner~
What it actually says: Not being from California is the only unique thing about me
TV Shows
You have pics of your favorite characters or inside jokes from the shows that only fellow fans will appreciate
What you think it says: Wow I'm so funny and such a true fan, if you don't get it, then get tf out
What it actually says: I might be failing chemistry, but I have an A in binge watching
Patagonia Sticker
So you probably got this sticker when you complained to the company that your fleece was not soft enough or the zipper was defective
What you think it says: I love being outdoorsy…out in nature…breathing it all in
What it actually says: I've never actually hiked a mountain in my life (And no, the walk up to the Hollywood sign does not count)
Vineyard Vines Stickers
Similarly to Patagonia, you got this from that one $50 T Shirt you ordered
What you think it says: I've totally been preppy my whole life
What it actually says:  I've never been to Martha's Vineyard and I own the same whale shirt in five different pastel colors
A lot of random USC Stickers
They came in many forms: from Tommy Trojan to "Fight On!"
What you think it says: I love my school, Fight on!
What it actually says: I am too lazy to go on redbubble to pick out my own stickers, so I just used the ones I got for free at various USC events
"Sassy" Stickers
Whether it's "too sassy for you," a Peach butt emoji, "rawr," "whatever," or "i don't care," it all says the same thing
What you think it says: I'm not like other girls, I'm a 'cool' girl who doesn't really care
What it actually says: I'm just like every other girl, and I care a lot
Feminist stickers
You usually don't need the  "nasty woman," Rosie the riveter, of "Vote Knope" stickers to know this chick cares about gender equality
What you think it says: I am woman, hear me roar
What it actually says: I have three rants a day about smashing the patriarchy
Aesthetic Stickers
Lips, flowers, old actors and movie you think are cool but never have actually seen, vague and cliche sayings like "just breathe;" it's like a physical snapshot of your Tumblr
What you think it says: I'm really artsy and cool
What it actually says: I've put in a lot of effort to build a perfectly trendy social media persona 
Food Stickers
Starbucks, burritos, pizza– all the college essentials
What you think it says: Forget the roses and diamonds, just give me Chipotle and read my foodie article on Spoon University
What it actually says: Instead of planning when to do adult things or study, I am constantly thinking of when and where my next meal is coming from
Sorority/Fraternity Stickers
You can spot a Greek Life members from the other end of Trousdale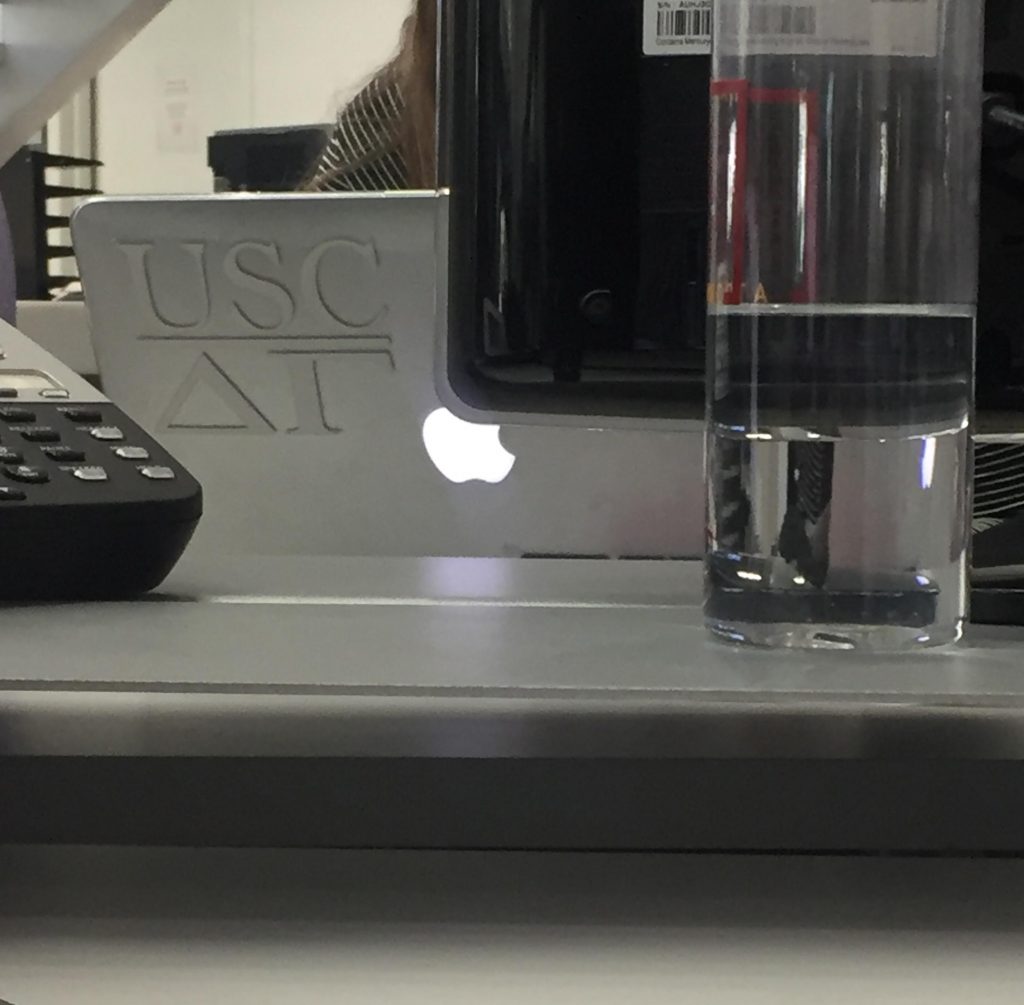 What you think it says: I am so committed to the sisterhood/brotherhood, community service, and awesome themed parties
What it actually says: I suffered a lot of emotional and physical humiliation to get this sticker and matching backpack
Book Laptop Case
Last but not least, this loser: The one person in your class who insists their Lenovo is actually better than everyone else's MAC
What you think it says: I'm bookish and a quirky-cool kind of nerdy
What it actually says: All my friends are fictional
So whether your stickers are funny, ~deep~, or uniquely basic, slap them on your laptop and show yourself off to the world! But there is no guarantee that others will necessarily pick up exactly what you are trying to put down.