We tried the best chicken biscuits near Chapel Hill
Winner, winner, chicken… breakfast
For those of you who wake up in time for breakfast, you understand the importance of a good meal. Nobody wants a soggy bowl of cereal or a burnt piece of toast for breakfast. What you really want is a warm chicken biscuit. But then you face the real question — where do you go?
Fear not, because I have scoured the area (let's say a 10 mile radius from campus) for the best chicken biscuit around.  Each one is unique with different combinations and experiences.  The only way to find out which is the best is to try them all, so I grabbed some biscuit buddies and hit the road.
I visited five locations and at each one I ordered their original chicken biscuit, some with cheddar, some without.  After considering biscuit texture and the chicken factor, I rated each one on a scale of five chicken wings.
It's a hard job, but someone's got to do it.
Bojangles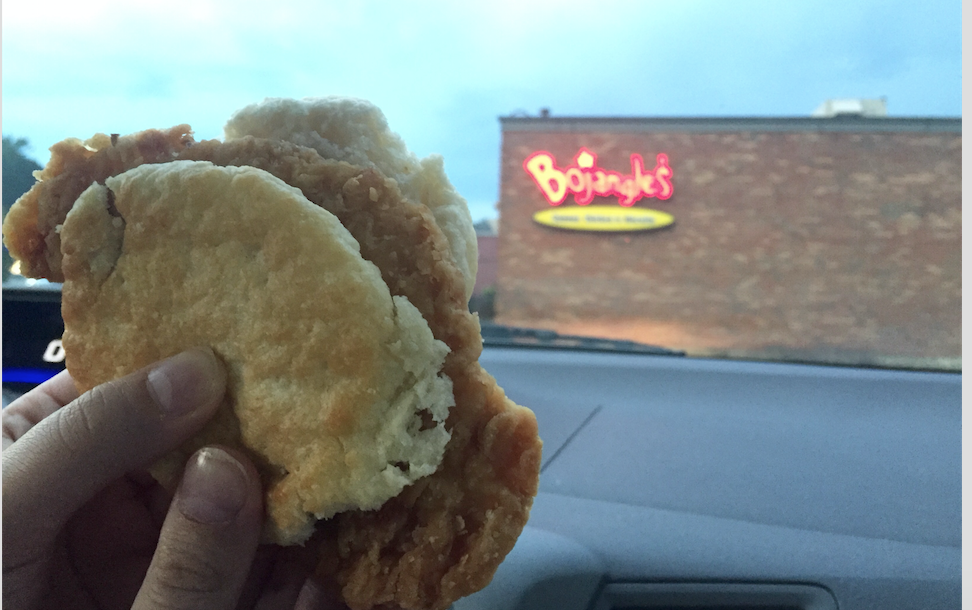 Believe it or not, I've actually only been to a Bojangles twice (*audible gasps*), so this was truly a first taste-test for me.
Price: $2.99
First Taste: basically a salty chicken tender on a good biscuit
Biscuit Texture: thin and flaky
Chicken Factor: crispy and thin
Overall: 3 chicken wings
Time Out 
While I have been to Time Out many-a-times, a revisit was necessary for proper procedure, right?
Price: $5.49
First Taste: buttery goodness
Biscuit Texture: thick and crumbly
Chicken Factor: chunky (might find a bone, but just shake it off)
Overall: 4.5 chicken wings
Rise
Did you know you could get pimento cheese on a chicken biscuit? Excuse me while my world is being rocked.
Price: $4.95
First Taste: oniony in the best way
Biscuit Texture: crunchy outside, soft inside
Chicken Factor: crispy breading, large patty size
Overall: 4 chicken wings
Chick-fil-a
Chick-fil-a deserves major bonus points for giving me TWO chicken biscuits when I only paid for one. That's how you know it's going to be a good day.
Also, cannot forget the Chick-fil-a sauce, which completes the meal.  I mean, I would eat a sock if you dunked it in Chick-fil-a sauce first.
Price: $2.25
First Taste: salty and sweet like the Chick-fil-a we all know and love
Biscuit Texture: buttery and crumbly
Chicken Factor: obviously fantastic
Overall: 3.5 chicken wings
Sunrise 
HOW HAVE I NEVER BEEN HERE BEFORE?! Seriously, what have I been doing with my life.
Price: $5.24 (with cheddar cheese), $4.49 (without)
First Taste: melt-in-your-mouth-good
Biscuit Texture: soft
Chicken Factor: heavily fried
Overall: 5 chicken wings
Winner, winner, chicken…breakfast. Sunrise takes the cake, or really the biscuit, on this one!
Everyone has their opinion and certain allegiance to a chicken biscuit, but considering all the factors together, Sunrise gets all five chicken wings. It's a good thing they're so close…some might say dangerously close.