Greek Groove 2016 raises $27k for UNC's Center of Excellence for Eating Disorders
Kappa Delta took home the first place prize
Every year for one night, Memorial Hall is packed with hundreds of screaming sorority girls. And no, it's not Bid Day. Last night was Greek Groove, the annual dance competition between UNC's sororities, and Kappa Delta took home the first place prize.
The competition supports the UNC Center of Excellence for Eating Disorders. Each year, the chapters encourage others outside the Panhellenic community to contribute to the cause through ticket sales, t-shirt sales and benefit nights on Franklin Street.
This year, the event raised a whopping $27,009.64 for the center.
The funds support CEED's mission to provide clinical care for those suffering from eating disorders, education and training about how to detect and care for them, and research to obtain a greater understanding of their causes and the best way to notice, treat and prevent them.
In the months leading up to Greek Groove, members of each sorority choreograph, practice and perfect their routines, as well as pick a theme for the show. And they certainly didn't disappoint – the teams blew the audience away as they executed their dances creatively and impressively.
The event featured performances by the Clef Hangers – who were also the hosts of the program – and Cadence a cappella group, who sang while the judges were making their decision.
First, second and third place were each awarded with donations to their respective philanthropies. Second and third went to Alpha Delta Pi and Chi Omega, respectively. ADPi won the competition the past two years and was going for the third year in a row. They were able to secure the runner-up title with their "Hunger Games" themed routine.
Winner Kappa Delta's theme was "Transformers." Their glow-in-the-dark costumes and intense mash-up complemented their equally spectacular moves.
While Greek Groove is full of competition and fun, at the end of the day, its main goal is to make a difference and fight the effects of the unrealistic expectations of society today.
Dancers said they "Greek Groove" because they believe in the mission of CEED, because beauty is not defined by a size and because everyone deserves to feel confident in his or her own body.
Too often, we overlook the qualities that make us unique and wonderful and instead focus on the ones we decide aren't good enough.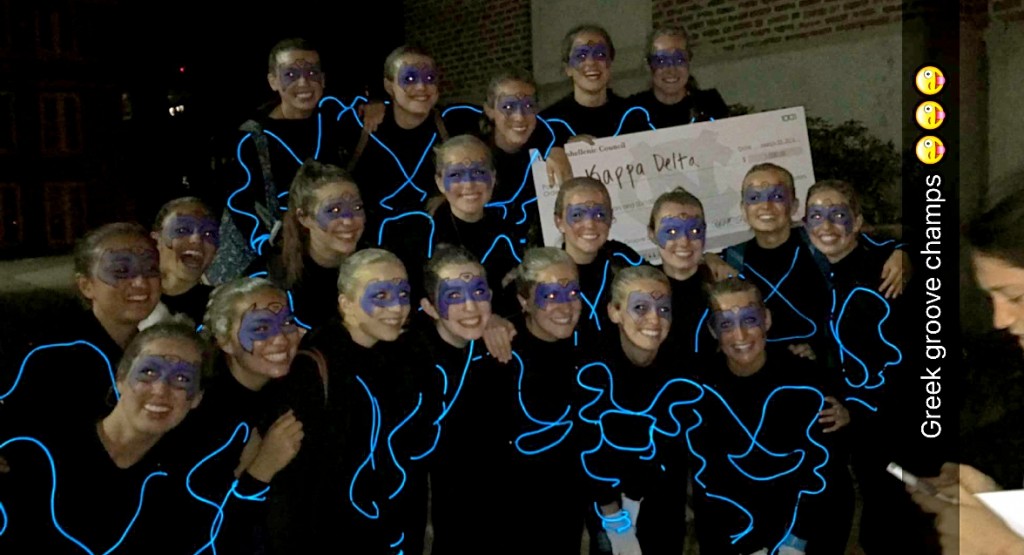 But who's to say you're not good enough? It's when we compare ourselves to what we think we want to be, look like, or have that we start doubting ourselves.
So don't doubt yourself. Dance if you feel like it, and have fun while you're at it.