Meet the candidates for Mr. and Miss UNC 2015
Voting begins at midnight tonight
If you've been in the Pit the last two weeks, you've probably seen all the campaigning for Mr. and Miss UNC.
The Mr. and Miss UNC competition is essentially college Homecoming King and Queen, but with a service component. The student body votes on Friday for two seniors – one male and one female – who exemplify the three pillars of the Carolina Way: scholarship, leadership and service.
The entirety of the election platform is based upon a service project, which the candidate receives money for if they win. These projects are funded by the GAA (General Alumni Association) to work towards a better University and Chapel Hill-Carrboro community.
Here's a breakdown of your 2015 candidates.
MISS UNC CANDIDATES
Adeline Dorough #AdelineDoroughforMissUNC
"To support kids through and beyond a parent's cancer"
Adeline's campaign focuses on and partners with Camp Kessem, a camp supporting children through and beyond a parent's cancer. Each camper attends a free weeklong camp, staffed by volunteers from UNC and Duke.
If Adeline were to win Miss UNC, she would implement a college scholarship fund for campers who have aged out but remain involved in the organization, creating a counselor-in-training program.
https://adelineformissunc.web.unc.edu/
Christina Townsend #Christina4MissUNC
"Supporting professional development"
Christina's platform is called Perfectly Suited, a professional development initiative for all UNC students. Through this, she plans to partner with the Union and University Career Services to provide support and exposure to professional opportunities.
If Christina were to win, her project would call upon students, alumni, Chapel Hill residents, businesses and anyone else interested to donate gently-used professional clothing for students with financial need. Interested students could receive the clothing after completing an application. Part of the project would be a professional fair where the clothing would be distributed. Workshops like resume-building and networking would be available.
http://christinatownsendformissunc.web.unc.edu/
Rachel McGirt #Rachel4MissUNC
"Healthy girls save the world" and "Tar HEALS"
Rachel's project would branch off of her nonprofit, Healthy Girls Save the World. Healthy Girls Save the World partners with universities and colleges to promote health and female empowerment. The project promotes three pillars: a healthy body, a healthy mind and healthy relationships with yourself and those around you.
If she were to win Miss UNC, she would implement the mission of her nonprofit, but on a much larger scale to best benefit those within the greater Chapel Hill community. HEALS, her campaign slogan, stands for: Health, Education, Awareness, Leadership and Service.The project also gives UNC students a chance to participate in a day of service, benefitting the campus and community.
https://rachel4missunc.web.unc.edu/
Skye Westra #ReachForTheSkye
Skye is running for Miss UNC to help children in Chapel Hill-Carrboro schools learn better water safety. If she were to win, she would  implement three water safety days for 3rd grade students in Chapel Hill-Carrboro schools.
This would include knowing how to act in different situations involving water, especially in dangerous situations. Volunteers would work with the students to teach skills like not going swimming alone, making sure there is a guardian present and what to do in risk situations.
MR UNC CANDIDATES
Dale Bass #CarolinaInMyMind #AllAboutThatBass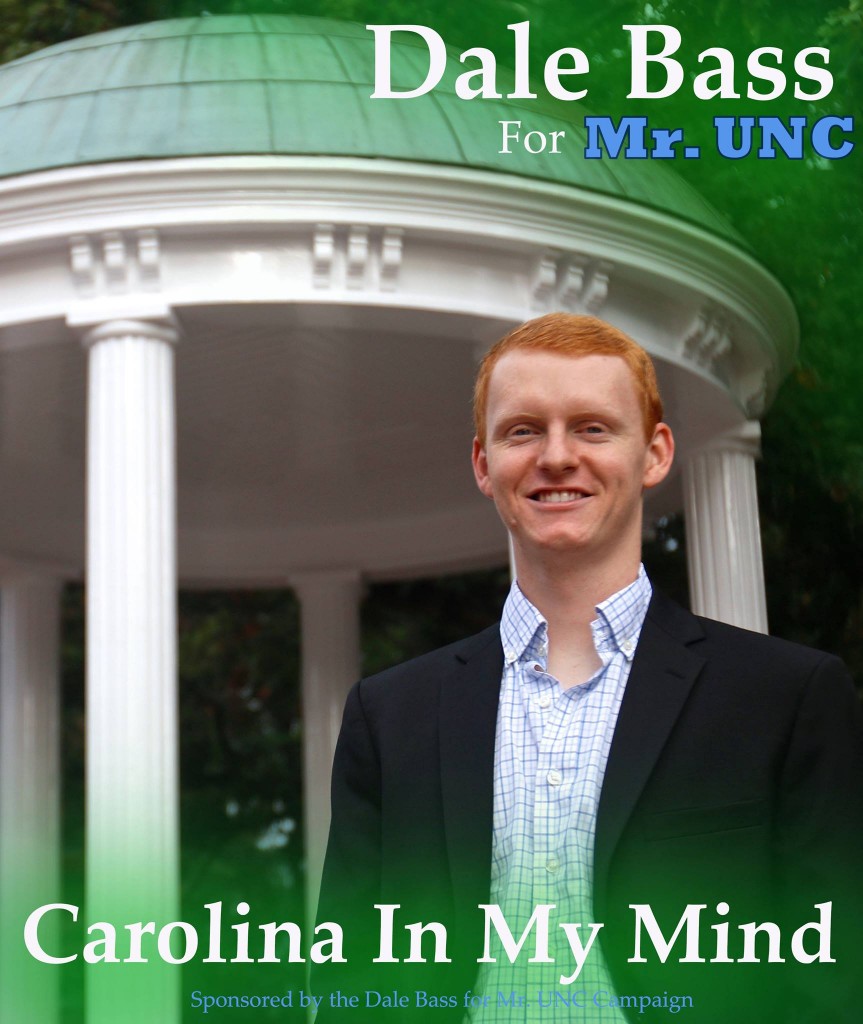 "Carolina in my Mind"
Dale's campaign aims to bridge the gap between students who don't know where to find mental health resources and the on-campus organizations that offer them. Carolina In My Mind would expand the mental health resources on campus by establishing a standing coalition made up of various mental health advocacy groups.
It also promotes the de-stigmatization of mental health via many levels of education. His goal is to establish a campus where no one is ashamed or scared to pursue resources needed for stress, anxiety or mental illness.
http://www.daleformrunc.com/
Elton Rodgers
"Heel your Mind"
Elton's campaign also focuses on mental illness. He aims to educate the community about mental illness and its presence in Chapel Hill. He also wants to provide a more inclusive environment for those students dealing with it. Elton plans to create an informative and enjoyable Mental Health Awareness Festival on campus. It would feature food and music and would serve to inform the community.
He also plans to create a core team of individuals who are knowledgeable about mental illness. Many of them will have overcome illnesses themselves. He hopes he will be able to make this a fun and interactive experience by working with performance groups that will display their talents and support the initiative.
Throughout the year, Elton would run a donation campaign. Campus and community members could make donations to fund staple programs for individuals affected by mental illness in the community.
https://elton4mrunc.web.unc.edu/
To find out more about the candidates, visit their websites or Facebook pages. Make sure you go to studentlife.unc.edu to vote for Mr. and Miss UNC tonight at midnight. Go Heels!