Fall in Western Mass is better than anywhere on Earth
There is something about Fall that keeps us warm, despite the cold front that inevitably comes in its wake. The colors, fragrances, festivities, and of course, food make it one of the best times of the year. To add to that, there is no better place to spend this season than in the Pioneer Valley.
Thursday, September 22nd marks the first day of Fall and for those of you in the area who are, for one reason or another, not counting down the days, here are some reasons why you should start to get very excited!
The Big E is back
Just a car or bus ride away from Amherst subsists one of the biggest festivals that this region has to offer. The Big E provides innumerable amounts of Fall fun in which visitors get to see the world's smallest horse, venture onto amusement rides, watch various performances, and eat all that your heart desires of fried…well fried anything really. No matter what, you are bound to have a fair-ly good time (see what I did there).
Leaf Peeping mania is real here 
Just watch the traffic flood in! In fact, this may be one of the only times of the year that can match the campus move-in / move-out hustle and bustle. I mean, can you blame people? With the emergence of fall comes vivid colors and stellar views; it's no wonder people come from all over for adventure.
So, take a hike – literally – or just a nice walk or bike ride; whatever you prefer and whatever allows you to embrace the natural beauty that comprises Western Massachusetts.
The weather is unbelievable
Walking around UMass in the heat can be brutal, and in the snow, unruly; but autumn in Western, MA proves "just-right" with regard to temperature and weather. You know what that means – ditch those shorts and tank tops and prepare for leggings, sweatshirts, and sweaters. No need to worry about sweating on the walk to and from classes. (Unless of course you live on O Hill.)
Think about the local food
Is there ever not a reason to talk about UMass' food? I mean, we are #1 in the country for a reason, and fall brings out the best in UMass dining. So splurge! Take a bite of some pumpkin pie, seasonal cheesecakes, or pumpkin spice ice cream – not to mention that lobster and steak dinner on Halloween. As if that weren't enough, Pumpkin Ice Cream is back at Trader Joe's and Atkins farm is all stocked up with apple cider donuts.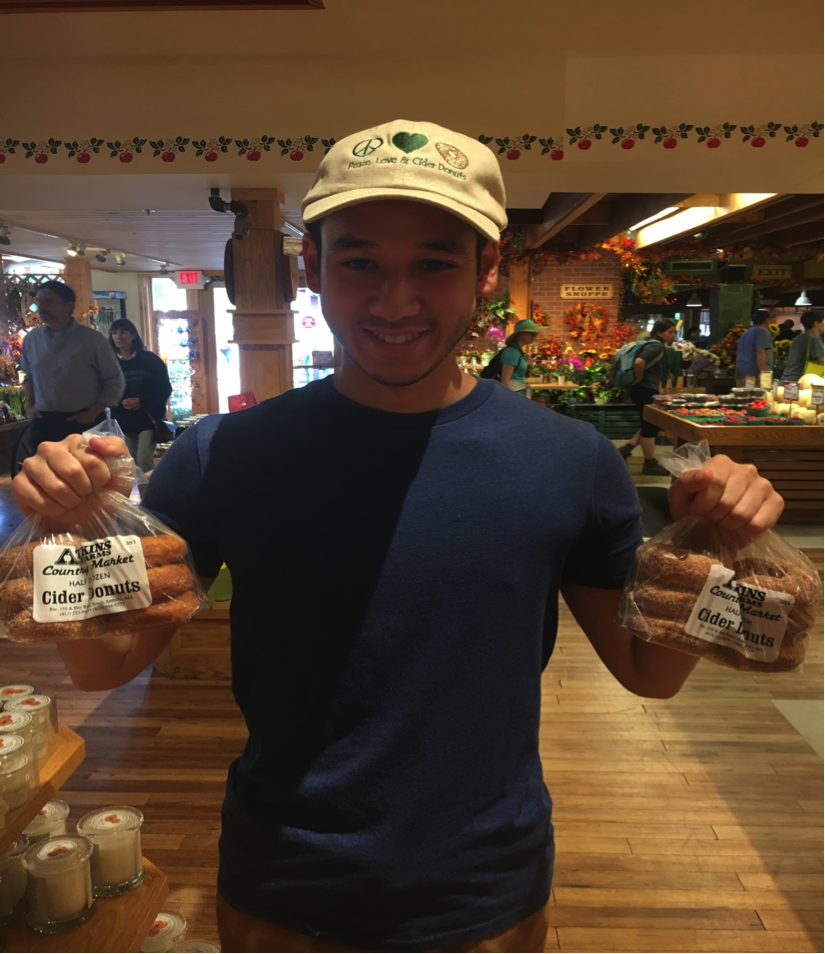 Haunted happenings
Interested in experiencing the spooky side of fall? Join the history department on a ghost tour around campus, or venture into Northampton for a paranormal tour of the city. There are also several haunted houses and mazes in the area, including Mike's Maze in Sunderland, MA which offers a less scary, just-for-fun version as well.
Campus festivities
Pumpkin painting, the Amazing Race, Farmer's Markets, Nearly Naked Mile, the Homecoming football game, campus barbecues, and more. With so much going on at all times, how could one ever be bored?
Halloween
Or as many people consider it: Halloweekend. There is no better place to spend this holiday than on the UMass campus, surrounded by thousands of other students ready to make it one to remember.
You can start your night off right with a lobster and steak dinner at the various dining commons. From there, get dressed up in your craziest costume and gather friends to locate some much anticipated fun. Plus, Halloween candy goes on sale in the days following- a.k.a. let the cavities commence.
A Thanksgiving break to be thankful for
ONE WHOLE WEEK WOOOH! So stuff yourselves with stuffing, turkey, and pie while you enjoy the mini vacation.
With all of the incredible opportunities present in the community at this time of year, Fall is a season in which memories are bound to be made. Thus, while the dawn of autumn emerges and the leaves begin to fall, prepare yourself for a time like no other in a place that cannot be matched. Fall is simply better in Western Mass, so embrace it.