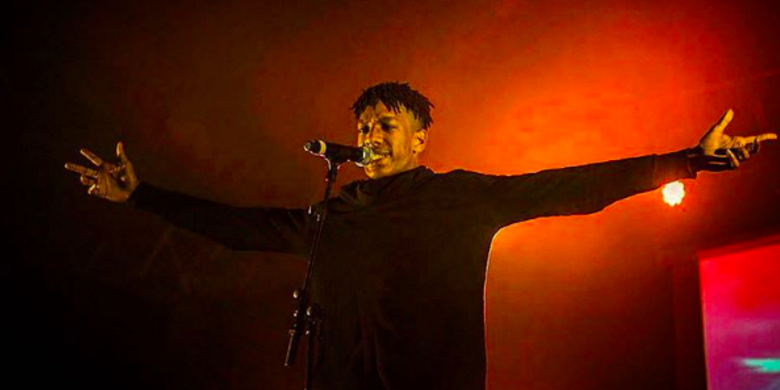 Straight out of Amherst: Meet rapper Jordan Tolbert
Known as NliteN, the UMass junior struggles to find his footing in MA
In a wood paneled room lined with Christmas lights, a large sign reads "STUDY ROOM."  A DJ rocking an Adidas windbreaker looms over two turntables covered in stickers. A funk styled rap group opens up, performing a song or two before aspiring UMass based rapper Jordan Tolbert, 20, also known as "NliteN" (pronounced 'enlighten') takes the mic.
He approaches the front and grabs the microphone, wearing a camouflage bandana that clashes with his floral jacket. Jordan looks nervous, but in a few minutes, you can sense confidence in his eyes and posture.
Holding his arms close, he says a few things under his breath before the beat begins to play out. He opens with his track "I/O", spitting lyrics so fast that if they were any faster, the ear might only pick up some syllables and sharp sounds.
The lyrical machine gun enlightened a dancing crowd of 40 or so with his words, preaching about feelings of isolation, being on the outside and looking in. As he got into the groove, Jordan began to flail his arms, grooving back and forth to the beat. The beat came to a close and the rapping stopped.
"Can I get a sip of that?" Jordan coughed out after the applause, reaching for a sip of my Colt 45 40 ounce.
After the set, Jordan politely shimmied through the moving bodies to the back of the crowd and watched the same rap/funk group perform (sounding like Rage Against the Machine, ten years too late). After their performance, the rap group invited anyone to come to the stage and freestyle, but the kid holding the mic was clearly targeting Jordan – not to mention the amount of people that turned their heads to look at him.
What pressure that must be. This is where the biggest test lies in one's rapping ability: Can you create an impromptu non-stop rap under the pressure of an audience? Jordan took the mic and immediately started spitting lyrics in that quick gatling gun style, non-stop lyrics barraging the crowd like missiles.
Jordan was easily the best performer, and it would be hard to believe there was a better emcee in the valley that night. This was Jordan's first show in Amherst, the city were he currently resides.
Rewind a few months to Jordan's first attempt at a show in Amherst – an attempt that failed miserably. Inside a North Amherst apartment in the Townehouse condominium complex was Jordan, waiting anxiously as he was about to perform in front of a hundred or so students. The residents of the Townehouse condominiums were hosting a day-time party, with a DJ and local music acts lined up to perform.
When N.W.A's "Fuck da Police" comes on, Jordan is set to take the stage and open with his song "Public Enemy."  Jordan's nerves built up, as he awaits his first show on Amherst soil since he started seriously rapping. Jordan hears his cue:
"Right about now, N.W.A court is in full effect, Judge Dre presiding, In the case of N.W.A vs. the Police Department prosecuting attorneys are MC Ren, Ice Cube and Eazy-motherfucking-E"
He rushes to take the stage, but instead of greeting a crowd of excited college kids, he runs straight into a group of police wearing riot gear in the process of shutting down the party.
"Yeah, that was going to be my first Amherst show but what I thought was my cue was the DJ making a political statement," he chokes out over a laugh.
Jordan is a UMass Junior studying biology, and while he doesn't plan on failing at his dreams of making it big, working in the field of biology is his fallback. Jordan hails from Boston's South End, coming from a large family with six siblings and his mother. His father left at an age too early to remember, leaving Jordan and his siblings behind.
"My palms itching but I take the weight/ til my shoulders break/ if it takes away from my moms tripping/ you know the way that it goes when you follow the path that you chose" 
(lyrics to I/O, concerning his mother's hardships)
Jordan is tall, about 6' 3," his height and thinness dramatized by his tight black pants and slim fitting navy-blue floral coat, and he often has a serene and calm look on his face. However, when he grins his smile demands your attention. Coming from Boston, Jordan witnessed violence and drugs, as well as his friends and peers going to jail, and he cites this as the inspiration behind his rapping.
Jordan has not been rapping for long, but he has performed at a large festival in Barcelona, as well as in Boston and now Amherst.
Despite previous exposure, he is struggling to regain the attention he had in the Early Fall – Massachusetts is not a hot-bed for rap music. Before all his more recent successes and exposure, Jordan started rapping in sophomore year, and took the name NliteN his senior year of high school.
The name NliteN came to Jordan while taking a shower, chosen merely because of how it sounds and how the name looks. Since then, the name has taken a more serious, as well as deeper, meaning.
"The O.G rapper KRS-One had a speech on enlightenment, on how it comes from words and language and how words can bring purpose," explained Jordan. "Whatever the real reason about the name is, it's deeper than what I gave it credit for."
Jordan has an EP out on the website SoudCloud, entitled SPRnovae, as well as numerous singles on numerous platforms including iTunes and Spotify. He is currently working on a full length album, projected to be finished in about six months.
"The album is taking up all the space in my room, I am putting sticky notes all over my walls, I have the titles and lyrics but it isn't done," Jordan says.
His rap career began to take a serious turn this summer, performing shows in Boston at house shows and the Opus club. He eventually performed at the Periferias festival in Barcelona, Spain this past October.
Jordan started from the bottom rapping with his close friends and has grown since to traveling to Europe to perform in front of a crowd of hundreds of people. Jordan describes the festival as exhilarating, going from a place where rap is not very big, to a place where people recognized him and knew his music.
"We were walking around the neighborhood where Mike lives [rapper Mikl Mtchl]. Everyone knew him for the music, so as we walked around town people driving by were playing our music. People were like 'NliteN Mikl Mtchl whats up?'
"We went to the venue  and we got to our room with a shower and tub. We had a rider, we got food and beers, we had a big ol' vanity mirror like how you see in movies. We walked down the tunnel to an announcer with a light show and visuals, it was so professional.
"In Spain I was on 10 or 11, hell – break the scale. People did not speak English, all they got to read was your rhythm and energy. We had people who couldn't speak English rapping the lyrics but in broken English.
"I'm like ' look at me, mom.' I am doing things with something I like to do and there is no better feeling," explains Jordan, clearly excited over the memories of his trip.
Mike Mitchell adds: "This was also the first time Jordan and I had face to face time, just us. We just shared philosophies and talked, we clicked immediately. This lead to an amazing show, reaffirming why I knew that I wanted Jordan involved all those months ago."
Mike Mitchell met Jordan in Boston. He later reached out to Jordan again, to collaborate on a track (Guernimerica), and have been working together since. Mike currently lives in Spain pursuing artists and musicians for his art company, Food 4 Art.
Jordan has since returned from Barcelona to Amherst, back to the every day grind of a college student, making him start his rap career back at the beginning, where it would once again be surreal to be recognized on the street.
Due to the lack of rap scene in Western MA, Jordan finds himself trying to blaze his own path with no one to follow.
"I tried to write a UMass anthem, but it wasn't my personality. I also have had people on Facebook tell me that the only way to make it in Amherst is to rash on Conway (UMass rapper noted for  the terrible flop of a track 'Uh-Oh'). I don't have to do shit," said Jordan.
His goal is to build a portfolio of performances and take it to the venues throughout Western MA, hoping to solidify a rap scene in Massachusetts. While Eastern MA has a larger population than its western counterpart, there is still no strong rap scene in Boston.
"We have had talent for a while now but it's been hard for Boston to break out because the record labels looked for certain types of sound that weren't native to Boston," explains David Morency, fellow Boston rapper and close friend of Jordan's.
"Boston has a bad reputation. New York is where Eastern rap is at. The rappers from Boston are gimmicky, like Moufy. The kids in Boston have no generation or Boston rappers to pull influence from," said Jordan.
New York City, Atlanta and LA are all known for their large array of famous producers and rappers, with unique regional sounds that the local rappers can draw from and work with.
"Boston also struggles with racial issues – the city is composed mainly of Irish-Italians. While the city is thought of as having progressive social views, Boston still suffers from a strong racial divide which one can assume makes it hard for rap, which is traditionally black music, to really spread in Boston.
Jordan however does not hide the fact that he is from Boston, and in fact declares it with pride.
"I had someone call me up and say 'Jordan, I see you are doing things with music, just do not say you are a Boston Rapper, say you are from Amherst. Nobody knows where that is, and if you are from Boston you will turn people off or be pushed aside.' I was just like 'You are an adult and you are telling me this? Fuck you, I am a Boston Rapper.'"
Despite a lack of a vivacious rap community in both his birthplace and his current home of Amherst, Jordan aims to make waves with his lyrics. He began performing with Boston's "Wreck Shop".
Wreck Shop, who always meets at the Boston venue 'Opus', was where Jordan began performing in front of crowds this past summer.  While the Boston rap scene is tiny compared to New York's, Jordan described Wreck Shop as a "safe place" for Boston rappers where everyone gets together to exchange information and rap with one another. Meeting people is what Jordan says is one of the more important aspects of his performing.
After starting to perform and record regularly, fellow Boston Rapper Mikl Mitchl got in contact with Jordan. They recorded "Guernimerica," a political rap focusing on the Black Experience with politically charged lyrics, which lead Jordan to Food 4 Art, the company and record label founded by Mikl Mtchl.
Jordan was signed to Food 4 Art over this summer, when Jordan was invited to headline the last two days at the week-long Periferias Festival – Guernimerica being the label's best song. He boarded the plane and flew over to Europe.
Jordan raps over ethereal "cloud rap" style beats. Characterized by a moderate speed, the beats utilize heavy synth and a more relaxed bass line, while maintaining a heavy hit.
Jordan's lyrical delivery is similar to Kendrick Lamar, spitting out a lot of words in a short period of time, then abruptly slowing down his pace while fully enunciating every word.
His lyrics however are sort of softer, containing black-political tones while maintaining a smooth flow. Jordan describes his rap as "red pill political music," [a reference to "The Matrix", which focuses on the truth] meaning he writes about his experiences in the most truthful manner possible. He found that you cannot tell people to listen to a message and like it, so he began to layer his lyrics requiring the listener to dig deep to make sense of them. While he has changed his lyrical style in the past months the social justice aspect is still prevalent in his rhymes.
"Homeboys feel blind when they trying to see/ Gotta take what they want like its finders keep/ But no more crime when Im trying to sleep/ Its like a long game of hide and seek/ Need spirits for guidance, fearing that He done forgot us/ Same fear when i'm hearing the sirens/ I feel when i'm near niggas reeling to violence" 
Guernimerica, a single by NliteN and Mikl Mtchl
Songs off of his most recent EP "SPRnovae" still depict personal struggles and coping with drugs to distance oneself from their issues, along with pictures of the anxiety around the black experience. He often refers to God, Satan, or utilizes other religious references, while never being a religious person himself.
"I feel like you have to play to what people believe in. Whether or not I believe in God is irrelevant to the points I'm making. When someone believes in something and you refer to it, it helps them understand it, it's not for me but more for the listener.
"My song 'Public Enemy' was written during the Michael Brown trial. They let off the cop who killed him and I was just so pissed. We are in a system that sets us up to lose and there is no beating it," said Jordan.
"Taking pride in the beast/ know I ain't riding for peace/ this for my brothers who died/ and deceased/ this villain's mentality is like a disease"
(Public Enemy)
Seeing the progress in lyrical content and production that Jordan has made in less than a year shows promise.He has the potential to at least become relevant to the underground rap scenes outside of Massachusetts.
"The first time I saw him rap to now is so different – he was calculated and strategic, now he is just confident and full of energy and that is what the audience likes. He is someone who knows what he wants. He doesn't take shit," said Grace Gulick, Jordan's close friend and photographer.
Performing is where most of the power and passion comes out for Jordan. When the crowd gets excited, it fuels his enthusiasm, and his energy in turn keeps the crowd's momentum. As he described it, the more nervous you are, the more you can feed off of and expel into the performance.
"After performing you're left completely at zero if you've done it right, and everyone takes those experiences. Bigger crowds build more anxiety, but more energy in your reserves to give out.
"I see myself in a few years touring, bouncing around the globe putting on shows for large amounts of people. Just being exhausted all the time because I am expending all my energy doing something I am passionate about. God knows what the fuck will happen in five years, but I am looking forward to it all."