We don't care if it's basic, we love everything about fall
Pumpkin Spice Latte please
Yes, I'm talking to you. You may be sad summer has come to an end and that your tan will fade, but that's what Jergens natural glow is for. Open your eyes and see fall for what it really is – amazing.
The Pumpkin Spice Latte
DO NOT HATE, APPRECIATE. Pumpkin spice lattes (PSL) are the fuel you need to start your day. They're the afternoon pick-me-up you're searching for at 3:00 pm on a Tuesday when you have five hours of homework to complete. Honestly, if you've never tried one, get your caboose over to Starbucks and give it a shot. You'll take one sip and feel like a changed human. And do get the whipped cream with cinnamon – that's the best part!
'Take a picture of me and these apples'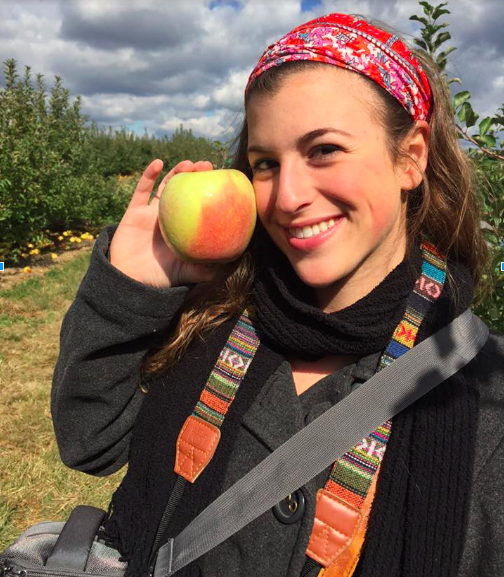 How could you not love walking around an apple orchard picking some granny smiths?! They're so fresh and make tasty apple pies. It's like a mini trip into the wilderness, except the trees were purposely planted there. Once you're finished with your apple filled adventure, it's 1,000 % necessary to head over to the bakery and get a cinnamon sugar doughnut fresh off of the doughnut machine! Now that's heaven in your mouth. It may be all carbs and sugar, but that's what oversized sweaters are for.
Haunted houses are actually haunted
Ghosts, zombies, demons my oh my! Don't be fooled, haunted houses are spooky. The zombie-bride is running at you from one direction and Dracula is popping out at you from another. Be prepared for those fight or flight senses to kick in because that will be the most terrifying hour you've yet to experience.
Thirteen nights of Halloween
That adrenaline rush from the haunted house is about to pick back up. Get ready for Halloween movies every night from October 19th-31st. This will really get you in the Halloween spirit. This is the only time of year that it's acceptable to watch every single one of the 'Halloweentown,' movies. On the last night, 'Freeform,' former network 'ABC family,' plays 'The Nightmare Before Christmas,' every. Single. Year. So, you have to watch it. Nobody likes to break tradition!
Let's play dress-up
The one night of the year you can dress up and be anything you've ever wanted to be and it's socially acceptable – well, except for all those theme parties you've been going to throughout the semester. Halloween dress up is different! You can go all out with makeup and accessories and go nuts. Halloween is by far the coolest holiday the U-S-of-A has.
Peace, love, foliage
Foliage, man, you've got to appreciate the beauties of nature. Although leaves may be a pain to rake up, it's a must to jump into the pile you spent thirty minutes raking, and have a good old time with your friends. Plus, if you're a college student who happens to be driving on the New Jersey turnpike during the fall, that is killer foliage. Miles of trees, all different colors. Easily the best quality the turnpike has to offer.
How to carve a pumpkin 101
Okay, so I don't really have expertise in carving pumpkins, but what I can tell you is that it's fun, sticky, and filled with pumpkin guts. However, you can use the pumpkin seeds for various recipes, so it's a two in one deal. Once your fabulous pumpkin is carved, stick a LED light in the pumpkin (safety is important – we don't want our pumpkins catching on fire), and voila! Your pumpkin masterpiece is the perfect decoration for halloween. The trick-or-treaters will love it.