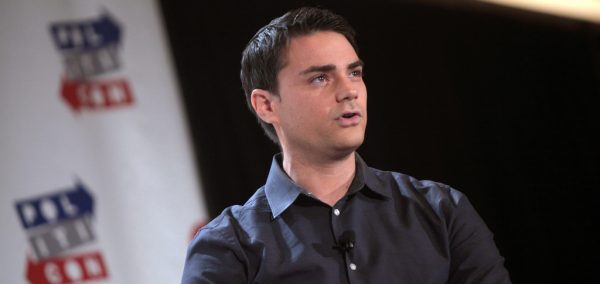 Everything that happened when former Breitbart editor Ben Shapiro came to UCSB
Campbell Hall hit full capacity before it had even started
On Tuesday night, conservative commentator, Ben Shapiro, came to UCSB to give a speech at Campbell Hall.
Around 1,000 people were thought to be in attendance.
The venue reached full capacity 10 minutes before the event and 50 people, some of whom had traveled a long distance to attend the event, were refused entry.
When you drive up to UCSB to see Ben Shapiro and the second you get to the door they say they've reach capacity ???

— Ryan (@RyanLongoria) February 22, 2017
The talk was called "Lies, Prejudice, and Division: The Legacy of the Black Lives Matter Movement" and was put on by UCSB college Republicans.
The scheduling of Shapiro's appearance caused controversy last year when the Student Senate voted to contribute $5,000 towards hosting the controversial provocateur.
I've never seen Campbell hall completely full but now that Ben Shapiro came to ucsb it's at full capacity???

— Adi (@adilxne) February 22, 2017
As a result, many expected Tuesday night's event to result in protests and potentially violence.
To ensure the safety of guests, cops frisked attendees and checked bags upon arrival to Campbell Hall.
Despite controversial comments made by the speaker, such as saying that "capitalism is consensual sex, socialism is rape", the audience remained calm throughout.
Grace Fahrenthold, a 21-year-old History major, was surprised by how tame the audience actually turned out to be:
"I felt like things easily could have gotten out of hand but people remained quiet for his speech other than applause. The people who asked questions after seemed to really want to have a productive discussion."
Others agreed that the audience was overall supportive. David Rouhani, a 22-year-old Communication major, said:
"The vast majority seemed to be in support of Shapiro's ideas.  At one point, when Shapiro said that the US military could defeat any military in the world the crowd started cheering and gave him a standing ovation. As an exchange student from Germany, such militarist enthusiasm worries me."
It is believed that a large proportion of the audience were college-aged men. Many wore 'Make America Great Again' hats.
I had a great time seeing @benshapiro at UCSB and seeing familiar faces like @IamQueenAri there. pic.twitter.com/TqscqypazT

— Caleb Garcia (@CalebSG) February 22, 2017
Despite the lack of outright protest, the Education Opportunity Program (EOP) organized a 'Cultural Appreciation Night' as a form of counter-protest.