UCSB is the best school in California, the US and probably the world
IV is a little slice of heaven
Yes I said it, UCSB is better than Harvard, USC, and even the baby blue Bruins of UCLA. We may not be number one academically, have the best medical school, or even have top tier athletics, but UCSB offers a college experience like no other, and here is why.
Location, Location, Location
Do I even need to say why this a factor?
No traffic and no smoggy cities, just you, the beach, and the amazing 75 degree blue bird weather. One second year said:  "Campus is never too hot or too cold, it is always just right." Not only is the ocean front property breathtaking, but the lagoon and our proximity to downtown Santa Barbara round off why UCSB's location is prime.
We're pretty smart
Coming in at 8th for "Top 30 Public Universities," 37th for "Best National Universities," and 3rd among the UC system (UCLA we are coming for you), we Gauchos know how to work hard. Admissions get more competitive every year, and currently the admitted average high school GPA is 4.19 with a SAT of 1975.
Don't worry though, we don't just work hard, we also play hard (I had to use it at least once, sorry guys).
Isla Vista-Social Scene
From Daygers to fraternity parties to IV yoga nights, there is a social scene for everybody. Isla Vista is the complete college town with local restaurants, a laid back vibe, and a community that likes to rage.
Coming in at 6th on FastWeb's "Top Party Schools of 2015-16," UCSB's Isla Vista leaves you saying "that was legendary" when you wake up with the blurry memories of the night before. If you don't know anybody to get into Greek life events, don't worry, people throw open parties on Del Playa every weekend.
Does anybody want to join me in a game of Snappa or Gaucho Ball?
We Are Good Lookin'
"People watching" in the library is tough not to do when you have dimes walking all around this place.
No wonder Niche gives UCSB an A+ in the guys and girls category; there are literally beautiful people falling out the sky here. We can all say thanks to that girl or guy who you see on campus rocking their 10 status (take your "game" playbook everywhere). Not only are the looks impressive, but Gauchos are very kind, caring, and enjoy coming together as a community to enjoy everybody from all walks of life.
Clubs on Clubs on Clubs
If the picture of the SB party scene didn't get your blood moving and grooving, then there are many other ways to get socially involved. There are 425 registered student organizations, 12 honor societies, and a top-tier club sports program to become associated with. What is better than acing all your tests on Friday, then going rafting or skiing the next day with UCSB's finest organizations? Nothing.
Yes, we have snow, well…at least on our skis we do.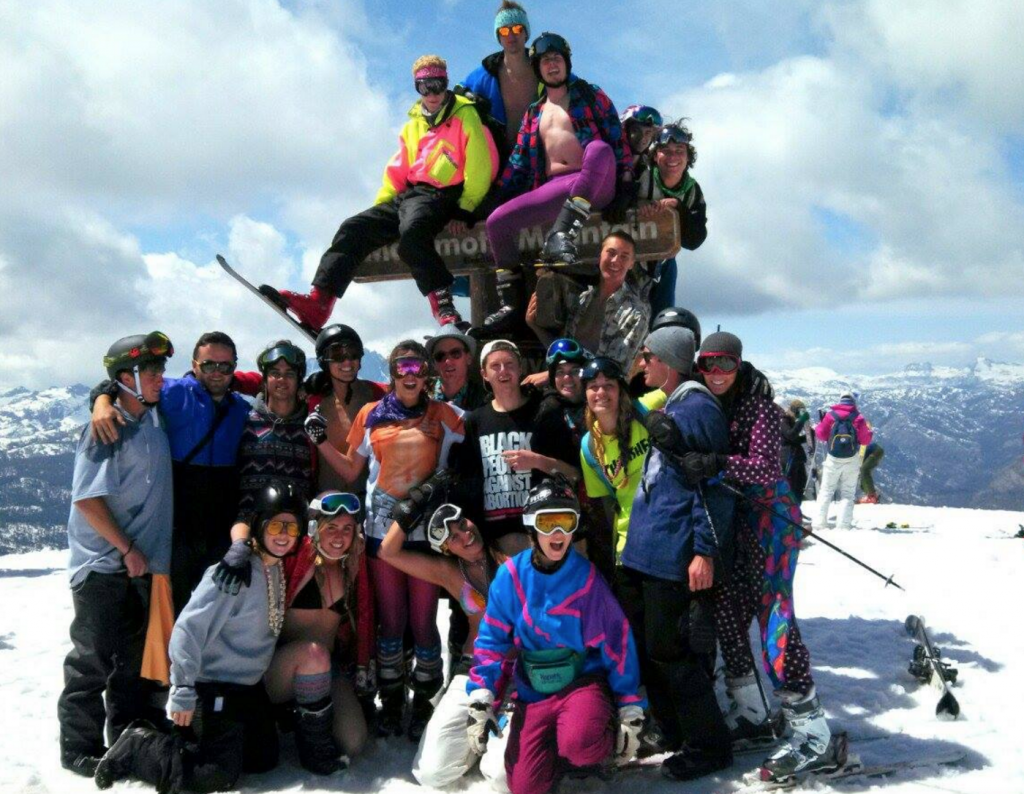 As you can now see, UC Santa Barbara is the greatest school on the face of the planet. SB, Isla Vista, and the people give you an experience of a lifetime that I, and my many peers, would never trade for anything. Cheers to great memories, life-long friends, and having the special opportunity to go to UCSB. At the end of the day, we Gaucho back.