UChicago is the best place to be after this election
Too bad this isn't a safe space for bigotry and intolerance, Mr. President-elect
We woke up this morning to the same campus but a different world.  Donald Trump was like a bubble in this American melting pot, surfacing seemingly out of no where and exploding in our face.  If only we had known what has been boiling beneath the surface in our country.
But today I say this: our future is bright.  Not without challenges, but nonetheless bright.
We, as students at the University of Chicago, exhibit and will continue to exhibit our core values of acceptance, inclusion, and forward-thinking that have given us the  reputation of one of the most progressive universities in the world.
As I sat down for a way-too-early bio lecture in between a classmate wearing a hijab and a classmate from China, I realized how grateful I am to be here of all places right now. We are and always will be a place that celebrates diversity, intellectualism, and above all, compassion.
Students have begun to come together as early as last night to share their reactions, and here they are:
Some were clearly frustrated last night
While others took to social media in an effort to settle some running nerves
Professors postponed today's midterms and cancelled classes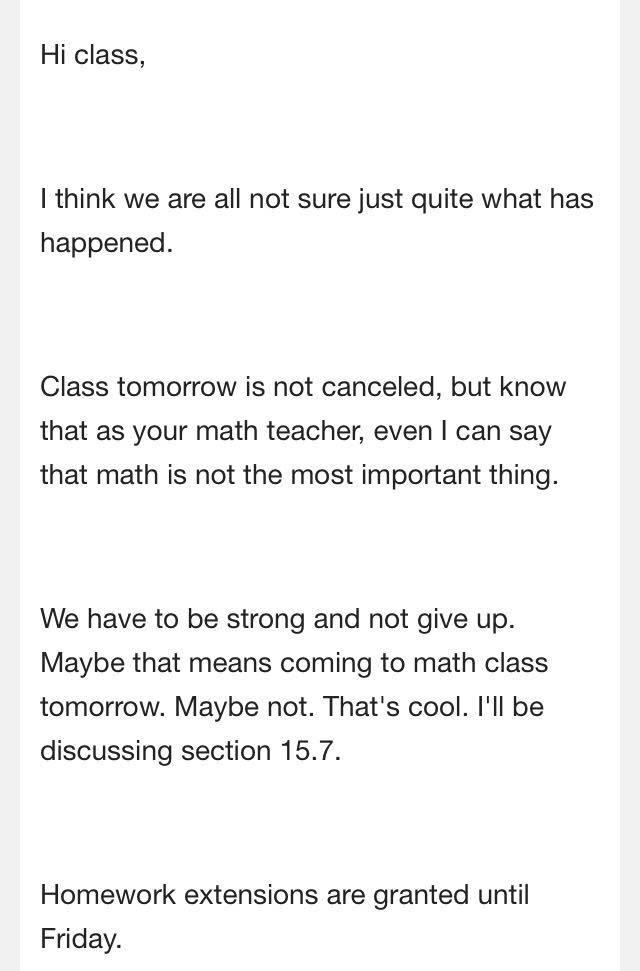 Clearly, even the brightest minds in teaching did not expect this to happen.
There are free cookies
What happens now?  As the dust settles, we as students and future leaders have a choice: defect or engage.
While there is a tempting case to pack our bags for Canada
While today you may not be proud of our country, we should be immensely proud of our university and hope to be a part of our unique voice moving forward.
Give yourself today to process everything and take advantage of any support resources you need.